If there was one thing the three panelists, who were invited to participate in the Wisconsin Entrepreneurs Showcase event, made clear is that working in startups means choosing passion. The Showcase event, which took place on Thursday, September 28 and was resurrected after a COVID-pause, provided a dynamic opportunity for the close to 200 people in attendance to learn and hear from three entrepreneurs that were not only successful in their ventures but also Badger alumni! The lineup was impressive and featured Joel Baraka, Co-Founder of My Home Stars, Steve Jacobson, Founder and CEO of Fairway Independent Mortgage Corporation and Jessie Mash, Managing Partner of SonderCo,.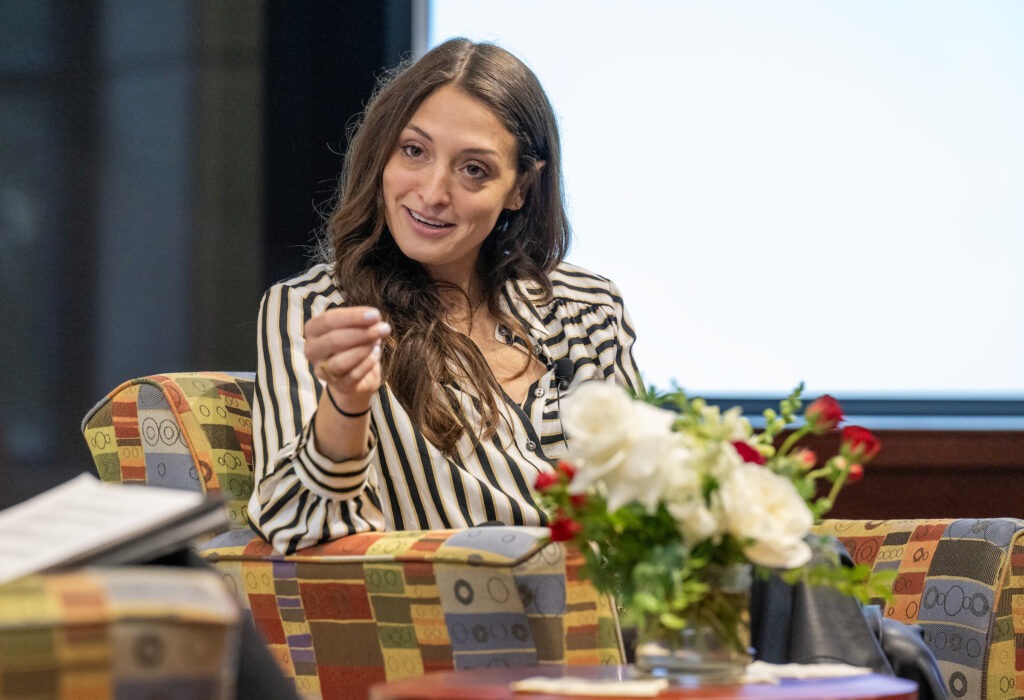 First to the stage was School of Journalism and Mass Communication graduate Jessie Mash, managing partner of SonderCo, a strategic marketing agency that helps next generation brands join forces with talent to create high impact partnerships. From her first job out of college working for The Oprah Winfrey Show, to her pivot into launching Windy City Live, Jessie's ability to have her finger on the pulse of culture was evident. Jessie shared that she always wanted to do something even more entrepreneurial. "You always start as a generalist but as the company grows, you start to narrow in to find what you love." This led her to come onboard with kids clothing startup Monica & Andy where she managed brand partnerships leading to the opportunity with SonderCo. During her conversation with her former J-School instructor turned StartUp Learning Community Program Manager Sari Judge, Jessie emphasized that UW-Madison taught her invaluable skills both in and out of the classroom. UW-Madison taught her so many skills that she now incorporates into her day to day. These skills included the importance of hard editing, communicating, and going beyond your comfort zone. In the end, Jessie emphasized that trusting your gut is the key to being successful in the startup world. "I had an entrepreneurial itch, I wanted to start something, and do something on my own."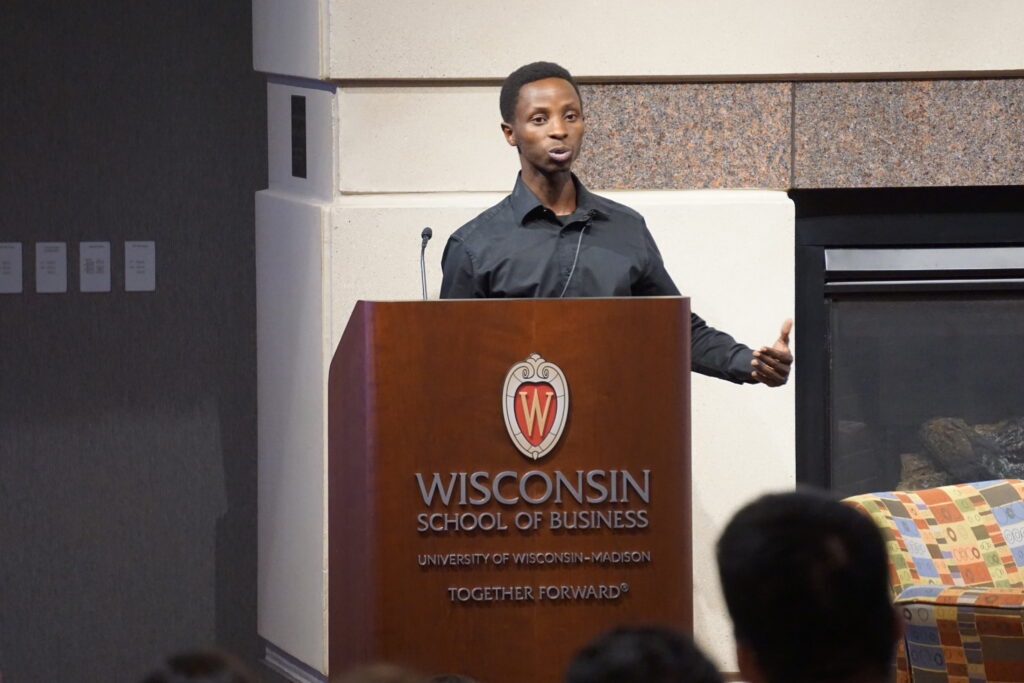 Next up was Joel Baraka, a recent Engineering graduate who shared that "all communities need something." For him, though, the community closest to his heart are for refugee children in Uganda. Joel's experience growing up in a refugee camp led him to co-found My Home Stars, a nonprofit that gives under served African communities access to quality education. Wanting to take on this challenge in a playful way led Baraka to launch 5 Sta-Z, an academic board game that could teach children math, English, science, and social studies. Joel tells the crowd that it is okay to try things out, to see what works and what does not work, but to always choose purpose in what you do. He emphasized the importance of making connections, especially while at UW-Madison. "When you share your ideas with others, you can often find others who want to achieve the same."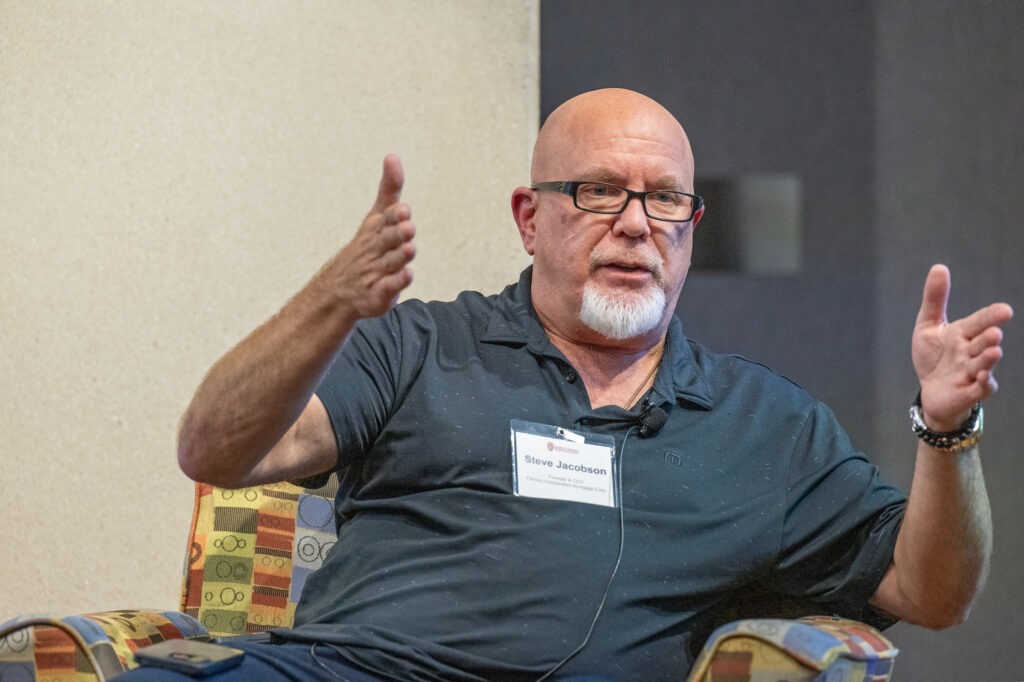 The night concluded with a Q & A session with Steve Jacobson, founder & CEO of Fairway Independent Mortgage Corp. Students were excited to hear from the former UW basketball captain and Badger business graduate. Steve talked about the career path that led to him launching his business and being a top player in the lending industry and who was recently voted one of the best places to work in the country. Steve's conversation with Weinert Center Director Dan Olszewski emphasized how his competitive athletics background helped him find success. "You also learn from your competitive background that you have to have a game to play…My background was competitive as far as an athlete. Was the leading scorer in the state my senior in high school. I never saw a shot I didn't like. It was very embarrassing in college to only had 14 points three years into varsity. I was a captain, I was voted all Big Ten academic but those things don't matter when you're no good, so you gotta play and when you don't play, it transcends into your life…The ones who have already started a business and the ones that have a business, you know for sure it's always competitive, it never changes…There is always stuff to do and you always got to get better." His key takeaway for students is to always be challenging yourself, but also to stay authentic. In the end, he emphasized that customers need to be able to trust what they hear. "It is so important to keep your word because that is all you have."
The evening ended with students being able to engage directly with the fantastic panelists during a moderated Q & A. All three distinguished alums stayed way past the end time to help answer budding entrepreneurs' questions.
Many thanks goes to our evening's sponsors, the Weinert Center of Entrepreneurship, Discovery to Product, and the StartUp Learning Community, for truly displaying some amazing Badger startup success stories. We would also like to thank our previous sponsors, Paul Reckwerdt and Ellen Rosner, who were instrumental in the creation of the Wisconsin Entrepreneurs Showcase event.
---