December 2019
Hello friends,
The 2019-20 academic year is well underway and it is already time exam time! Eight first-year students have joined our three returning students, and they bring a lot of laughter and positive energy to the Center. In the past few months, ten of our alumni have given their time to help our SHRM MBAs prepare for their futures. As you likely remember, connections with alumni are one of the best parts of our program. We sincerely thank you for your generosity.
Our Center convenes its annual HR Summit on April 17. We invite all alumni to attend, and we extend a special invitation–a sort of homecoming–for alumni who have graduated in a year ending in 0 or 5. Wouldn't it be fantastic to reunite with your old classmates at your alma mater? We promise a fun reception at Nitty Gritty following the Summit! Please watch for an invitation in the next weeks and plan to join us. You might be interested to know that Union South has been remodeled recently and offers lodging with underground parking.
We hope you will read the article below, written in part by alumni, called "Why They Give." Please consider an end-of-year donation to our SHRM Program Fund. Your contributions will directly support our plans for the growth and success of our students beginning next month.
Thank you for all the ways that you support us, and Together Forward!
Warmly,
The Strategic Human Resource Management Center
Around the Center

From research, elevator pitches, and solving HR problems to blindly passing cans around a circle using feet only, Kayla Anne Lewis, first-year MBA student, reflected on SHRM orientation activities from earlier this semester.
---

This article, written by first-year student Ambika Kumar, has a wonderfully appropriate quote: "While some schools will tell you that their alumni system is great, the Wisconsin School of Business shows you."
---
Professor Charlie Trevor is serving as the new Academic Director of the SHRM Center. Charlie's leadership and engaging, thoughtful presence continue to bring many positive changes to our Center. Also, Charlie was the 2019 recipient of the WSB Erwin A. Gaumnitz Distinguished Faculty Research Award.
---
Placement Updates
Interviewing is the most frequently-used word around the Center lately. While some of our first-year students have already secured summer internships at Ecolab, HP, and Microsoft, others are busily interviewing. And our returning students are searching for post-graduation positions. Help us reach 100% placement by sending internship and full-time position vacancies to Betsy Golomski, Assistant Director of the MBA Career Management Center. We truly appreciate your help.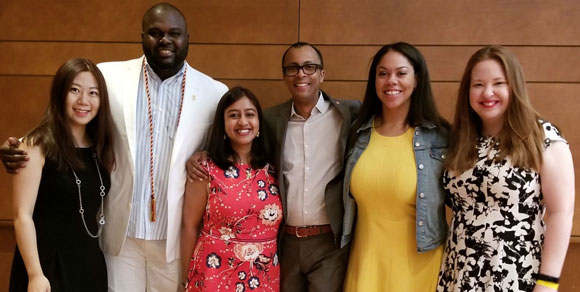 We are extremely proud of our 2019 SHRM MBA graduates, pictured above, who have secured human resources leadership roles at the following companies:
Cisco
Integrity Residential Services
Johnson & Johnson (multiple)
Owens Corning
Welcome to our strong alumni network!
Class Notes
Alumni stay active in a variety of important roles with our current SHRM students. Ben Burney (SHRM MBA '08) and Barry Gerhart (Ph.D. '85) reflect on one of the ways they help our students.
Kendra Armstrong (SHRM MBA '12) was married last month to Scott McAdams in Charlotte, NC. Pictured above is Kendra with former MBA '12 classmates Tess Gruenstein, Maren Berge, and Kate Geier Cummings. Kendra is currently employed by Bank of America as a SVP, Human Resources Manager, supporting its Wholesale Credit division.
Please keep your fellow alumni current about your career and life changes by emailing news to linda.barrett@wisc.edu for inclusion in an upcoming newsletter.
Sharing Knowledge to Enhance Practice
Recent research of the Management and Human Resources department faculty:
Trevor, C. & Piyanontalee, R. (2020). Discharges, Poor-Performer Quits, and Layoffs as Valued Exits: Is It Really Addition by Subtraction? Forthcoming. Annual Review of Organizational Psychology and Organizational Behavior.
Posen, H., Yi, S., & Lee, J. (2019). A Contingency Perspective on Imitation Strategies: When Is "Benchmarking" Ineffective? Forthcoming. Strategic Management Journal.
Shin, J., & Grant, A. (2019). Bored by Interest: Intrinsic Motivation in One Task Can Reduce Performance on Other Tasks. Academy of Management Journal (62).
Honore, F., & Ganco, M. (2019). Entrepreneurial Teams' Acquisition of Talent: Evidence from Technology Manufacturing Industries Using a Two-Sided Approach. Forthcoming. Strategic Management Journal.
Trzebiatowski, T., & Triana, M. (2018). Family Responsibility Discrimination, Power Distance, and Emotional Exhaustion: When and Why Are There Gender Differences in Work-Life Conflict? Journal of Business Ethics.
Triana, M., Richard, O., & Su, W. (2019). Gender Diversity in Senior Management, Strategic Change, and Firm Performance: Examining the Mediating Nature of Strategic Change in High Tech Industries. Research Policy (48), 1681-1693.
Terlaak, A., Kim, S., & Roh, T. (2018). Not Good, Not Bad: Unpacking the Effect of Family Control on Environmental Performance Disclosure by Business Group Firms. Journal of Business Ethics (153), 977-996.
Triana, M., Jayasinghe, M., Pieper, J., Delgado, D., & Li, M. (2018). Perceived Workplace Gender Discrimination and Its Consequences for Employees: A Meta-Analysis Considering the Influence of the Country Context. Journal of Management.
Yang, T., & Triana, M. (2019). Set Up to Fail: Explaining When Women-Led Businesses are More Likely to Fail. Journal of Management (45), 926-954.
Chen, J., Croson, D., Elfenbein, D., & Posen, H. (2018). The Impact of Learning and Overconfidence on Entrepreneurial Entry and Exit. Organization Science (29), 989-1009.
Connect With Us!
There are at least three valuable ways to give back to your SHRM program:
Mentor, talk, or mock interview. If you are willing to volunteer as a mentor, speak with our students about something interesting with your work, or mock interview, contact Linda Barrett, Assistant Director of SHRM Center. Distance technology is always an option.
Hire a badger. Can you help us by recruiting HR badgers for internships or full-time positions? Contact Betsy Golomski, Assistant Director of the MBA Career Management Center.
Make a financial gift. As stated in the "Why They Give" article, we are seeking gifts to support learning materials for the SHRM CP exam, and annual industry visits. Please consider contributing to our SHRM Program Fund or the WSB general fund>WSB general fund yet this year. Or anytime. Thank you!
---