When six African-American men began their quest to earn an MBA at the University of Wisconsin–Madison 50 years ago they weren't just working to enhance their potential as leaders—they were cementing the university's role as a leader, too.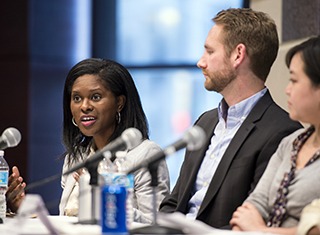 The six were early members of a talented group of students that has helped change business education and corporate leadership in the U.S., a change that is continuing to evolve today.
Nationwide, The Consortium for Graduate Study in Management is celebrating its 50th anniversary as an alliance of schools dedicated to enhancing diversity in business education and corporate leadership by providing postgraduate opportunities for underrepresented minorities. The anniversary is cause for celebration at the Wisconsin School of Business, too, as the School was one of three founding members of The Consortium in 1966 and was on the forefront of its mission.
"Wisconsin understood opportunity and diversity before it was a popular thing to do," says Blair Sanford, assistant dean of the Wisconsin Full-Time MBA Program at the Wisconsin School of Business. "Wisconsin, building on its progressive nature, supported the alliance because it was the right thing to do."
Attracting top students to UW
The Consortium provides merit-based fellowships that cover tuition and fees for underrepresented MBA candidates and those dedicated to the mission of diversity and inclusion. In the 2015-16 school year, there were 26 Consortium MBA students at the Wisconsin School of Business, and there are 685 Business Badgers who are Consortium alumni.
The University of Wisconsin–Madison has played a key role in The Consortium's history with important firsts beyond being a founder. In 1967, six Wisconsin MBA candidates were among the first 21 students to enroll in business schools through the Consortium. Larry Harris (MBA '68) graduated a year and a half later to become the first of today's 8,500 Consortium alumni nationwide before going on to a successful career with The Upjohn Company in Kalamazoo, Michigan.
The Consortium was founded by Wisconsin native Sterling Schoen (M.S. '41), a professor of management at Washington University in St. Louis, to help African-American men further their business education. Schoen invited other U.S. business schools to join.
Leading from the beginning
In 1966, Erwin A. Gaumnitz was dean of what was then known as the School of Commerce, now the Wisconsin School of Business.
"Schoen sent letters to all of the business school deans across the country and only got two responses, including the University of Wisconsin–Madison, which said, 'We think it's a problem, too. We're in. Let's try to figure this out,'" Sanford says.
Two Wisconsin faculty members, Isadore Fine, professor of marketing, and Roy Tuttle, professor of accounting and information systems, as well as Chancellor Robben Wright Fleming, joined Gaumnitz in leading a commitment to diversity and inclusion during the time of the civil rights movement. Indiana University also accepted the original invitation to be part of The Consortium.
Opportunities for Consortium students expanded over the years to include women, Hispanic Americans and Native Americans, helping Wisconsin solidify its leadership role.
The Wisconsin School of Business also boasts among its alumni Sandra W. Jones, the first female Consortium graduate (MBA '71); Bernard Vigue (MBA '74), the Consortium's first Native American graduate; and Frank Gutierrez (MBA '72), whose class included the first Hispanic American graduates.
"The Consortium is one of the first notable things we did to illustrate our commitment to diversity," says Binnu Palta Hill, director of diversity and inclusion for the Wisconsin School of Business. "It has a special place in the School's history."
Even current students see that.
"Being one of the founding members of the Consortium just shows how dedicated Wisconsin has always been to the mission," says Brandon Shields (MBA '17), a Consortium student at the Wisconsin School of Business. "When I give a tour and talk to prospective students, I always say, 'There are 18 schools in the Consortium but Wisconsin is one of the founders.'
"It's something the students here are really proud of, and that's why we want to give back to the Consortium and to Wisconsin."
Strong corporate partnerships
It's not all about the past with The Consortium, nationally and at the Wisconsin School of Business. Seventeen members of the MBA Class of 2016 were Consortium students with nine Consortium students in the Class of 2017.
"The Consortium gets at a lot of fundamental issues of access," Hill says. "There are certain communities who have not had access to higher education and The Consortium opens those doors. The Consortium serves as a great partner for academic institutions and corporations to help us become better organizations by bringing in diverse students and talent."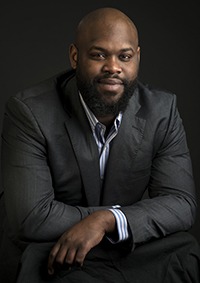 Each Consortium student goes through a competitive, rigorous application and interview process to earn a fellowship. Beyond financial assistance, Consortium students are connected to a vast and committed alumni network and more than 80 corporate partners representing some of the top companies in the U.S. Some, including General Mills and 3M, have been on board from the beginning. Others, such as SC Johnson, Eli Lilly, and PepsiCo, are familiar to WSB students as internship and employment partners.
Consortium students bring more than good grades and high GMAT scores to the Wisconsin School of Business. They bring a proven commitment to the ideals of The Consortium and its member schools.
"Some of The Consortium students have done amazing things before they apply," Sanford says. "Before they got here, they had a value system that involved improving other people's lives, and that rubs off on the class as a whole."
That's why learning about The Consortium was a revelation for Zena Stephens (MBA '17) as she made a  plan to pursue a Wisconsin MBA in strategic human resource management. She was already committed to diversity issues and working with youth, sometimes talkin
g to them about potentially bettering their lives through business careers.
"I saw that everything The Consortium stands for is everything I was working on," she says.
An impact throughout the WSB
The variety of perspectives Consortium students bring to the Wisconsin School of Business benefits everyone around them, Hill says.
"The varied experiences our students have is key for professional and personal growth," she says. "If students are only around people who are like them or have similar experiences, they miss out on an essential part of their educational experience."
The Consortium's business partnerships also benefit non-Consortium students, Sanford says.
"We have an entree for some of these companies to talk to other students and that would not have been possible without The Consortium," Sanford says. "The class as a whole, and even BBA students, can make connections with companies through alums who are there because they came to Wisconsin as MBA Consortium students."
In addition, the presence of Consortium students helps better prepare all Wisconsin School of Business students with the tools employers expect them to have in order to succeed in a diverse and inclusive workplace.
"Employers say they want students to have come from classes with men, women, underrepresented minorities," Sanford says. "We can say, 'We're on board with that, and here's the history to prove it.'"
A foundation for diversity
The Wisconsin School of Business doesn't just rest on its status as a Consortium founder to foster an environment of diversity and inclusion. In 2009, the School created the Office of Diversity and a year later the Diversity Advisory Board was founded. In 2013, diversity and inclusiveness were among the core skills incorporated as the School launched The Compass ProgramTM, an undergraduate program that provides structured opportunities for leadership, personal growth, and career readiness for BBA students. In 2014, the Wisconsin Full-Time MBA Program launched Leadership Catalyst, providing opportunities for personal, team, and organizational leadership development.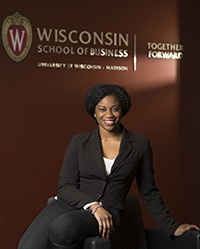 This summer, the School will launch the inaugural class of the Business Emerging Leaders (BEL) Program, a three-year summer residential program for high school sophomores to develop their leadership and academic potential for business higher education and business careers.
"The Consortium always kept us connected to the diversity space, which is really important," Hill says. "Now that we have embedded principles of diversity and inclusiveness throughout the School through a formal diversity strategy, The Consortium has even more meaning.
"In many ways we are even a better partner now."
The Wisconsin School of Business will be celebrating The Consortium anniversary throughout the rest of the year.
Read more about Wisconsin's "parade of firsts" through its Consortium membership in the past 50 years.
---