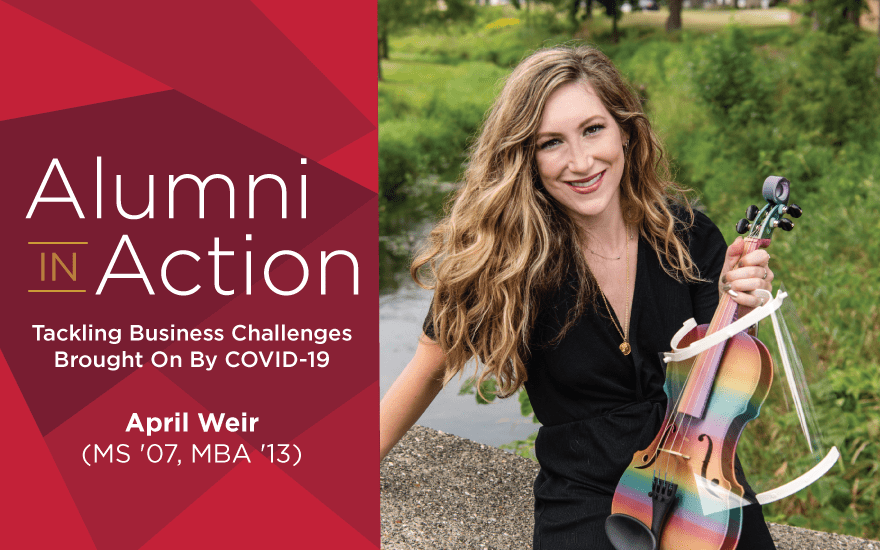 The COVID-19 pandemic forced businesses in all sectors to react quickly in order to stay relevant and continue to thrive. Alumni in Action introduces you to WSB alumni who faced and met the professional challenges the pandemic imposed.
---
As an entrepreneur, April Weir (MS '07, MBA '13) had a plan for a startup product and company. And like any good entrepreneur, when something disrupted that plan she was forced to change her tune.
For Weir, that meant switching from making violins to face shields after responding to product demand in the early days of the COVID-19 pandemic.
"It was just so crazy back then," says Weir, who lives in Waunakee, Wisconsin. "Everyone knew that PPE (personal protective equipment) had a huge shortage, and it was something so simple to help our health care workers."
Weir had launched a startup in 2019 called Partita, which uses 3D printing technology to manufacture lower-cost violins in part to make them available for schoolchildren. She recognized that same technology could help address the need for face shields, and that product quickly became her focus.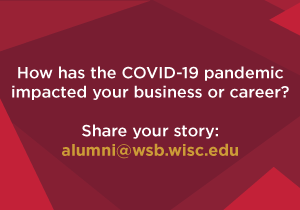 She knew 3D-printed face shields were being made using open model designs available on the internet. Weir found a design, then tweaked it to meet her goals of reusability and affordability. She quickly discovered nationwide shortages in plastic (to create the shield) and elastic (to hold the shield in place). To overcome that, Weir created a design that used sheets of commonly found transparency film and a standard three-hole punch. The result was a shield that costs about $2 to make.
She made the first face shield on March 22. Then, things got really busy.
She put out a call for orders on social media and made a connection with a health care group based in Madison. They approved her design and wanted 750 a week. Orders also arrived from area nurses, first responders, and businesses.
"I knew we couldn't do it all on our own so I looked for a team to help," says Weir, who found 48 area 3D printing hobbyists willing to volunteer. "Every day I'd send a new update, list of clients, and how many they needed. I'd send the volunteers the design file and they'd print from that."
The group made 2,000 masks within four weeks. They were sold at cost or given away.
"It was insane," Weir says of the first weeks of producing shields. "My regular job is about a 50-hour-a-week job and I had two kids getting home-schooled."
Weir's "regular job" is as senior director of the project management office for InClin, Inc., a California-based pharmaceutical research company. She has been with the company for six years, and she built the team managing clinical studies. Among her current projects is managing a COVID-19 treatment study.
The blend of business and science is a passion for Weir, who first came to UW–Madison to earn her master's in biochemistry. She then complemented that with an MBA through WSB's evening program.
"I had worked in startups so I knew I wanted to start a business someday," she says. "That's why I got my MBA. Being exposed to a little bit of everything regarding business – financials, marketing, business law, etc. really helped me have the confidence to start a company."
She dived into Madison's entrepreneurial ecosystem. She was part of the first class of WSB's Morgridge Entrepreneurial Bootcamp, an intensive technology entrepreneurship program for graduate students in the sciences, engineering, and math. This spring, her company Partita was a semifinalist in the Wisconsin Governor's Business Plan Competition.
Manufacturing violins remains Partita's mission; it just took a back seat as the need for face shields emerged. If this had been a normal year, Weir would be visiting schools and retailers to market the violins her husband, David Hauptman, makes.
Weir had bought her husband a 3D printer for Christmas a few years back, and the couple began printing things just for fun. Hauptman had been teaching himself to play the violin and decided to try to 3D print a violin from a design he found on the internet. Weir took the idea and turned it into a business.
"We did this to make the violin more accessible," she says of instruments that can cost $500 to $1,000 just for beginners. "And for kids, you have to buy a specific size and then they grow out of it."
Weir and her husband went through 400 iterations of the design before settling on one. Their goal was to create a violin that could replicate the sound of one that sells in the $1,000 range. They took their violin to professional musicians, luthiers, and students to play it and provide feedback.
Partita violins are made of a plastic called PLA, a polymer that is more resistant to temperature and humidity than wood is—a decided perk in Wisconsin. The violin comes in colors beyond the familiar brown, and that adds to the appeal for kids. It sells for $375.
"When we started we'd just carry the violins around with us and we'd brainstorm about it over breakfast," Weir says. "People would see it and buy it right off us."
Partita is back in the violin business now. The company is still young, and Weir is working on the marketing and building infrastructure.
Face shield requests still come in, but nothing like the early weeks of the pandemic when volunteers she still has never met picked up and delivered the boxes of products she'd leave on her front porch.
"It was a lot at one time and we felt we were contributing," she says.
---