Weikel speaker talks cyber recruiting, earning the public's trust, and what it really means to be a professional
Imagine that this is your job: There are 184,000 soldiers deployed across 140 countries around the world tonight. You need to get them to where they need to be, ensure they are as safe as possible, and equip them with everything they need to carry out their missions.
Though he doesn't do it single-handedly, the business of the Army is Karl F. Schneider's job as Deputy Chief Management Officer to the Under Secretary of the Army, responsible for coordinating the business operations. Schneider knows what it takes to be a strong leader in a high-pressure environment. He shared that leadership expertise with Wisconsin Executive MBA and Wisconsin Evening MBA students as the Wisconsin School of Business's first military personnel member to speak as part of the M. Keith Weikel Winter Leadership Speaker Event.
Here are several takeaways from his talk:
The value of lifelong learning
Schneider commended WSB students for their commitment to pursuing education while balancing a day job and family responsibilities. It's something he and his family understand from personal experience. Schneider got his LL.M. (Master of Laws) at night; his wife received her J.D. after four years of classes every weeknight and Saturday mornings. His daughter served in the 101st Airborne Division after college and recently finished a master's degree via distance learning.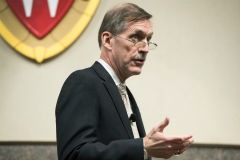 "I think the most successful people are lifelong learners, people who are always looking to learn more. The fact that so many of you have decided to go back to school, at whatever point in your lives you are in, it goes to show how important education is to what you do."
Evolving with a changing world 
Even though the U.S. Army is not a business in the traditional sense—''we're more like a perennial start up," Schneider says, referring to its reliance on Congress to allocate money—it is still shaped by a changing world. Like private industry on pay, it must innovate in order to continue to evolve. Cyber recruitment is one such area, Schneider says. Is the ability to do 50 pushups still relevant when cyber recruiting?
"The Army is nothing if not people. The question is, how do we get the right people to come?" The Army can't compete with the private sector, Schneider says, so it needs to explore offering other benefits like education that will accommodate those who want to serve their country.
Being a professional is being accountable
Whether you're in the military or in private industry, being a professional isn't about the degrees or the accolades. It's about what Schneider calls "a bedrock of trust," having the trust of the people you serve. Once that trust evaporates, you've got a bureaucracy.
Schneider told the audience about a time when he tried to donate some leave balance to help someone else; red tape ensued. It wasn't the employee's fault; she was good at her job, but the motions she was having to go through were useless. It was hard for him to witness.
"Who wants to work at something where you're not doing anything meaningful? We come to work because we want to do something that matters. These are the things we have to work on."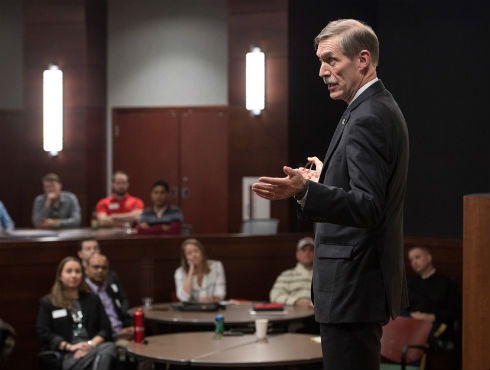 Being a professional also means being accountable, stepping forward even when it's difficult. In 2009, Schneider was summoned to Capitol Hill to discuss personnel issues related to the Fort Hood mass shooting, where 13 people were killed by an Army psychiatrist. It was a terrible day, he says, but he learned a lot, and was effective in communicating what the Army could do if similar situations arose in the future.
"To me, that's the essence of accountability. It's being willing to go to a hearing or a meeting and say, 'I'm the one responsible for this, here's what I'm going to do, here's what we're going to do better in the future, and if necessary, here's who's going to be held accountable.' It's amazing what you get done when you tell the truth."
Read about previous M. Keith Weikel speakers, Jia Jiang and Bill Davis.
---