To be known as a "Bolzie" is to be known as someone with a passion for the arts, a skillset in management, and a life punctuated by creativity. It may not be a widely recognized term, but for those familiar with it, "Bolzie" is a powerful identifier—one that has been 50 years in the making.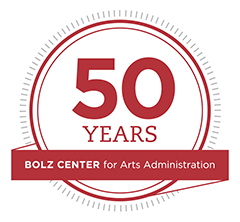 This year marks the 50th anniversary of the arts administration degree program at the University of Wisconsin¬–Madison and the 25th anniversary of the Bolz Center for Arts Administration naming gift. Both occasions are cause for celebration, signaling the pivotal role that this institution has had in shaping a field of study and educating scores of artful leaders.The Bolz Center for Arts Administration at the Wisconsin School of Business (where "Bolzies" are born) celebrates a season of milestones during the 2018-19 academic year with double-header anniversaries and a host of opportunities for students, alumni, and friends to honor the program's deep legacy and ongoing influence.
A founding visionary
Half a century ago, the nonprofit arts industry in America was enjoying rising prominence, evidenced by the launch of the National Endowment for the Arts in 1965 and the growth of foundation funding and cultural spending. With arts organizations forming and expanding across the country, the demand for individuals to manage them grew in tandem.
E. Arthur "Al" Prieve, a UW–Madison management professor, was among the first to recognize the need to train professionals to address the special needs of this emerging field. With pioneering vision, he developed in 1969 the first and only graduate-level arts administration program founded and based in a business school.
Prieve, who passed away in 2014, is widely recognized as a forefather of the arts management profession. He had a keen ability to make connections between different ideas and disciplines. Prieve understood early on the importance of developing arts leaders with broad-based business acumen, and he helped shape the School's arts administration degree from the time of its founding until his retirement in 2000.
"Course by course, connection by connection, [Al] defined an entire field and the skills required to serve it," says Andrew Taylor (MA '94), who studied under Prieve and succeeded him as director of the Bolz Center. "He developed several generations of arts leaders that contribute to its vitality today."
From one family, a gift for many 
The arts administration degree program at UW–Madison continued to flourish over the next several decades, as universities across the country began developing similar programs, though few, if any, based in a business school. To ensure the program's long-term sustainability, the Bolz family—who had deep connections to the arts industry in Madison and a close relationship with Prieve—stepped in to provide generous endowment support in 1993. Hence forth, the degree program became known as the Bolz Center for Arts Administration, named in recognition of Robert, Anne, John, and Marian Bolz, and the Eugenie Mayer Bolz Family Foundation.
"The generosity of the Bolz family gift lifted the burden of tuition and, above all, it afforded me an experience that has transformed the way I think, act, and lead," reflects Sarah Sosa-Acevedo (MBA '16), an advancement associate at the Smithsonian Institution. "Wherever I go, I am confident of the education I received and I am proud to call myself a 'Bolzie.'"
In addition to tuition assistance, the Bolz family funding makes possible a hallmark of WSB's arts administration degree: paid project assistantships in arts and culture organizations that provide students with real-world experience and on-the-job application of classroom learning.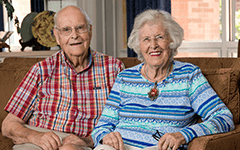 For Jack Bolz, the opportunity to support students in this type of learning is as rewarding today as it was 25 years ago when his family first made the gift.
"I have always been highly impressed with the caliber of people that go through this program," says Bolz. "Times have changed radically and audiences are much different. The appeal is different, and it takes people with a graduate degree specialized in the arts to recognize these changes."
An evolving degree with growing reach
Over the course of the Bolz Center's history, the degree program has continually evolved. Up until 2006, graduates received a Master of Arts in Business with a major in arts administration. In 2006, the degree shifted to become a Master of Business Administration, built on the foundation of the nationally ranked Wisconsin Full-Time MBA Program and delivered through the Bolz Center as part of WSB's specialization model.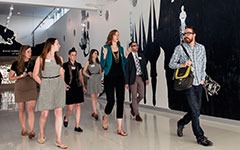 The Wisconsin MBA in arts administration today blends intensive business study, hands-on experience, and extensive professional networking opportunities. Bolz Center students take general management courses throughout their two years of study, as well as a specialized arts administration seminar. In their second year, students hone their managerial skills through consulting projects that bring teams together to analyze the accounting, marketing, finance, human resources, and organizational strategies of arts-related organizations.
Sherry Wagner-Henry, who became director of the Bolz Center in 2012, has deepened the impact of the Bolz Center, extending the Center's reach beyond its cohort of MBA students to serve other students across WSB and UW–Madison. Wagner-Henry launched the campuswide Arts Business Initiative, a program that connects creative majors to business students and curriculum, fostering cross-disciplinary collaboration and creative inquiry. She also helped define the role for WSB's first artist-in-residence and has been a key player in shaping how the School integrates the study of business and the humanities.
"Over the last several years, we've seen an increasing realization of the role that the arts and creativity play in developing well-rounded, thoughtful leaders," says Wagner-Henry. "The Bolz Center is well positioned to create innovative learning opportunities at the intersection of many disciplines, and it has been my honor to shepherd the growth of the program in this way."
On July 1 of this year, Wagner-Henry was appointed by Provost Sarah Mangelsdorf to an evolving role as director of campus arts and business initiatives. This appointment recognizes the groundwork laid by the Bolz Center and WSB to create and foster opportunities for business students and creative majors to collaborate on projects and coursework. It also signals support for increased interdisciplinary programs and creative placemaking efforts across multiple units, with guidance and partnership from UW–Madison's Division of the Arts.
Gathering in celebration and learning

This fall, alumni and friends are invited back to campus for the Center's biennial Collegium, a workshop for continued learning on current topics and trends. In light of the program's 50th anniversary, this year's Collegium takes on special meaning.
It also gives Wagner-Henry and Bolz Center staff and advisory board members a chance to reflect and to reimagine what the 2018 Collegium will look like. Recognizing that many Bolz graduates work outside of the arts and culture sectors, Collegium topics this year will span a broad spectrum, all pivoting around a timely and relevant theme: 50 Years of Artful Leadership. 
"Many arts administration alumni have found meaningful careers outside of the arts," says Jodi Beznoska (MA '05), chair of the Bolz Center advisory board and director of marketing and communications at From the Top. "But we all use what the Bolz Center taught us to infuse our own work with what we've taken to calling 'artful leadership.' We are incredibly proud of how our alumni have shaped a wide range of industries, from health care to higher education to social justice. We are hopeful that by broadening the topics of Collegium this year, we'll welcome a larger community of alumni."
Collegium programming includes a keynote panel of alumni working in multiple sectors discussing how the arts administration degree has impacted their work in and outside the arts. A two-part board leadership workshop will explore ways that organizations and their boards can be more strategic, more welcoming of partners and new directors, and more inclusive and representative of the communities they serve. And a panel of past and present program leaders will explore how leadership training has evolved over time.
The Collegium—and indeed this entire anniversary year—is an opportune moment to celebrate a founding vision, an enduring legacy, and a promising future for "Bolzies" and the many industries and organizations they will influence in the 50 years to come.
The Bolz Center Collegium takes place September 13-15, 2018.
Look for more coverage about the Bolz Center's anniversary year in the Fall 2018 issue of Update Magazine.
---