An informal but informative newsletter for WSB alumni and friends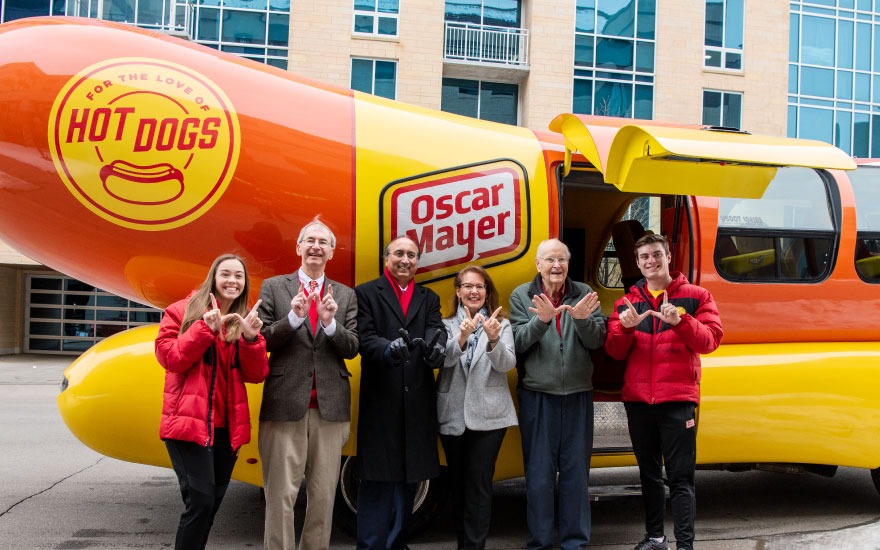 ---
The Briefing

Jake Wood shares his story in memoir and with WSB community
Veteran. CEO. And now, author. Jake Wood (BBA '05) recently released a new memoir, Once A Warrior, that shares his intriguing story of co-founding Team Rubicon to help former veterans find purpose and aid disaster relief efforts. He appeared on the "Today" show and will share his story with the Business Badger community when he is featured in WSB's M. Keith Weikel Leadership Speaker Series, a live virtual event on February 4. The livestream is free, but registration is required.

Fair play: Football helps WSB professors gain insights about cheating
Cheating happens, we all know that. But when do people cheat—when they have something to gain or something to lose? Marketing professors Paul Hoban and Evan Polman turned to football to help answer that research question. NFL data revealed a pattern: Defensive players "fouled" (were penalized) more when their team was ahead; those on offense "fouled" more when their team was behind. The professors' collaboration offers a rare example of extracting psychological insights from big data, a trend that will likely increase given the prominence of big data.
Virtual classrooms open doors to more alumni speakers
WSB courses had some special guest stars in the Fall 2020 semester: alumni. The virtual classroom removed traditional barriers, allowing more alumni to share their professional experiences with students via Zoom instead of having to travel to Madison. "These alumni have the kind of stories I can hint at, but it really helps to have someone in the classroom who helps bring these situations to life," says Enno Siemsen, associate dean of the MBA and master's programs.
---

Back to School
What is 'people analytics' and what role does it play in business?
People analytics, also commonly referred to as "HR analytics," is the process of taking the data companies collect and using it to solve their own human resource problems and business challenges. It's emerged enough that WSB recently added a people analytics course.
With data that track employee performance or satisfaction, for example, HR managers can gain key employee insights, including what makes a high-performing team or what sparks turnover.
"It used to be based on the gut of the manager," says Jirs Meuris. "They'd say, 'So-and-so does good work, let's keep them.' Or they would look at sales data and say, 'Let's promote them.'"
Students don't leave the class qualified to be data analysts, Meuris says. But if they work in human resources they'll face situations where analysts will present them with data they must understand.
"I'm happy if students recognize what they see in a [data] output and make informed recommendations based upon that," Meuris says.
---

Tip Sheet
The term "gaslighting" often comes up in discussions about diversity, equity, and inclusion in the workplace. The term refers to manipulating a person to gain control by making them question their own reality. Combating it is a tangible skill, and Binnu Palta Hill, WSB's chief diversity and inclusion officer, offers these tips:
Recognize behavior and call it out: "Are you questioning my sense of reality?"
Have people who affirm your perceptions. Ask them, "Am I imagining this situation or do you see this?"
Surround yourself with trusted colleagues and have witnesses when you meet with a gaslighter.
Do self-affirmation. Tell yourself that what you are feeling and thinking is reality.
Confirm plans and copy others on emails with the gaslighter.
---
Alumni Opportunities
Jan. 19: Alumni Webinar: "Owning Your Finances"
Jan. 27: Badger Executive Talk: Cheryl Stallworth (MBA '81), co-founder of ShedLight and former CEO of Firefly
Jan. 31: Deadline to sign up for 2021 Alumni Voice Panel, open to all alumni. Learn more
Feb. 4: M. Keith Weikel Speaker Series: Jake Wood (BBA '05), CEO and co-founder of Team Rubicon
March 4: Badger Executive Talk: Ericson Chan (BS '90), group chief information and digital officer, Zurich Insurance Company
April 28: Badger Executive Talk: Tom Falk (BBA '80), former chairman, Kimberly-Clark
Past events: Watch previous Alumni Webinars or Badger Executive Talks
Job search resources: Online tools and videos to help plan a career move now or in the future
Class Notes: Tell us what's new in your life! Submit a Class Note to share with your fellow Business Badgers
---
About Business Casual
Every other month, alumni and friends of the Wisconsin School of Business will receive insider updates with news about our alumni, faculty, students, and programs. If you want to share Business Casual with friends, they can sign up at go.wisc.edu/wsb-biz-cas.
Questions or comments? Email businesscasual@wsb.wisc.edu
---