Step inside Grainger Hall at the Wisconsin School of Business at the University of Wisconsin–Madison and you'll notice a bright red bike displayed on the wall near the School's front entrance. A gift from a group of alumni to Dean François Ortalo-Magné, the bicycle symbolizes the School's brand, Together Forward, one of the hallmarks of his six years as the Albert O. Nicholas Dean. Ortalo-Magné uses the analogy of drafting, where cyclists can go faster in the slipstream of one another, to describe the importance of collaboration—a trademark approach of his tenure at the helm of the Wisconsin School of Business.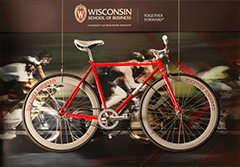 Ortalo-Magné will step down in June to accept the dean position at London Business School. He leaves a legacy of innovation, collaboration, and a new brand that has captured the School's essence and raised its global profile.
"Together, we have advanced our vision and built on our long tradition of innovation," Ortalo-Magné says. "We have gained a seat at the table with the very best schools and academic partners. I am truly honored to have been a part of the School's history over the past 16 years." 
Scholar and program builder
Ortalo-Magné came to the WSB in 2001 from the London School of Economics, where he was a tenured faculty member in the department of economics.
He is an "absolutely first-rate housing economist," says Tim Riddiough, professor in WSB's Department of Real Estate and Urban Land Economics, who arrived at the School from MIT the same year. "He has a mathematically elegant approach to executing research that is rare in the field."
Ortalo-Magné's research on housing dynamics, particularly his work on laddering effects and a later study on the for-sale-by-owner market using Madison, Wis., data, was published in top journals and featured on the front page of the business section of The New York Times. He became chair of the Department of Real Estate and Urban Land Economics in 2008.
During Ortalo-Magné's time as chair, he "really singlehandedly changed the direction of the faculty hires we brought in," Riddiough says, giving the department more depth in macroeconomics that other departments around the world had not yet matched.
He also started to transform the way students learned and the type of programs available to them. The WSB Global Real Estate Master (GREM) launched in 2010, the first one of its kind. The program allows students from partner schools in Hong Kong, Paris, and others around the world to spend a semester in Madison. Ortalo-Magné also organized global trips to the most prestigious international real estate events in the U.S., Europe, and Asia, providing tremendous exposure for students, and global visibility for WSB, Riddiough says.
"This work really opened people's eyes as to how innovative François was with respect to student experiences and how good he was to work with in putting things together."
Together Forward
One of Ortalo-Magné's key achievements as dean was the creation of the Together Forward brand, an effort that gave the School a common language and a platform to increase the School's prestige.
Ortalo-Magné and his team hired an outside agency to talk with alumni, trying to identify the "secret sauce" that makes them special. From the marketing research, four brand pillars emerged: Trustworthy, Progressive, Inspiring, and Collaborative."The brand was really about understanding who we are," Ortalo-Magné says. "The key decision early on was that the brand should be about who our alumni are, because they are what make us unique."
"We now know these brand pillars resonate deeply with people," Ortalo-Magné says, "because they give the School a way to articulate its identity, a way to communicate that identity to the world."
"François' commitment to developing, launching, and supporting the brand was essential in the success of the branding work," says Meloney Linder, associate dean of communications, technology, and facilities. "His leadership in creating a meaningful and authentic brand will be part of his legacy at WSB."
Educational innovation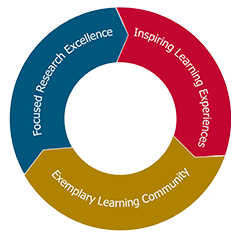 He mapped out a new strategic plan for the School based on investments in three key areas: focused research excellence, inspiring learning experiences, and exemplary learning community. And he insisted they ought to reinforce one another as represented on "The Wheel" that is now so familiar internally within WSB.From the start of his deanship, Ortalo-Magné recognized that disruption in the field of higher education—from the emergence of MOOCs (massive open online courses) to the ever-increasing competition for faculty—meant WSB needed to innovate to stay competitive. 
Ortalo-Magné also transformed the School's conversations around learning by introducing new language, including WSB's own trademarked categorization of learning outcomes called KDBIN™. The collaborative, student-centered framework focused on five critical areas: Knowing, Doing, Being, Inspiring, and Networking.
After KDBIN was introduced in 2012, "that changed the way people thought about what they were doing," Ortalo-Magné says. "You saw faculty and lecturers have 'aha' moments resulting in a major shift in how they approach students. And together with our educational innovation team, they turned their individual realizations into a movement that is now benefiting students across all of our programs."
Collaborative learning
In continued commitment to differentiating WSB's approach, Ortalo-Magné spearheaded the creation of the Innovation Fund, a fund designed to support cutting-edge pilot projects that could be scaled to benefit every student. The fund reached the targeted $6 million by 2014 and revolutionized how WSB approached education and more broadly, how to experiment and learn together. In other words, how to innovate collaboratively.
Cindy Ihlenfeld (BBA '75), Dean's Advisory Board Emeritus and an Innovation Fund member, said the pairing of two seemingly unrelated ideas into something original was typical of Ortalo-Magné's talent for engineering creative solutions.
"It was used like a venture capital fund," Ihlenfeld says. "If you make well-reasoned investments, they will be self-sustaining, and you can move on to solving the next problem."
One of the most successful projects to come out of the Innovation Fund was the collaborative learning classroom. The interactive classrooms changed the way space was used and transformed the role of the instructor from "sage on the stage to a mentor in the midst," Ortalo-Magné says.
"I think he changed the style of teaching and learning," Ihlenfeld says. "He not only drove the organization to think in a different way, his enthusiasm and energy inspired us to act in a different way."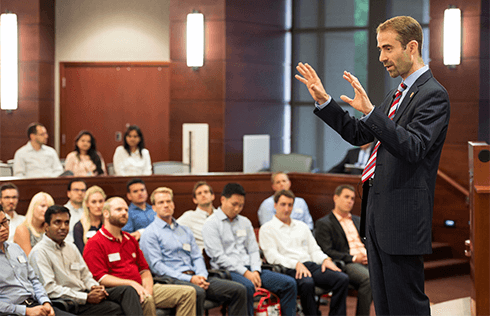 New faculty framework
Ihlenfeld says Ortalo-Magné created an environment for both faculty and staff "where anyone who chose to take the opportunity could succeed and even become a star. He has the ability to see unique talents and skill sets and to help individuals use them to exceed even their own expectations."
Recognizing that different people add different value, he led the creation of a faculty excellence framework that gave options and rewards across all three dimensions of a faculty member: scholar, teacher, and leader. The design was approved, implemented, and now even refined by the School's faculty members.
"The faculty excellence framework has helped to facilitate a more nuanced discussion of faculty contributions in our faculty review process," says Russ Coff, senior associate dean for faculty and research. "We are able to recognize and reward a range of different activities that create value for our stakeholders."
During his time as dean, Ortalo-Magné brought in 34 new faculty members and raised the visibility of faculty research to where it exceeded that of faculty at other top public business schools.
Building community and lifelong relationships
Ortalo-Magné advanced the School's commitment to diversity and inclusion, setting goals for creating more diverse populations and greater cultural competence and inclusive communication. He started interdisciplinary partnerships across campus, including collaborations in the arts and liberal arts, engineering, and health sciences. He also worked with Dean Soyeon Shim of the School of Human Ecology on an anti-bullying initiative.
"François and I share a vision for a positive environment for learning and working on campus," Dean Shim says. Their Anti-Bullying and Hostile Work Environment Initiative resulted in significant changes to UW–Madison's faculty and staff policy and procedures.
During his six years as dean, Ortalo-Magné built bridges between WSB and its corporate partners, alumni family, and donors all over the world. Whether giving a keynote speech in Hong Kong or getting dunked by students in Lake Monona at a Polar Plunge fundraiser in full suit and tie, his dedication to the School was a constant.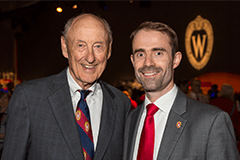 This dedication is deeply rooted in the respect and admiration Ortalo-Magné has for the namesake of his endowed dean position, Albert O. Nicholas.
"Ab Nicholas has meant a lot to me. Every time I sign my name, I add his name to mine and contribute to his legacy. I have experienced this as a bottomless well of inspiration. I am leaving behind a page for future deans, about how Ab approached his life, about his humility and generosity. I hope it will inspire them as much as it has inspired me."
Looking to WSB's future
With his time at WSB coming to a close, Ortalo-Magné remains steadfast in his optimism for the School's future. Drawing again on the cycling analogy, he sees the School continuing to build momentum by pursuing a common purpose aligned with the university's vision.
"When you cycle with others, in the slipstream of each other, you don't just go faster, you go further," Ortalo-Magné says. "As other deans before me, I have demonstrated once again that this School is capable of exceeding its own expectations. I look forward to staying in touch and watching the Wisconsin School of Business continue to surprise the world!"
---