The concepts of diversity and inclusion have changed a lot since Dorri McWhorter (BBA '95) first entered the workforce after graduating from the Wisconsin School of Business.
Back then it was pretty much strictly about race and gender, says McWhorter, CEO of YWCA Metropolitan Chicago, with terms such as "minority recruitment and retention" instead of "diversity and inclusion."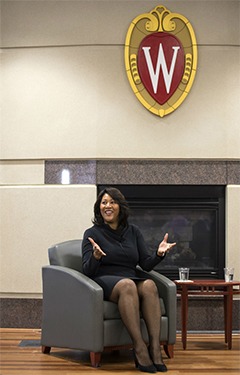 McWhorter sees diversity and inclusion meaning more in the current work environment, and in a wide-ranging discussion during a Lunch and Learn event with WSB faculty, staff, and students, she talked about how she leverages that in her organization and how others can, too.
"You can't get things done when everyone is a cookie-cutter," McWhorter says. "Is there really someone who needs to be convinced that having more than one kind of person is good for your business?'"
McWhorter says by focusing solely on race, for example, organizations run the risk of having a staff that is essentially the same person but in different colors. That isn't good enough today, she says, when people's different experiences and ideas play a role, too.
"You have to have diverse thinking, and that's critical for an organization to have innovation," she says. "I think the diversity conversation is going to quickly evolve to how we get the best out of people and how we create processes that facilitate that. You need to leverage people and all of their experiences."
McWhorter challenges students to have an inclusive mindset because top companies require it in a global economy.
"Students now have access to things that can give them a more expanded perspective," she says, citing the Internet and learning opportunities through WSB programs.  "There is an expectation that you can't come from a university like Wisconsin with a limited point of view. If a school's students can't produce in a multicultural or inclusive environment, companies won't be recruiting there."
McWhorter has been the YWCA's CEO since 2013, and is helping to transform the 140-year-old organization into a 21st century social enterprise. While the organization's staff and leadership is primarily women, McWhorter says they find diversity among themselves because of how they seek it out. She says the YWCA is working with a group called Imperative, which works with organizations to create and identify purpose-driven leaders and staff.
"You can use those surface identifiers like race or gender to make some assumptions about people's experiences, but we find that what truly unlocks people's value is how they are aligned to their personal purpose with the work they are doing," she says. "We're trying to activate on that level so we can really get the best out of people."
McWhorter came to the YWCA after a career in public accounting, and remains a certified public accountant. She joined Arthur Andersen shortly after graduation and in 2008 became the first African-American partner at Crowe Horwath, the eighth largest accounting firm in the U.S. She also held senior positions with Snap-on Incorporated and Booz Allen Hamilton, a leading consultancy.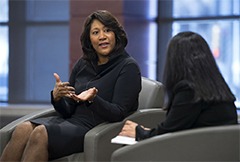 There was a distinct lack of diversity when she began her profession, McWhorter says, but she felt fortunate that she was at a firm that went out of its way to create a positive environment. It wasn't always perfect, though, and early in her career she heard a comment from someone wondering if she was at a meeting to bring coffee, not realizing that she was one of the project leaders.
"That made me want to do whatever I did very, very well to prove I belonged there," she says. "It did serve me because I got a reputation as someone who gets things done. Nobody knew I was triggered by one person's comment."
Accounting is a particularly important area to put diversity and inclusion into action, says Terry Warfield, PwC Professor in Accounting and department chair of Accounting and Information Systems.
"Public accounting firms get this," Warfield says. "They bring in about 35,000 new hires off of campuses every year. That's their business model, bringing new people in. If a firm has a problem hiring gays or lesbians, you don't think there aren't really good accountants who are gay and lesbian? You can't afford to let any good people get left on the sidelines."
McWhorter loves to learn about business people throughout history, but in some ways has a bone to pick with Henry Ford.
"As we started standardizing cars or processes, somehow those standards got applied to people," she says. "Sometimes as leaders we look for the most efficient ways to get things done, but what we have to do is drill down and find out what makes a person work well."
McWhorter says her goals sound simple, but knows they aren't easy to achieve.
"My hope for the world is I want everyone to be seen and appreciated and valued," she says.
Read more about Dorri McWhorter in the Spring 2016 issue of Update magazine.
---