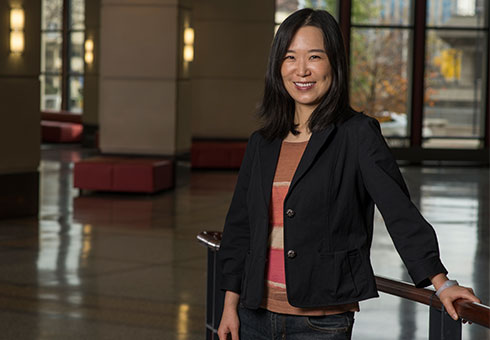 Bringing expertise in health economics and a love for Madison fostered during her days as a UW graduate student, Yang Wang returned to campus this fall through a joint appointment as an assistant professor in the Department of Risk and Insurance at the Wisconsin School of Business and the Robert M. La Follette School of Public Affairs. The interdisciplinary nature of Yang's work lends itself to this sort of opportunity.
Wang comes to the School by way of Lafayette College in Pennsylvania where she spent the last seven years teaching in the Department of Economics. She is a 2003 alumna of the La Follette School of Public Affairs at the University of Wisconsin–Madison and holds a Ph.D. in economics from Duke University.
"I am delighted that we were able to collaborate with our colleagues at the La Follette School of Public Affairs to attract such an accomplished scholar to UW–Madison, where both the Wisconsin School of Business and the La Follette School are made stronger by her expertise and contributions," says François Ortalo-Magné, Albert O. Nicholas Dean of the Wisconsin School of Business.
Health care focus guides research and policy   
Wang focuses on three primary areas of specialization: health economics, applied microeconomics, and applied econometrics. Her research is concentrated on the health effects of public policy, studying everything from the impact of the earned income tax credit on children's health to the effects of minimum wages on the health of working teens.
"The health care industry is really growing, and health care costs are always rising in this country," says Wang. "Health care is a huge part of U.S. GDP even though when compared to other developed countries, our population health is not as good on measures such as life expectancy. So that's always a concern for policy makers and people in academia who are looking for ways to efficiently improve people's health without costing a lot of money."
Wang's research has been published in several top publications, including the American Economic Journal: Applied Economics, International Economic Review, and Journal of Health Economics.
Her research expertise on evaluating the effects of health policy contributes to the Department of Risk and Insurance's strength and increasing engagement in health care research.
Shared appointment reflects research overlap
Wang's shared appointment between the Wisconsin School of Business and the La Follette School of Public Affairs leverages the many intersections among public policy, health care, and business.
"There are quite a few people who have research that overlaps with me. I see a strong connection with the faculty at both schools, and they are really excellent researchers in their fields," Wang observes. "Because of the growing demand in the market and the interest of the faculty, there is increasing attention to the health care aspect of the business field."
During the Fall 2016 semester, Wang is teaching a course on public program evaluation for graduate students in the La Follette School. The course presents strategies for assessing the efficacy of public programs in real world policy settings. In teaching the course, Wang says that she aims to give students the quantitative skills necessary to be educated consumers and producers of public policy.
In Spring 2017, she will also teach a course at the Wisconsin School of Business titled Regression and Time Series, focused on the increasingly important area of analytics. Wang looks forward to providing students with the important skills learned through the understanding and application of regression analysis.
"If students actively participate in the class, they will learn very valuable and practical skills that will aid them as they start their career," notes Wang. "Regression analysis is the basis for a lot of other analytical skills."
A welcome return
Returning to her alma mater is a welcome next step for Wang, both on a personal and professional level.
"I love Madison. I always thought, 'It's such a beautiful place.' When I came back, it was even more beautiful than I remember."
For Wang, joining such a diverse and esteemed faculty at both the Wisconsin School of Business and the La Follette School is an extraordinary opportunity to be surrounded by experts in an atmosphere that feels like home. The Department of Risk and Insurance in particular encompasses a wide range of faculty expertise, with research topics including actuarial science, behavioral science, decision making, risk management, insurance, health care, economic development, and statistics.
"I'm so excited and honored to be part of this talented and friendly group," reflects Wang. "It feels like a big home even though I have only been here for a few months."
---