The Wisconsin Naming Gift has a 10-year anniversary to celebrate this year, and something else that is special, too: a new partner.
Fred Petri (BBA '69, MBA '70) joined the partnership earlier this year, bringing the total of the innovative philanthropic gift to 17 donors and $110 million. Petri has long had an impact on the School's real estate program, and now the entire Business Badger community will share in his generosity.
"He really cares about the real estate program and its reputation," says Tim Riddiough (BBA '81, M.S. '84, Ph.D. '91), academic director of the James A. Graaskamp Center for Real Estate, the James A. Graaskamp Chair in Real Estate and professor in the Department of Real Estate and Land Economics.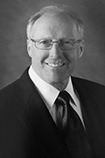 Petri founded Petrone, Petri & Company in San Mateo, California, and his role as president was part of a long and distinguished career in real estate. The real estate investment company he and partner Dave Petrone launched in 1993 followed a long career as an executive for Wells Fargo. He also served as president and co-founder of Housing Capital Company, a joint venture with US Bancorp. He has also served as trustee of the Urban Land Institute and was a former member of the board of governors and vice president of the National Association of Real Estate Trusts and a former board member and officer of the National Council of Real Estate Investment Fiduciaries.
Riddiough says Petri was "instrumental" in helping to support what was first the Center for Real Estate and then the James A. Graaskamp Center for Real Estate, particularly after Graaskamp's death in 1988 and through when the Center was renamed in 2007.
"Fred's input was so valuable," Riddiough says. "He was always at the Center meetings and showed a lot of leadership. He had a day job in business but he did everything he could to move the School forward."
Petri's biggest impact has been in co-founding the Graaskamp Center's signature applied learning program, the Applied Real Estate Investment Track (AREIT). Launched in 2000, the program offers MBA students the opportunity to manage a real multimillion-dollar portfolio of real estate stocks.
AREIT was the first of its kind at a university and has become a distinguishing feature of the Graaskamp Center's academic experience. Petri, with his friend Jim Curtis (M.S. '76), created and funded the AREIT program, with additional help from E.J. Plesko (BBA '51, MBA '52). Petri served on the AREIT board, which works with students on their investment plans and coaches them for their presentations.
"It's really become a game-changer for students who have done the program," Riddiough says of AREIT.
Petri retired in 2011. He lives in Hillsborough, California.
---