It started out as an ordinary day for University of Wisconsin–Madison marketing professor Jack Nevin. It was 1988, and he was sitting in his office in Bascom Hall when he heard an unfamiliar voice at the door.
"Nevin, how come we can't hire anybody that knows anything about our business?"
"Who are you?" Nevin questioned.
"My name is Jere Fluno. I'm from Grainger. We've been interviewing your students, and none of them know anything about our business."
The hour-long conversation that ensued concluded with Fluno, then vice chairman at industrial supply company W.W. Grainger, Inc., asking Nevin to write a proposal to The Grainger Foundation to develop a program that would educate Wisconsin School of Business students in supply chain management. Nevin agreed, shepherding the proposal through a two-year process that resulted in three critical actions:
University approval of an MBA specialization in supply chain management in the Wisconsin Full-Time MBA Program,
creation of a supply chain management specialization at the undergraduate level in the Wisconsin BBA Program, and
a generous endowment gift from The Grainger Foundation of Lake Forest, Illinois.
With Nevin at the helm as the first academic director, the Grainger Center for Supply Chain Management (then called the Grainger Center for Distribution Management) became operational in August 1991 and officially opened in 1992. It graduated its first class in Spring 1994.
Twenty-five years since its founding, the Center has graduated 205 Wisconsin MBA students and more than 250 BBA students specializing in supply chain management—graduates who have gone on to become industry leaders at firms such as Johnson Controls, GE Healthcare, Target Corporation, and, of course, W.W. Grainger, Inc.
Cross-functional and well-connected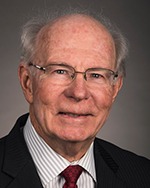 From the beginning, the Center has had deep ties to industry, responding to market demand for students with a cross-functional education that prepares them for the strategic management of a company's entire supply chain.
"The Center was created to provide students a knowledge base that would be appreciated by a whole segment of the industry," Nevin reflects. "We have developed a strong program that is cross-functional in discipline, an approach that is somewhat unusual in a business school."
At its founding, the Center was the nation's first endowed, specialized program in supply chain management. While other universities provided degrees in logistics or procurement, the Wisconsin School of Business was at the forefront of supply chain education in the early 1990s. Nevin continued to build the curriculum through an industry-responsive approach, working closely with Verda Blythe, who served as the Center's director for 10 years.
"The curriculum is focused on real-world experiential learning with an interdisciplinary approach that uniquely provides students with a comprehensive understanding of all functions of the supply chain," says Blythe. "We're proud that students from the Grainger Center have the experiences, knowledge, and skills to succeed in supply chain management careers and as business leaders. Our supply chain students are recruited by companies in a wide variety of industries, from startups to Fortune 500 firms."
Fast forward 25 years from its founding and the Center continues to lead, ranking among the top 10 in Gartner's U.S. Supply Chain Report for both the undergraduate (#10) and graduate (#8) program. Now at a moment of transition with both Nevin and Blythe stepping down from their positions in Spring 2016, the Center is embarking on a new era of visionary leadership.
Under new leadership
Greg DeCroix was a natural fit to become the Center's next academic director, having served on the Wisconsin School of Business faculty for 10 years as Professor of Operations and Information Management, and having spent most of that time as a member of the Grainger Center's Academic Policy Committee. During DeCroix's tenure, he has taught BBA and MBA courses in operations management and supply chain management, and is a leading scholar in supply chain management with published research in top journals including Management Science, Operations Research, and Manufacturing & Service Operations Management.
Grainger Center alumnus Jake Dean (MBA '09) joins DeCroix as director, bringing 14 years of industry experience, including seven years at Cisco Systems. Dean is responsible for marketing the Center to prospective students and employers, developing the applied learning curriculum, and providing academic and career guidance.
"I am delighted with the new staff we were able to hire," comments Nevin. "This team will continue to strengthen the Grainger Center's history of innovation and industry partnerships to develop supply chain leaders."
DeCroix and Dean have hit the ground running in their first few months, sharing their plans for the Center's future at an Executive Advisory Board meeting in October. While the 11-member board comprised of industry leaders typically meets in a closed setting, this meeting provided an open forum that also included students and alumni who gathered to honor Nevin's legacy, celebrate the Center's 25th anniversary, and meet the new leadership team.
"We were able to have a town hall meeting to talk about what we want to do to build the Center and hear ideas from our board, alumni, and students on how we can engage them," says DeCroix. "We had an open discussion to ensure that we're all on the same page—reviewing where we've been and outlining our agenda as new leaders of the program."
Charting a course for the future
As a starting point, DeCroix and Dean view their mission as continuing the good work already in place.
"Our predecessors have done a great job of building t
his program," reflects DeCroix. "We have a loyal and impressive board, dedicated and accomplished alumni, and a strong group of affiliated faculty and staff."
Beyond maintaining this foundation, DeCroix outlines a vision for integrating several interrelated program strengths. There are opportunities, for example, within research to build bridges among faculty in various WSB departments to reflect the cross-disciplinary nature of supply chain management and further support the research mission of the School.
"The extent to which we can be a community where we build connections among different departments to pursue joint research projects is a great opportunity," DeCroix observes. "I'm looking for new ways to connect faculty to each other, and also to our board and industry partners."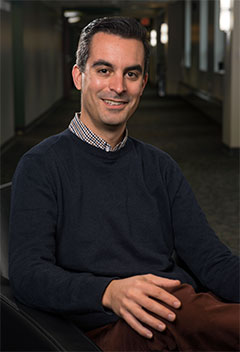 Another opportunity for increased integration is between the Center's undergraduate and graduate programs, where DeCroix and Dean plan to leverage shared resources in applied learning projects, curriculum, and corporate partnerships. The small size of the Wisconsin MBA program (8-15 students per year) allows for a high-touch student experience. Even the Wisconsin BBA specialization, which has experienced tremendous growth over the last decade, is able to embody a close-knit feel for the roughly 50 students who graduate each year.
Both the BBA and MBA programs are seeing an increased focus on data and analytics, a trend that mirrors industry practice as it takes advantage of ever-growing access to big data.
"There are avalanches of data becoming available for supply chain managers today," says Dean. "The ability for companies to take disparate pieces of data and put them together into something that benefits the customer is a major differentiator. This will be a huge area of growth."
The Center is incorporating new analytics courses across both its programs, knowing that students who can interpret and manage data well are positioned for success. Students can also take advantage of coursework in sustainability given the industry's growing emphasis on supply chains as engines for responsible growth. These offerings reflect the Center's responsiveness to evolving industry needs.
"There are certain fundamentals that at their very core are not going to change that quickly, but the idea of what is possible continues to change," says DeCroix. "We used to be focused on how to get the right quantities of a product into the right stores. Now, it's how quickly can we get that product to a doorstep? It's a fascinating time."
A legacy of loyalty
The Center attracts students with tremendously diverse backgrounds, from the military to marketing, from engineers to restaurateurs. It's a reflection of the interdisciplinary nature of the supply chain field and the Center's approach to educating students through a comprehensive, cross-functional lens.
"The work of a supply chain manager touches most aspects of an enterprise, so it really opens up the universe of students who are interested in the field," says DeCroix.
"The backgrounds our students bring to the curriculum are incredibly interesting and diverse," adds Dean. "As far as what their experience has been before they got here, the more different the better."
While students may enter the program with a variety of backgrounds, the majority go on to pursue supply chain management positions in enterprises both large and small. But they always remember their roots.
"Our alumni stay very connected. They are a very loyal bunch, and that's part of the Grainger Center's legacy," says DeCroix. "Our charge now is to continue growing that cadre of committed students and alumni for the next 25 years."
Read about a team of Grainger Center MBA students who led a consulting project to help bring locally produced foods into Wisconsin schools.
Read about two of WSB's MBA specializations, including supply chain management, that became the first in the country to receive STEM designation.
About The Grainger Foundation
The Grainger Foundation, an independent private foundation based in Lake Forest, Illinois, provides substantive support to a broad range of organizations including educational, medical, cultural, and human services institutions.  The Grainger Foundation was established in 1949 by William Wallace Grainger, founder of W.W. Grainger, Inc., North America's leading broad line supplier of maintenance, repair, and operating products (MRO), with operations also in Europe, Asia, and Latin America.

---