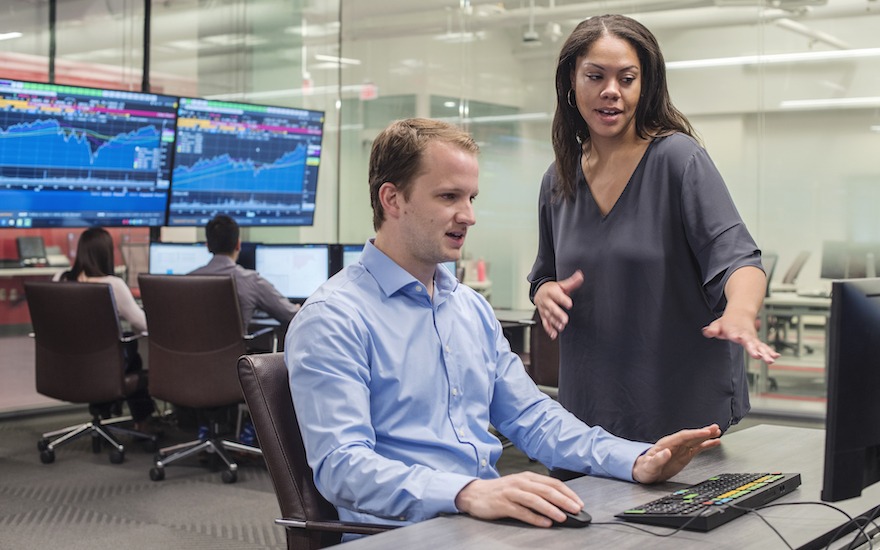 When it comes to advancing one's skills, today's professionals have more options than ever. You can study full time on campus, take an intensive bootcamp, or simply open up a new YouTube tab.
The world's top universities are now contemplating how they fit into this constantly evolving future.
The Wisconsin School of Business has made the intentional decision to grow and invest in a wide-ranging graduate portfolio of innovative programs based on what professionals—and their employers—demand. The new graduate programs make the School more agile. Program formats are reshaped, the classroom is rethought, and students experience a more diverse slate of options for advancing their careers.
WSB takes cues from Vallabh "Samba" Sambamurthy, who is one year into his tenure leading the School as the Albert O. Nicholas Dean. He's a digital economy expert and studies how the internet rapidly transforms the way people do business, consume information, and share ideas.
"The business world is rapidly changing. How is business education any different?" Dean Sambamurthy asks. "Today's business schools must adapt, disrupt, and be able to compete with not only each other, but with the greater digital marketplace. It's time to innovate and create new options to help grow today's leaders."
Accelerated career preparation in the graduate space
WSB's new graduate options are four one-year specialized master's programs and an innovative 50% online, 50% on-campus professional MBA that unbundles curriculum into customizable badges.
The first step was launching master of science degrees in real estate, business analytics, and supply chain management in 2019. The business analytics and supply chain programs are STEM-designated and continue the School's investment in technical education built up in its full-time MBA program. 
All of WSB's specialized master's programs build on areas of expertise and strength. The business analytics MS is a cross-functional program taught by faculty across marketing, risk management, and supply chain management disciplines. Just one year after launch, it ranks as the #7 business analytics program in the U.S. by QS World University Rankings.
Developing career-ready abilities in on-demand fields is an important driver for these programs. Students in the new programs benefit from a focused and accelerated education in fields that need skilled and creative leaders. By participating in consulting projects with real companies and receiving mentorship from WSB's alumni and corporate partners, the School develops hands-on opportunities for students to prepare for their careers after graduation.
In the inaugural year of the business analytics program, students benefited from a daylong summit at which analytics leaders from companies like Microsoft and American Family Insurance got to connect, brainstorm, and discuss the industry with students and faculty.
After one year, graduates—some of whom were completely new to the discipline before their chosen program—are ready to excel in high-level positions at top companies, receiving job offers from companies such as Deloitte, Dell, and Epic Systems.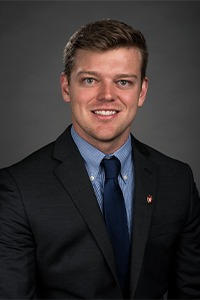 "The program essentially built the relationship I have with my current company and gave me the opportunity to interview and land an amazing job," business analytics graduate John Barcheski (MS '20) says.
"I was not qualified prior to this year to get a job in analytics consulting, but now I am definitely more than qualified with the tools I have learned over the past year."
Following the launch of the three specialized programs, WSB developed an additional master's program this year in arts and nonprofit leadership and is exploring other employer needs. At the same time, the School underwent a major effort in overhauling its part-time MBA program, updating it to serve a future where professionals are sure to need flexibility, customization, and online access. 
Flexibility, innovation drive new part-time MBA
Late last summer, Wisconsin School of Business leadership developed the Wisconsin Professional MBA after consulting with corporate partners and prospective MBA students to determine the exact needs of an MBA built for today—and tomorrow.
At its core, the Wisconsin Professional MBA is a career-building program: it gives professionals seeking advancement the tools, insights, and network to earn high-level, higher paying jobs and increased career opportunities.
The program provides a significant degree of flexibility for professionals. While WSB's previous part-time MBA offering was three years of two-day-a-week classroom courses, the Professional MBA is woven with a more breathable, flexible fabric.
Students now can earn an MBA that mirrors their specific goals and personal aspirations. By constructing the program on a badge platform, students experience an agile education and get to customize their degree by choosing coursework aligned with their career interests. They'll select modular course units and earn badges in areas like social responsibility, analytics, marketing, innovation, and global business.
Every professional MBA course will have online and in-person components, with in-person classes taking place one weekend a month. The program aims to bridge the best aspects of collaborative, face-to-face instruction with the advantages that digital tools provide.
"The program is specifically designed to create a strong cohort experience where online learning is reinforced and enhanced by the time students spend with each other and with faculty on campus," says Enno Siemsen, associate dean of MBA and master's programs at WSB.
"Most students entering MBA programs today have grown up in a digital-first world, so they are accustomed to and expect the flexibility that this hybrid program can offer," Siemsen adds.
One-on-one career coaching remains a key component of WSB's commitment to the part-time MBA, notes Jean Sink, director of career management and corporate partnerships for the program. "We'll work with students to build a strategic and customized career plan that supports their career journey, whether that means advancing in their current organization or preparing for a new career."
Unbundling the MBA to widen access to business education
Shortly after the first professional MBA class matriculates in the fall of 2021, WSB will also make the program's badges available as one-off offerings for professionals who seek advancement in a particular area or want to add skills throughout their career.
The goal moving forward is to capitalize on this innovative platform and harness the diverse knowledge and connections within the School to give professionals the specific knowledge and experiences they need to get to where they want to go in their careers and lives. WSB will continue to invest heavily in its successful full-time and executive MBA programs, while meeting the transforming demand from professionals with part-time and online options, badges, or more bite-sized professional development opportunities. 
WSB has always been a broad-based School with thought leaders across many disciplines. Now, more than ever, its diverse programs position the School to develop the next generation of business leaders. 
Explore related stories from the Wisconsin School of Business:
WSB Announces Innovative and Flexible Professional MBA Program
WSB's Business Analytics Master's Program Celebrates Inaugural Year
Investments in Online Learning Boost Quality, Student Experience
---