The Wisconsin School of Business celebrates a School milestone this month: the successful completion of the inaugural year of the business analytics master of science degree (MSBA) program.
Students of the first MSBA class who graduated this May headed to leading companies such as Deloitte, Dell, Analytics8, and Epic, while others have been accepted into top PhD programs across the country.
Launched in the fall of 2019, WSB's MS-Business: Operations and Technology Management: Business Analytics is the only in-person business analytics degree program offered in the University of Wisconsin System. The degree integrates data visualization, machine learning, behavioral science, and project management to position students for cross-industry careers in areas such as finance, marketing, health care, and technology.
The MSBA program launched in tandem with two additional one-year MS programs, supply chain management and real estate, which also completed their first year this spring. Together, these new master's programs augment WSB's graduate portfolio of market-driven degrees.
Meeting industry and student demand for analytics skills
Early on, the School had already identified the need for a business analytics degree and had started to move in that direction. In Fall 2018, WSB leadership reached out to several faculty to help lead the program design and to create a new curriculum: Dani Bauer, an associate professor of risk and insurance and the Hickman-Larson Chair in Actuarial Science; Jordan Tong, associate professor of operations and information management and a Wisconsin Naming Partners Professor; and Kristin Branch, a faculty associate in marketing and director of the A.C. Nielsen Center for Marketing Insights and Analytics.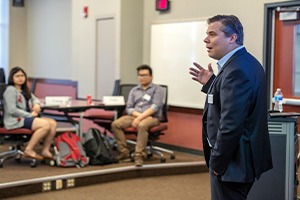 "We decided that if we were going to do this, we do not want to just put something together based on existing classwork," Bauer says. "If we are to build a program, we want to build and lead one that we believe in, that emphasizes the strength of the School and provides a program that we can be proud of."
Bauer and Tong applied for and received the Michael E. Lehman Distinguished Chair for Inspired Learning in Business grant to help with course creation and execution. The idea was to pull in WSB expertise by working across departments, to "create analytically-capable students that can turn data into actionable solutions—meeting a dramatically growing demand among Wisconsin businesses," as the proposal noted.
"The jobs are there because businesses need to expand their capability in data driven decision-making," Tong says. "They're all trying to get better use of their data."
The degree program included eight new courses which covered business statistics, programming tools, and application-focused classes. The new courses "meet the needs of young professionals seeking a career in business analytics as well as what industry needs them to know," Branch says. The new offerings and the degree "bring a heightened level of analytic rigor to the Wisconsin School of Business and our students."
The program enrolled 24 students in the inaugural cohort and is on pace for enrollment growth next year.
Positioned for the future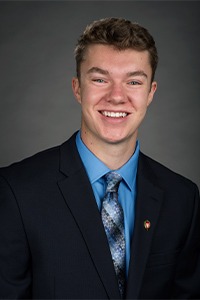 The first group of graduates from the MSBA program are heading into exciting positions, like Michael Medenblik (BA '19, MS '20), who is starting a job this summer as a technical solutions engineer with Epic, one of the nation's leading healthcare software companies. The program prepared him through learning technical skills like SQL as well as the soft skills "that are important for any job," Medenblik says. His time spent in the program and the opportunity to learn from expert faculty also broadened his horizons. "The marketing analytics course with Professor Neeraj Arora and the Current Topics in Business Analytics were my favorites. I don't have much of a background in marketing so I loved learning about the applications of analytics in the marketing world. In Current Topics, it was great to hear from individuals in the industry with a wide variety of expertise."
Fellow graduate John Barcheski (BBA '19, MS '20) is heading to top analytics consulting firm Analytics8, where he has accepted a position as an associate consultant. The company has offices in the UK and throughout the U.S. including Madison, where Barcheski will be based.
Barcheski credits the MSBA program with helping him to prepare, and eventually land, his current position.
"The program essentially built the relationship I have with my current company, and gave me the opportunity to interview and land an amazing job," Barcheski says. "I was not qualified analytically prior to this year to get a job in analytics consulting, but now I am definitely more than qualified with the tools I have learned over the past year."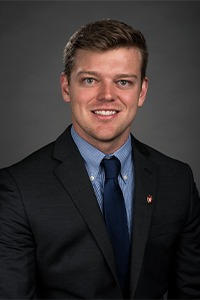 Both he and Medenblik took advantage of the resources available through WSB's program offices and career services.
"The best thing I did was run through mock interviews as interviewing was not a natural skill for me, but that helped build my confidence exponentially," Barcheski says. "I had a ton of support throughout the year which I am extremely thankful for. The one-on-one sessions were the most important for me to grow and figure out exactly what type of job I wanted to get, and then negotiate once I landed offers.
The program's individualized focus and commitment to each student's growth helped created a strong foundation for future success.
"I really liked the personal relationships I built with the staff and faculty in the program," Barcheski says. "It made me feel like I always knew I could reach out to get help and that I wasn't in some huge program. I thought it was awesome because it made me feel like my opinions were always heard and that I wasn't just a person in the program, but part of a tight-knit group."
In true Badger spirit—and since he will be based in Madison—Barcheski plans to reach back and share what he's learned by helping other future MSBA students as they navigate their journey.
"I really enjoyed the program. It was challenging, but an amazing experience and I am sad it's over."
---