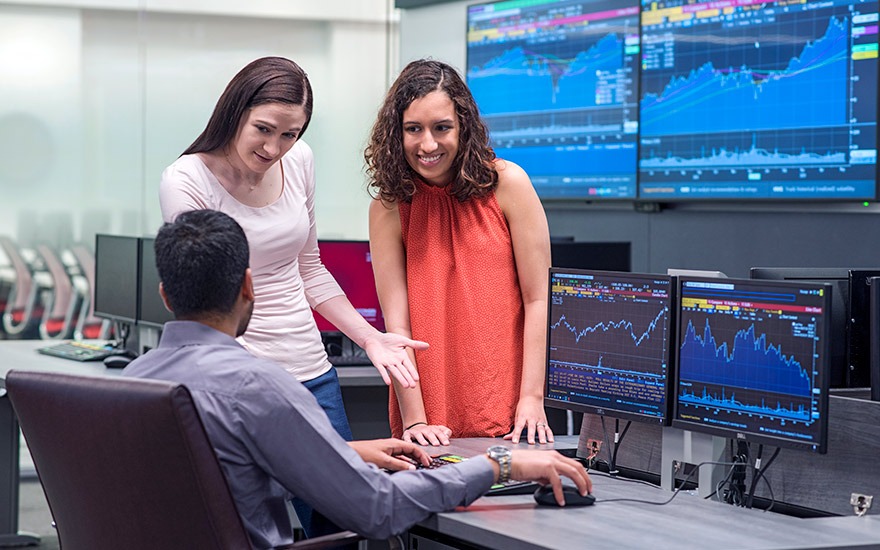 New initiatives are afoot at the Wisconsin School of Business. Science, technology, and data analysis are being built into an increasing number of WSB's courses, and students are customizing their learning experiences through intensive engagements with corporations and executives.
Cross-disciplinary research and programming are abundant. Faculty, staff, and students bridge important disciplines like health care and sustainability with technical and business solutions.
Following its first-in-the-nation STEM MBA offering, the Wisconsin School of Business also has two new STEM-designated master's programs this fall.
New Albert O. Nicholas Dean Vallabh Samburthy says WSB is primed to make a major impact on the future of business.
"The future demands business professionals with expertise in STEM fields," says Sambamurthy. "Today's graduates must lead the way in terms of innovation and cross-disciplinary work, while blending analytical insight with business acumen."
Tech-focused spaces bring enhanced learning
The heartbeat of WSB has become the Learning Commons, a newly constructed multi-use library that activates technology and collaborative spaces to inspire interactive learning. It was a major design investment for the School that is pushing the UW–Madison campus forward with increased access to leading-edge tools.
Faculty, staff, and students arrange meeting and study spaces in the Learning Commons each day to meet their needs. Classes, workshops, and study sessions occupy the Finance and Analytics Lab, with students working on the latest programming technology or tracking up-to-the-second financial data on Bloomberg Terminals—seamlessly integrating their own devices.
Alumnus Ricky Sandler (BBA '91), founder and CEO/CIO of Eminence Capital and Paul Leff (BBA '83, MS '84), founder of Warbasse67, visit regularly from New York to teach classes in the lab. Experts like Seth Partnow, former director of basketball research for the Milwaukee Bucks, conduct hands-on workshops there.
Business analytics program develops innovative leaders
This fall, twenty-four students from around the world joined the inaugural cohort of the Wisconsin School of Business master's in business analytics program.
The STEM-designated program provides a multidisciplinary approach to learning to use, analyze, and make decisions based on data.
Faculty across operations, technology, marketing, supply chain, and risk management lead eight new courses for the program. Master's in business analytics students benefit from gaining data science skills while learning to apply those skills to myriad real-world business environments.
A capstone consulting project in the second semester will help students gain career-ready experience. Companies will provide live analytical projects for students to define problems, run the deep dive analytics, and leverage their skills in persuasion and communication to make insightful recommendations to their client.
The focus on career-ready skill development helped WSB create application classes in health analytics, people analytics, supply chain analytics, and marketing analytics, allowing students to study across the entire business school.
Students in the business analytics program differentiate themselves in the marketplace by gaining expertise in predictive, descriptive, and prescriptive analytics. They will graduate from the one-year program with skills to bring to high-achieving analytics roles at major organizations or startups.
Student Rachel Hyland (BBA '19, MS '20) says an undergraduate programming course led to her interest in a business analytics master's. "I've learned that I really enjoy finding technical solutions for business problems, and kind of using data to tell a story. The new MSBA program is going be a really great springboard for me as I pursue a career."
Supply chain master's leads the way in STEM
The Wisconsin School of Business' new master's in supply chain management is also a STEM-designated, multidisciplinary program. Students graduate after one year, with critical skills in all areas of supply chain management.
"There is no shortage of challenges in supply chain, which is why we're seeing so much demand for our supply chain students," says Jake Dean, director of WSB's #10-ranked Grainger Center for Supply Chain Management.
"Everybody wants to be the next Amazon, delivering packages to your door within two days, and consumers have such high expectations that meeting those expectations profitably from a supply chain perspective is very difficult. Our graduates are well-suited to tackle those problems and lead the next generation in supply chain thinking."
The program equips students with the tools to succeed in strategic sourcing, marketing, enterprise systems, logistics, and data analysis. Students use the latest technology to understand the global, environmental, and economic impacts of supply chains, and come up with creative solutions.
Dean Sambamurthy brings digital economy expertise
Vallabh "Samba" Sambamurthy joined the Wisconsin School of Business as Albert O. Nicholas Dean this year. Sambamurthy is an expert on the digital economy, with research published in top journals.
Sambamurthy has a bold vision for STEM at the Wisconsin School of Business. "Educating tomorrow's business leaders requires making sure they understand the complex intersection of science, technology, data, and economics with business decisions, processes, and strategies," says Sambamurthy.
"Wisconsin had the first STEM-designed MBA specialization, and we're going to continue to invest in business programs that equip students with technical and analytical skills that use the latest in engineering and technology."
Collaborations strengthen business innovation
In Grainger Hall and across campus, collaborations with business students and faculty flourish.
For the past two years the Wisconsin Full-Time MBA Program embarked on a major partnership with Medtronic, a global leader in medical technology and services. Medtronic's key business challenge in 2018 was to find innovative approaches to expanding diabetes care in sub-Saharan Africa. Students worked in teams to address the challenge, leverage data sets, communicate with Medtronic leaders, and present findings.
Connecting different parts of campus, Enno Siemsen, professor of operations and technology management, spearheaded a Pharmacy-MBA partnership for UW–Madison's PharmD program, where pharmacy students benefit from cross-functional classes in business.
WSB recently welcomed Stuart Flack as artist-in-residence. He led workshops on how to turn data into live performances.
At the Wisconsin School of Business, there's no 'business as usual.'
Business isn't an isolated subject, but a web of connections that are increasingly touching STEM fields and incorporating expert perspectives from outside of traditional corporate settings.
Whether it's industry collaboration, programmatic design, or bringing in guests, innovation and a vision toward the future is woven into everything the Wisconsin School of Business does.
About the Wisconsin School of Business
The Wisconsin School of Business at the University of Wisconsin–Madison is a world-renowned institution that prides itself on academic excellence, a commitment to ethics, and real-world experiences for its students. Established in 1900, the School was one of the first five business programs in the nation. Today, it proudly educates students from all walks of life with its nationally recognized undergraduate, MBA, MS, PhD, and professional development programs.
---