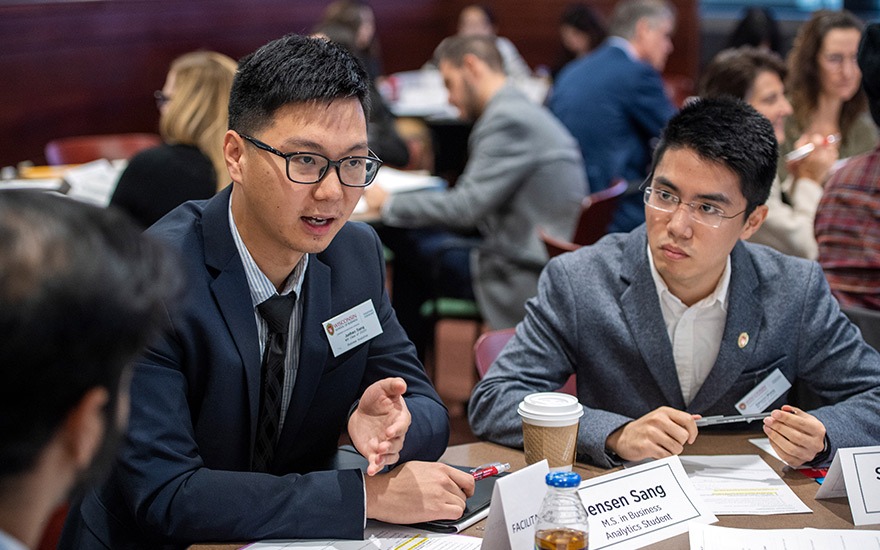 On October 24, the Wisconsin School of Business hosted its inaugural Business Analytics Industry Meetup. WSB faculty and students joined analytics leaders from companies like Microsoft, Adobe, and American Family Insurance in Grainger Hall for a discussion on the evolving world of business analytics and WSB's growing analytics offerings.
WSB students and faculty discussed potential collaborative projects with industry professionals and presented on new career-focused curriculum. Students from WSB's new MS in business analytics program had the opportunity to share their first big projects.
Student Sanyou Wang (MS '20) presented a project from his Statistics and Programming Bootcamp course, which he humorously called "Uncle's Chaotic Directory."
Wang's uncle lives in China and runs an e-commerce company. The uncle is less than organized in terms of his computer files: He had 100,000 files on 8,000 products scattered throughout his computer and saved in different places.
Wang wrote a program in Python that identified, renamed, and reorganized the files, helping him learn to be creative with programming and aiding his uncle's company along the way.
---
John Barcheski (BBA '19, MS '20) created a blackjack simulation. A program randomly generates the numbers 1-13 to represent the ace through king playing cards. The program presents a number for the player and a number for the "dealer." The player can choose to hit or stay, then the program generates the next round of cards to reveal a loss or a win.
Haider Barq (BS '19, MS '20) and Sakshi Singh (BS '19, MS '20) presented on a project from their Data Visualization course. They were given a data set from a hypothetical university that listed donations from alumni. Barq and Singh analyzed donations by region, time, alumni major, and amount. They looked for outliers in the data and made recommendations for what demographics the hypothetical university could invest in for their fundraising efforts.
---
Twenty-four students make up the first class of the business analytics masters program, some with no prior programming experience. The MS program proved to springboard learning and creativity for students in a short seven weeks since it started. Students are learning from faculty across the Wisconsin School of Business and preparing for a diverse range of careers in fields like marketing, supply chain, finance, and risk and insurance.
Student Sijia Zeng (MS '20) describes the program as a perfect fit for her. "This program aligns with my desire to reinforce technical expertise," says Zeng. "I'm especially excited about taking Machine Learning and Data Technology courses. I will be prepared to apply these analytics tools to future business problems."
Connecting with people in their ideal fields at the Business Analytics Industry Meetup was an invaluable opportunity for Zeng and her classmates, who in less than a year's time will be taking their wide-ranging analysis skills to companies across the globe.
Learn more about the MS in Business Analytics Program
---