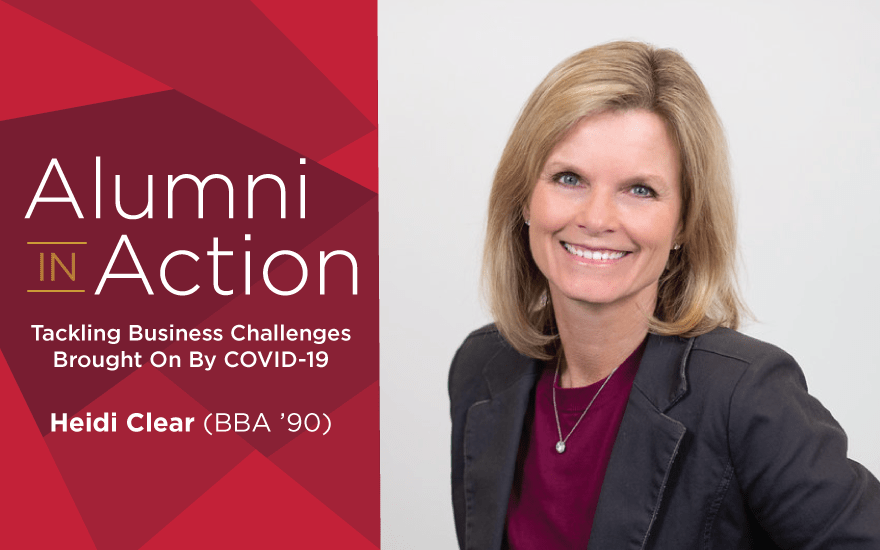 The COVID-19 pandemic forced businesses in all sectors to react quickly in order to stay relevant and continue to thrive. Alumni in Action introduces you to WSB alumni who faced and met the professional challenges the pandemic imposed.
---
As co-owner of a trade show marketing company, Heidi Clear (BBA '90) is familiar with creating solutions for clients. Because of the COVID-19 pandemic, however, she's now working hard to create solutions for her company.
Clear and her husband, Steve, own CenterPoint Marketing in the Twin Cities. CenterPoint designs and builds custom exhibits for trade shows and events. It's a full-service national company that goes beyond the physical product of the exhibit to include logistics and marketing strategy.
But with no trade shows or events, their business model was suddenly turned upside down.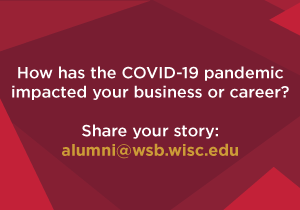 "Our industry was one of the first affected by this and we'll be one of the last to come out of it," says Clear, the company's chief marketing and strategy officer. "It's devastating."
There's been little time for the Clears and the company staff to worry. They've been busy reimagining what CenterPoint can be while continuing to serve current customers. That has meant creative solutions to replace the trade show model (in the short term), as well as launching products to address COVID-19 business challenges.
A quick pivot to other products
The company builds its exhibits on site at its headquarters, making it easier to pivot toward building other things too. CenterPoint shifted some of its work to make and market protective barriers and gained airports, banks, dentists, and corporate offices as customers. CenterPoint also licensed the design of the University of Minnesota COVID19 testing booth that medical professionals could use.
"It helps us think differently as a company," Clear says of the pandemic. "These are different problems, what are the different solutions?"
The company isn't losing sight of its original mission, however.
"A lot of our customers are wondering, 'With trade shows canceled, how do we still connect with our clients?' because they still have to sell their products," Clear says.
COVID-19 restrictions about crowd gatherings and health risks forced a shift, and Clear says her company has responded by creating options for mobile marketing, smaller pop-up shows, or a virtual trade show experience. After all, CenterPoint's customers have customers of their own to reach, too. They have also created safety recommendations for clients for when trade shows and events do restart.
"We're coming up with other ideas," Clear says. "We have to work differently, and that's pretty exciting."
Even so, it's an evolution that wasn't planned. As 2020 began, it was shaping up to be a good year for CenterPoint. One client, Sleep Number, won an award for Best Exhibit at the Consumer Electronics Show in Las Vegas. The trade publication Exhibitor Magazine named CenterPoint one of its Top 40 companies, Top 8 in customer service.
Trade shows feed other industries
But on March 2, with clients' exhibits already set up and ready, the first trade show was canceled. Exhibits were en route to other shows that one by one shut down, too. Trade shows remain canceled into the fall and Clear says there's no indication things will be back to normal any time soon. That has an impact on the overall economy well beyond trade shows, Clear says.
"This industry, people joke that it's the biggest industry you've never heard of," Clear says. "Tied to the trade shows there is hospitality, hotel, motel, travel, airlines, car rentals, people who do the setup and the takedown. There's a huge ecosystem within our industry and it's affecting millions of people."
Clear is somewhat new to the industry. She and her husband, who is CenterPoint's president and CEO, bought the company in 2018. She had worked in financial services marketing but she and Steve wanted to buy a company with a tangible product and where they both could work. A marketing and finance major at WSB, Clear also worked in brand marketing at General Mills and in consulting.
An entrepreneurial class in college planted the seed for Clear to own her own business one day, she says, and credits her WSB education for helping to prepare her for what has happened the last several months.
"It helped build my strong work ethic and resilience—which I've used a lot lately," she says.
---