A seed of an idea planted by Wisconsin MBA students in the Strategic Human Resource (HR) Management specialization has grown into a summit that has nurtured a community at the Wisconsin School of Business.
This spring alumni, faculty, students, and others came together for the fifth annual HR Summit to network and learn about human resources industry trends. A full house of 64 people spent a day exploring topics such as HR's central role in business strategy, international employment issues, coaching for HR professionals, and building an HR career.
"The Wisconsin HR Summit is valuable on a couple different levels," says Charlie Trevor, Pyle Bascom Professor in Business Leadership in the Department of Management and Human Resources at the Wisconsin School of Business and department chair. "Students can see the different career paths in HR. It's valuable to see the variety of roles they can play in their career. And certainly it's valuable for networking with so many alumni here."
As in previous years, most of the summit's speakers were alumni of the University of Wisconsin–Madison's Wisconsin MBA in strategic HR or the former Industrial Relations Research Institute in the College of Letters and Sciences. That included Mark Esselman (M.S. '80), senior vice president of global human resources at Buckeye Partners in Houston. Esselman spoke of some of the changes he's seen in human resources throughout his career.
One thing that is similar, he said, is how talent acquisition remains a key for an organization. How that happens has evolved, he says. Earlier in his career, Esselman believed managers were more adept at the interview process than the candidates. No longer, he says.
"Between counseling and the number of times people job transition, they've got their story, and job candidates know the things you're going to ask," he says.
Because of that, Esselman says, interviewers need to be more adept at asking open-ended questions that don't have answers candidates could have researched and that also show how they think.
"You want to figure out if they are a match for your company," he says.
Making a difference through HR
What hasn't changed, Esselman says, is HR professionals wanting to get into the industry to help make a difference—in their organizations and in the lives of people who work there.
"Our job is to make the right things happen," he says. "You have to ask, 'Are the scratches on the right side of the door?' Are people scratching to get in your place or are they scratching to get out?"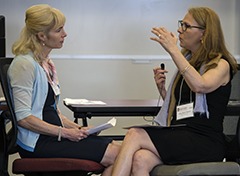 IR alumna Ann Houser (M.S. '85), vice president of human resources of cardiac rhythm and heart failure management at Medtronic, led an interactive portion of the summit talking about the company's relatively new approach to developing talent—coaching.
"With 85,000 people worldwide," Houser says, "it's our step for making things more aligned across the organization."
With Houser was Anne Marie Pernice, who is leading the company's coach training initiative. Medtronic's program, Houser says, is geared toward developing leadership throughout the organization.
"It gives managers someone to talk to and by talking it through, they come up with solutions that they own because it came from them," Houser says.
The two demonstrated the techniques Houser is learning as part of her yearlong training in the program—attentive listening and asking good questions—and then those in attendance paired off to try their hands at coaching each other.
HR as a strategic partner
Barry Gerhart, faculty director of the Wisconsin MBA in strategic human resources, noted the many benefits students take from the event.
"A major purpose of the HR Summit and other applied learning activities is to give students hands-on experience (e.g., gaining experience consulting with companies) and the opportunity to interact with leading HR professionals," Gerhart says. "That provides a valuable complement to the more academic parts of the program. The HR Summit, in particular, helps them see how leading companies drive business success with their HR/people management strategies."
Also speaking at the summit were:
• Dan Waldman (MBA '02, JD '02), partner in global legal services at FordHarrison, on managing international employment issues.
• Jordana Kammerud (M.S. '00), vice president of global human resources, global commercial organization, at SC Johnson, on translating business strategy into HR strategy.
• Bill Mateikis (M.S. '85), senior vice president of human resources and general counsel at Daikin Applied, on how to build an HR career by building expertise in how to align people strategy with business strategy.
The message of the HR team as a strategic partner resonated with Wisconsin MBA student Zena Stephens (MBA '17).
"Often companies view HR as a supporting function," she says, "but our conference speakers were able to elaborate on turning an HR strategy into a business strategy and vice versa."
Kasia Orlowska (MBA '16) says she saw the summit's greatest value in connecting with alumni.
"It's good to get to know some of those senior leaders who are alumni and see where our careers might be headed," she says.
Summit driven by student interest
Creating those connections was part of the impetus for the Wisconsin HR Summit, which was introduced in 2012.
Brian Borkovec (MBA '11), now a human resources generalist at Extreme Engineering Solutions, Inc.,
in Middleton, Wisconsin, said he and his classmates admired the way board meetings of the Wisconsin School of Business's knowledge centers brought together students and alumni. Borkovec says he and fellow students Kate Christensen (MBA '12), Kate Geier (MBA '12), and Rachel Crooker (B.S. '07, MBA '12), wanted something similar for the strategic human resource management specialization in the Wisconsin MBA Program.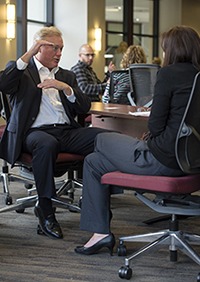 "There was always a buzz about whatever program had its meeting, and the students would talk about it," Borkovec says.
Borkovec mentioned it at his exit interview. Staff and faculty listened to the suggestion, and the first summit was held the next spring with Geier and fellow students Krista Friedrich (BBA '05, MBA '13) Kristina Engeseth (BBA '04, MBA '13), and Crystal King (B.S.'03, MBA '13), together with faculty director Larry "Chip" Hunter, organizing it.
"It accomplished what we were looking for," Borkovec says. "But to see how it's grown since then is pretty impressive."
The summit can open students' eyes not just to career opportunities, Trevor says, but to their role as a Business Badger.
"Students come to a program and try to keep their head above water with classes and placement. Then they get to the end of the year and find out they're part of this broader community that is focused on trying to fuel people-driven success in organizations," Trevor says.  "It's good for the students to see this community."
Learn more about the strategic human resource management specialization in the Wisconsin MBA Program.
---