"Are you doing this for a talking point or for window dressing?"
These words hung in the air as Full-Time Wisconsin MBA students listened to a recent talk by Angela Russell, director of diversity and inclusion at CUNA Mutual Group. Russell was telling the story of a bold question she posed during her interview with now-employer Robert Trunzo, CEO of CUNA Mutual Group.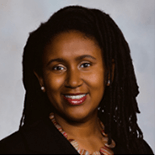 While Russell told audience members that they didn't necessarily need to be as direct as she was, she did challenge them to think about authenticity in their approach to diversity and inclusion.
"I've been in a lot of organizations that do it for political reasons and it's not real," Russell says. Soon after Russell started at CUNA, the company added inclusion as a value, which is "huge, huge, huge," she says.
Russell's challenge to Wisconsin MBA students certainly wasn't the first time they were asked to think about diversity in business.
The Wisconsin School of Business embraces diversity and inclusion as core values. The School's curriculum at both the undergraduate and graduate levels integrates ongoing learning about diversity and inclusion as foundational knowledge for future business leaders.
"We teach our students that an inclusive culture is a business imperative," says Binnu Palta Hill, WSB's assistant dean for diversity and inclusion. "Research has proven that an environment that enables each person to bring their best without covering core aspects of their identity is critical to organizational performance."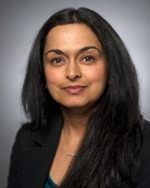 WSB students actively support and engage in diversity learning, as illustrated by the programming of many student organizations focused on this topic. Three student organizations—Diversity in Business, Graduate Women in Business, and Out for Business—hosted the April 12 event that featured Russell, as well as two other speakers who shared their stories about diversity in the workplace. The event was supported in part by WSB's Office of Diversity and Inclusion.
In a series of TED Talk-style presentations, the students also heard from Carlos Herrera, a member of the inclusive diversity team in human resources at Allstate, and Shawn Dennis, a strategic business leader who has directed innovations at major global brands.
Russell said that CUNA focuses its diversity and inclusion goals around four key areas: work environment, business processes, talent acquisition, and communication and metrics.
Before closing, Russell reminded the audience about the importance of celebrating the small wins along the way.
"The diversity and inclusion journey is really long, and there are all kinds of setbacks," Russell says. "One drop in the ocean has ripple effects. What's the diversity and inclusion ripple you've seen?"
---