In a world where the purpose of a corporation is shifting from solely serving shareholders to serving customers, employees, and the general public, finance professionals can't skate by with industry knowledge and a ruthless drive for profits. A holistic understanding of business strategy and social responsibility is demanded, and Wisconsin School of Business (WSB) students have long cultivated the mindset to lead this new era.
"There's something different about the Wisconsin ethic," says Erwan Quintin, Nathan S. Brand Distinguished Chair in Finance at WSB. "It's the Badger thing. Our students end up almost invariably impressing the heck out of their employers because of the skills they have that are a bit unusual in finance."
"What I observe is that we live in a corporate world that emphasizes values like respect, inclusion, collaboration more and more, and those are traits that come naturally to our students," says Quintin. "I have to believe that that leads to them rising through the ranks faster."
WSB has seen alumni have great success in CFO roles for companies of all sizes, as well as a strong Badger network on Wall Street. The University of Wisconsin as a whole was noted by Kittleman in 2018 for having produced the most Fortune 500 CEOs of any U.S. university.
To maximize the impact students can have in their careers and on the evolving finance landscape, the Wisconsin finance program is transforming its curriculum to be more leadership- and quantitative- methods-driven, bolstering its career preparation services, and ensuring students have access to innovative career paths.
Preparing for leadership
One way WSB students develop essential skills is by diving deep into the human issues that impact business. In her security analysis course, Senior Lecturer Marisa Palmer discusses views on shareholder vs. stakeholder capitalism and practically investigates how investors are incorporating these factors into their analysis of a company. Students also dive into topics like diversity on corporate boards and sustainability. The course brings research into the classroom and encourages students to dig deeply into the complexities of their field.
"My role is to get them to think critically about many sides of an issue," says Palmer.
"We bring up more questions than answers, but these are the challenges that students will need to navigate as business leaders."
Thinking beyond yourself is part of what makes Badgers great leaders according to Quintin. "It's part of the Midwestern ethic and the Wisconsin Idea. This ability to be team players and to be respectful—that contributes to success. Those traits make for good managers in the new world."
Chad Brown, CFO of Trek Bicycle, says his Wisconsin finance education helped him prepare for his current leadership role: "When I think about my time at the School of Business and all those group projects, you had to work in teams and you had to learn to come to a consensus because at some point the project was due," he says. "Then I come to a company like Trek and realize you don't get anything done without a team."
Transforming curriculum, providing dedicated support
The finance department benefits from constant feedback from former students and employer partners who look ahead to the changing needs of industry and communicate to WSB faculty about how their students can stay ahead. Alumni have helped spearhead the department's growing focus on data analytics, for instance, allowing WSB to nimbly respond to the changing needs of finance's future.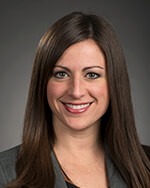 "The finance department is leading transformative change across our curriculum, career pathways preparation, and applied learning experiences," says WSB Finance Program Director Jamie Macias. "We want the Wisconsin finance preparation to inspire students to develop quantitative, strategic, ethical, and inclusion-minded skills to best prepare them for the workplace and society."
Students experience this transformation for instance in Assistant Professor Sang Seo's Finance 305 course, where the key goal is to gain a big-picture understanding of the entire financial system. Students learn the historical context of financial markets from the Great Depression to the subprime mortgage crisis in 2008, and even the present-day COVID-19 pandemic.
The department's progression is further demonstrated by WSB's employment of finance practitioners as instructors. Nearly 50% of finance courses are taught by people currently in the finance industry. These experts bring the present-day challenges of the field directly into the classroom, and give students an up-close look at what it's like to be a leading finance professional.
Alumnus Ricky Sandler (BBA '91), founder of Eminence Capital, flies in from New York to teach the Applied Equity Market Research (AEMR) course. The course focuses on business model analysis, valuation approaches, and preparing a professional quality stock pitch, and is taught in the finance and analytics lab, a classroom designed to mimic the layout and capabilities of trading floors. The crossover undergraduate-master's course gives a group of undergraduate students the opportunity to learn from a successful investor while collaborating with professional-level students.
Having seen the success of the AEMR course in preparing students for career success, WSB is expanding its career-focused curricular and cocurricular offerings so each finance student has individualized guidance and the ability to chart a unique path.
"We want to ensure that all students in our program have equitable access to information, resources, and proper support from our community to achieve their academic and career goals," says Macias, an instrumental voice in WSB's new Career Forward program for undergraduate students.
For Career Forward, Macias is the center for the finance department's connection to WSB academic advisors and career coaches who educate students early on about the career possibilities within the finance field.
While students may enroll in business school with a clear idea of their career, Macias works with a team of career coaches and advisors to help students fully explore their interests, passions, and goals. The team's primary objective is to nurture students on a path to success and connect them to the necessary student organizations and outside-of-the-classroom experiences that will help them get where they want to go.
Focusing on building technical, quantitative skills
WSB is also putting a new emphasis on its quantitative finance education. Quintin sees this as an area where Wisconsin can lead as a business school.
"I want to get to a point soon where when our students are asked, 'do you know Python or Julia?,' the answer from every finance major is 'yes,'" Quintin says.
In his corporate finance course, Quintin gives students an opportunity to learn Python by producing Python versions of each week's computations. Corporate finance does not traditionally emphasize programming or statistical skills, but learning the basics of Python early can open up students' career possibilities and help them solve future problems in internships and in their first and future jobs. Likewise, the department's course offering in the areas of investment theory, fixed income methods, and derivatives are all becoming increasingly quantitative and applied.
With the finance industry recruiting students earlier and earlier, WSB's quantitative focus gives students a leg up on students from more traditional backgrounds.
WSB is also collaborating across disciplines to teach quantitative finance courses. John Gillett of UW–Madison's statistics department is teaching a data analytics for finance course, with Quintin and other business school faculty members leading class sessions with students on a regular basis. Gillett helps students see finance through the lens of an expert programmer, while Quintin and his finance colleagues help connect quantitative methods to their practical applications and industry outcomes.
The finance department's investment in quantitative methods is part of WSB's schoolwide emphasis on STEM-aligned curricula. Technical skill development will complement the human-centric traits that have positioned so many graduates for industry success as managers, CFOs, CEOs, and beyond.
With the hard work of constantly transforming their program to best serve students, WSB's team of finance faculty, staff, alumni, and university collaborators look forward to what's next in the industry and what's next for the program's future finance leaders.
---