Two alumni of the Wisconsin School of Business are among the cabinet picks made earlier this year by Wisconsin Gov. Tony Evers, who took office in January.
Kathy Blumenfeld (BBA '85) is serving as secretary for the Wisconsin Department of Financial Institutions. Caleb Frostman (BBA '07) is serving as secretary of the Wisconsin Department of Workforce Development. The two are among six UW–Madison alumni appointed by the governor.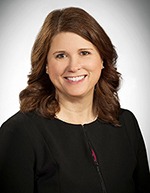 Blumenfeld steps into the post after a distinguished career as a business leader. Before joining the Evers administration, she was executive vice president of special operations for Madison-based TASC (Total Administrative Services Corporation). Prior to that, she was vice president of lending and payment security for CUNA Mutual Group, where she worked for 26 years. She is also a Certified Public Accountant and a Project Management Professional.
Frostman had been a Wisconsin state senator prior to his role at the Department of Workforce Development. He had previously been executive director of the Door County Economic Development Corporation and also worked in commercial real estate finance.
Blumenfeld and Frostman join four other UW–Madison alumni serving in the Evers cabinet. The others are Emilie Amundson (BSE '82), Department of Children and Families; Peter Barca (MA '82), Department of Revenue; Craig Thompson (BA '91), Department of Transportation; and Sara Meaney (BS '96), Department of Tourism.
Evers is also a UW–Madison alumnus, a triple Badger who earned his bachelor of science degree in 1973, a master of science in 1976, and doctorate in 1986.
Read about Blumenfeld's career and plans for her role as the state's top financial regulator in this interview with the Milwaukee Journal Sentinel and this feature in On Balance, the Wisconsin Institute of CPAs' magazine.
Read about Frostman's goals and priorities as leader of Wisconsin's workforce agency in this conversation with Wisconsin Public Radio.
Wisconsin State Capitol photo by Jeff Miller/UW-Madison
---