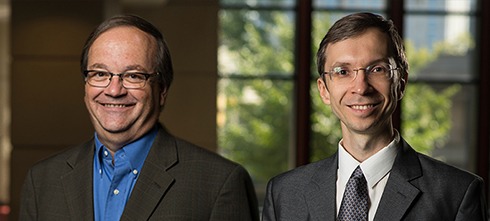 A national standard-setter for accounting and an expert in market uncertainty join the Wisconsin School of Business this fall, enhancing the School's tradition of research excellence and educational innovation with their knowledge and experience.
Joining the School this year are:
• Thomas Linsmeier, the Thomas G. Ragatz Distinguished Chair in Accounting and professor in the Department of Accounting and Information Systems. Linsmeier (MBA '80, Ph.D. '85) returns to his alma mater after a decade with the Financial Accounting Standards Board, helping to set standards in accounting throughout the U.S.
• Ivan Shaliastovich, the Thomas D. and Barbara C. Stevens Distinguished Chair in Finance and associate professor in the Department of Finance. Shaliastovich comes to the WSB from the Wharton School of the University of Pennsylvania.
"This year's hires demonstrate the impact of strong partnerships between our departments and our alumni," says François Ortalo-Magné, Albert O. Nicholas Dean of the Wisconsin School of Business. "I am delighted that we were able to attract such accomplished scholars for two new Distinguished Chairs recently endowed as part of our All Ways Forward campaign."
Read more below to meet these two new members of the Wisconsin School of Business faculty.
Thomas Linsmeier: Paying It Forward To His Alma Mater

If there's one major theme Thomas Linsmeier (MBA '80, Ph.D. '85) came to understand more clearly in 10 years helping to set accounting standards in the U.S., it's that accounting is a living discipline that constantly evolves. As that continues to happen, Linsmeier will be at the Wisconsin School of Business to help guide students through that evolution.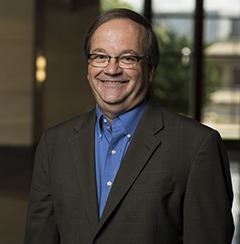 Linsmeier, a member of the Financial Accounting Standards Board (FASB) for the past decade, joins the WSB faculty this fall as the Thomas G. Ragatz Distinguished Chair in Accounting and a professor in the Department of Accounting and Information Systems. He comes to the WSB after serving two terms with FASB, helping to set U.S. accounting standards and will bring that depth of knowledge, and a well of research inspired by it, to his alma mater.
"Our program has a strong professional accounting profile, and to have someone of Tom's stature who is a standard-setter in that domain is a great contribution to our faculty," says Terry Warfield, chair of the Department of Accounting and Information Systems and PwC Professor in Accounting. "We have a platform that fits with what he brings."
Linsmeier, who grew up in suburban Milwaukee, was a frequent speaker at the School during his years at FASB, and served on the faculty of Michigan State prior to that. While visiting the Wisconsin School of Business, he often spoke to the professional issues class for fourth-year MAcc students, which he will now teach.
"In the past 10 years, I worked for an organization that sets all the accounting policy rules in the country," Linsmeier says. "It is the source of almost all of the material that is in financial accounting textbooks. But most accounting textbooks tend to leave the students with the impression that accounting has a right answer. My experience allows me to bring context to the classroom so that students understand more richly why accounting matters, why there is no right answer, and why the judgments that are taken into accounting are so important."
Inspiration for research
His work with FASB also will be the source of his research. He continued to write and publish during his time at FASB, and now sees the policy work he did as a rich source for future research both for himself, WSB colleagues, and doctoral students.
"What drives accounting policy involves a tradeoff between specific economic and political factors, and which factors are most important to each accounting policy decision will vary," he says. "All of that is the perfect environment for research."
As an accomplished scholar, Linsmeier's research has been published in top journals, including The Accounting Review; Journal of Accounting Research; Review of Accounting Studies; and Management Science.
Standard-setting always had appeal for Linsmeier. When he was an undergraduate at the University of Wisconsin–Milwaukee, he noticed a picture of the standards board in his intermediate accounting textbook.
"I thought that would be a cool job to have," he says.
He went on to earn his MBA and Ph.D. at the Wisconsin School of Business and was further inspired by an accounting policy class taught by R.D. Nair, professor of accounting and information systems at the School.
"It was the best class I ever had," Linsmeier says.
Accounting and law together
From 1994 to 1997, Linsmeier served as Academic Fellow and Special Consultant to the Office of the Chief Accountant at the U.S. Securities and Exchange Commission (SEC). He became an expert on accounting for derivatives, which led, among other things, to some expert witness and litigation work.
He will also be able to share his legal experience by teaching an accounting class at the University of Wisconsin Law School. Linsmeier will help law students understand that accounting is the "language of business," and a skill to help them understand financial statements.
The class is made possible by the chair endowed by Tom Ragatz (BBA '57, LLB '61), a retired partner at Foley & Lardner in Madison.
"Mr. Ragatz is an alumnus in both accounting and law," Linsmeier says. "He attributes his success in law to his accounting skills first developed at the Wisconsin School of Business."
Linsmeier brings relevant real-world experience to the School's research and into the classrooms. The return to his alma mater offers him the chance to give back to the place that means so much to him.
"I view this as an opportunity to pay it forward," he says. "I was given a lot here in the past, and I'm coming back not to focus on myself but to affect students and, to the extent they are interested, assistant professors in both teaching and research. And I expect to enjoy that very much."
•••
Ivan Shaliastovich: An Expert About Uncertainty and Certain About Wisconsin
Uncertainty matters to the markets and the economy, and to the work of a new faculty member who comes to the Wisconsin School of Business from one of the nation's top business schools.
Ivan Shaliastovich has joined the WSB's Department of Finance as an associate professor and the Thomas D. and Barbara C. Stevens Distinguished Chair in Finance. His work focuses on macroeconomic uncertainty and its impact.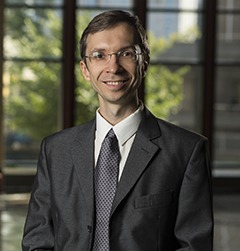 Shaliastovich had been an assistant professor at the Wharton School of the University of Pennsylvania, and earned his Ph.D. in economics from Duke University. He teaches undergraduate, graduate, and Ph.D. students in finance, with a focus on fixed income courses.
"He's a careful thinker and has deep understanding of macro drivers of interest rates," says Mark Ready, department chair of finance and the Jeffrey J. Diermeier Chair in Finance. "Students in the fixed income courses have the advantage of learning from one of the few experts in the world in that area."
Coming to Wisconsin also reunites Shaliastovich with a former colleague, Bjorn Eraker, associate professor in finance at the Wisconsin School of Business and the Bill Nygren Chair in Investments. Shaliastovich was a doctoral student of Eraker when both were at Duke and the two have published research together, most recently last year in The Review of Financial Studies.
"Ivan has established himself as one of the most recognized researchers of his generation," Eraker says.  "We are lucky that circumstances led us to be able to attract him to move from Wharton, one of the top three business schools in the world, to Wisconsin. He brings a strong research focus to our department. Our Ph.D. students will also benefit from his mentorship and cutting-edge Ph.D. teaching."
Shaliastovich believes the Wisconsin School of Business was the right place to bring many aspects of his career together.
"I was impressed by the university's and the School's reputation for research excellence, innovations in teaching and learning, and the inspiring Wisconsin Idea to expand the reach of my research," he says. "These factors made me certain that the Wisconsin School of Business was the right choice."
Bringing research expertise in uncertainty
The strong tie between economics and finance is what piques Shaliastovich's interest and drives his research. It began in work with other researchers, studying why asset prices and returns move as they do and finding that uncertainty was a big driver. He became intrigued by the idea that uncertainty matters.
"It matters to even understand the deep macro questions such as, 'Why do countries grow? What drives the growth in GDP?'" Shaliastovich says.
What Shaliastovich's research is finding is that the economy isn't just reacting to uncertainty, but that it has a causal impact on the behavior of firms or households.
"If a firm or CEO sees a lot of uncertainty about future growth or taxes or some other measures, would it cause them to invest less into research and development of new products or to build new factories?" he says.
Good uncertainty, too
Shaliastovich's research is also pushing the idea of uncertainty forward with a twist—that all uncertainty is not alike. Sometimes, his research shows, it's even good.
"If a new technology comes out and people aren't sure how good it's going to be, it seems to attract more new investment, it seems to increase growth, and the markets seem to react positively to it," he says. "Firms and the market react differently to different uncertainty. You can't just lump it into one measure."
Shaliastovich is also researching how uncertainty in different sectors of the economy have an impact, such as oil or metals, as well as political uncertainty or the different economic impacts of small news or crises versus big news or crises.
His work will add to his already deep well of research, and enhance the work being done at Wisconsin School of Business.
"Ivan's research productivity is extremely impressive for someone at his career stage," Ready says. "He is already widely known as an expert in the study of market uncertainty and its linkage to the required return demanded by investors."
---