When two business partners come together, what does each party contribute to the alliance? And what is the impact of each party's contribution to alliance performance?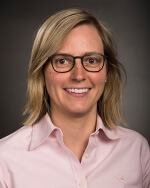 A recent study by Florence Honoré, assistant professor of management and human resources at the Wisconsin School of Business, helps answer those questions by looking at the roles of buyer and supplier in the high-stakes Thoroughbred horse industry, which broadly has an estimated $122 billion dollar impact on the U.S. economy (American Horse Council, 2018).
Along with her co-authors, Darcy Fudge Kamal of California State University–Sacramento and Cristina Nistor of Chapman University, Honoré and her team used an empirical, two-sided matching model to estimate the performance of foal-sharing contracts from auction data from 2009 to 2014 across eight primary U.S. auctions. A foal-sharing contract involves bringing together the supplier (the stud farm owner who supplies the male horse) with the buyer (the nursery owner of the female horse) to produce and co-own a foal that will eventually sell as a yearling at auction. The foal is the product that both parties have agreed to jointly create, advertise, and take to market.
The authors find that each partner's centrality—or connectedness to other major participants in the industry—had a positive effect on bidder pricing. The buyer centrality has a much greater impact on the auction price than the supplier centrality. This finding is surprising since traditionally in this industry the buyer is the less central, more peripherally involved partner in the overall business network. The authors suggest that the buyer's role of disseminating information ultimately has greater value for auction bidders.
The study holds practical implications for those working in the Thoroughbred horse industry. Promotional marketing campaigns for stud farms, for example, may not be as advantageous in getting the word out as previously thought, Honoré says. For a bidder, making contact with a buyer—the nursery or the female horse owner—is more difficult and may yield more privileged information than a broad public-facing advertising campaign from a stud farm.
"It's possible stud farms could trim their advertising costs and still come out ahead when it comes to foal-sharing contracts," she says. "In other industries where there are partnerships between startups and more established firms, our research suggests that both sides might realize alliance benefits from the information the newer venture partner disseminates to the market."
Watch the video abstract hosted by the Strategic Management Society:
Read the paper for free: "When the Weak Are Mighty: A Two-Sided Matching Approach to Alliance Performance" published in Strategic Management Journal.
Florence Honoré is a 2021 recipient of the Erwin A. Gaumnitz Distinguished Junior Faculty Research Award and an assistant professor in the Department of Management and Human Resources at the Wisconsin School of Business.
---