After an international conference of business school deans this week, "Wisconsin" will be synonymous with "innovation."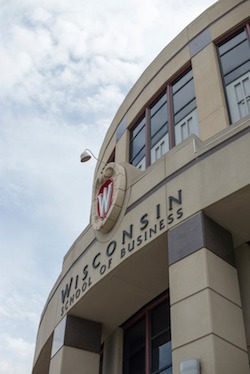 The Association to Advance Collegiate Schools of Business (AACSB International) has named KDBIN™, a new language and framework to describe learning outcomes developed by the Wisconsin School of Business at the University of Wisconsin­–Madison, as one of its Innovations that Inspire, an initiative created to celebrate the organization's 100th anniversary.
The nonprofit global accrediting body and membership association for business schools, AACSB International will highlight 30 examples of innovation and diversity in business education.
"This year's inaugural Innovations That Inspire initiative has highlighted the tremendous, trailblazing power of AACSB's member schools, and the value that they place on innovative and meaningful ideas," says William H. Glick, chair of the AACSB Board of Directors and dean of the Jesse H. Jones Graduate School of Business at Rice University. "We are proud to spotlight the Wisconsin School of Business's innovation."
More than 300 submissions were received by the AACSB for its inaugural Innovations That Inspire initiative. Innovation is a key tenet of AACSB's accreditation standards.
"The turbulence in higher education is demanding innovation around the value of the on-campus business degree," says François Ortalo-Magné, Albert O. Nicholas Dean of the Wisconsin School of Business. "The KDBIN framework has changed the conversation among faculty and staff within our school for the benefit of our students. We hope this AACSB award will start conversations within the AACSB network to help us share our progress and learn from others."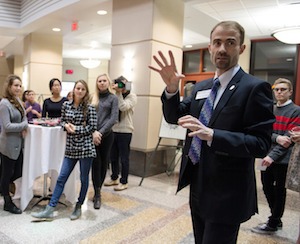 In 2013, the WSB community came together to develop a new language that shifted school efforts from delivering classroom teaching to inspiring student learning and focusing on learning outcomes. This language was grounded in educational research with a brand new categorization of learning outcomes called KDBIN: Knowing, Doing, Being, Inspiring, and Networking. This framework reflects the School's mission to inspire students beyond their expectations, and help them join and contribute to the supportive communities critical to their success.
How did the KDBIN model impact the student experience?
Shift from teaching to learning: With the KDBIN framework deployed around the school, faculty and staff are able to more effectively collaborate on high-quality, student-centered, experiential learning experiences and toward greater integration of learning experiences across classes and between classes and co-curricular activities.
Fostering leadership development: Through this process, interest in learning outcomes that cultivate leadership development has flourished, resulting in partnerships with humanities and social science partners to enhance students' awareness and improve decision-making skills.
Inspiring lifelong learning: Ultimately, KDBIN is transforming the way that students approach their education, challenging them to go beyond expectations, solve new and unfamiliar problems, and achieve success by contributing to the community.
Suzanne Dove, assistant dean for academic innovations, said KDBIN helps make tangible things that once had been intangible, and the result is students and faculty who think differently about learning.
"What's great from an organizational change perspective is it's not that we invented something that wasn't there before, it's more about how change can happen when people put a name to something that was previously unnamed," Dove says. "That allows you to talk about learning in ways it hadn't been talked about before."
Learn more about our KDBIN framework from Poets & Quants.
For more information about educational innovation at the Wisconsin School of Business, please contact Suzanne Dove.
---