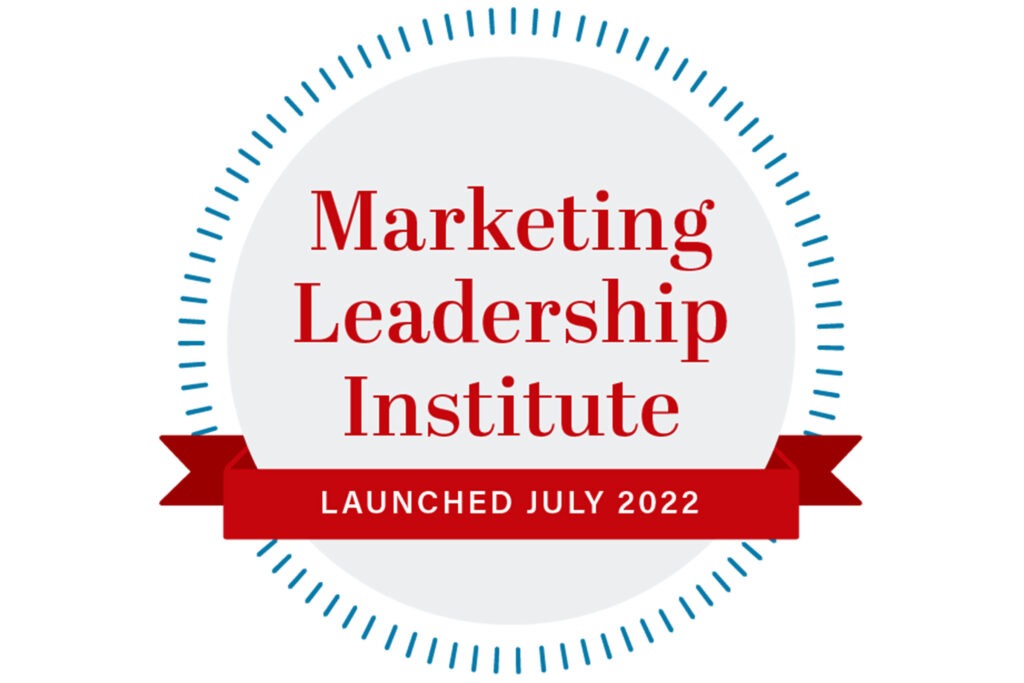 The Wisconsin School of Business has long been a leader in marketing education. Now, the school builds on that success with the launch of the Marketing Leadership Institute (MLI), a dedicated center for fostering industry partnerships that propel student learning and advance marketing research and practice. 
"The Marketing Leadership Institute signals the Wisconsin School of Business' renewed and growing commitment to delivering world-class marketing education and research," says Neeraj Arora, Arthur C. Nielsen, Jr. Chair in Marketing Research and Education, who serves as academic director for the MLI.

"This innovative new model puts industry connection front and center so that our students can experience immersive learning with top companies and have access to a wide network of marketing professionals. We believe these partnerships help develop the best and brightest future leaders in the field."

MLI's design and vision is unique in that, as a whole, the institute has options for any undergraduate or graduate student interested in a marketing career, while smaller, structural hubs offer community and support for the three marketing career pathways offered through the Wisconsin Full-Time MBA in marketing:
The A.C. Nielsen Hub for Marketing Analytics & Insights
The Brand & Marketing Management Hub
The Tech Product Marketing Hub
The creation of the MLI aligns with several other investments WSB has recently made in its marketing programs to better position students to address complex challenges in today's marketplace. As industry and technology evolve at an ever-increasing pace, students need a deep understanding of their chosen marketing discipline, but also cross-functional, foundational knowledge that prepares them to address and anticipate changes in their careers and fields. WSB's investments in the marketing MBA—including the development of a new technology product marketing track—reflect this reality, and now the MLI does as well.
"The MLI is designed for the kind of career breadth our students are looking for," says Kristin Branch (MBA '02), director of the MLI. "Our Marketing MBA provides the foundational knowledge needed to support wherever our students' careers may venture over time. At the same time, our specialized approach provides the focus to prepare students exceptionally well for their internship and their first few career years post-graduation."
The MLI supports all WSB students interested in marketing—specifically, Marketing MBA students, undergraduate marketing majors, and master's in business analytics students interested in the digital marketing track. PhD students and faculty also benefit from the MLI through industry partnerships that spur innovative, high-impact research and teaching.
External Advisory Board builds connections to industry
A cornerstone of the MLI is direct and personal connections to corporate partners through the External Advisory Board (EAB). The MLI's EAB provides support to the entire institute, including updates on the latest developments in industry, building new research partnerships, and creating student opportunities for real-world experiential learning, mentoring, and career connections.
EAB membership will include 20-30 industry partners, many of whom have long and rich legacies with WSB's marketing centers through board membership and corporate partnership. To serve a broader set of students, the EAB is expanding to include new companies as well. Confirmed companies include Adobe, PepsiCo, Microsoft, Procter & Gamble, SC Johnson, American Family Insurance, USAA, Clorox, Target, AbbVie, Kimberly-Clark, and Google.
Board members work closely with MLI leadership, and they are also aspirational models for the next generation of marketing professionals.
"I'm passionate about marketing education, and I want to share my knowledge and experiences with future research leaders as they take this practice to the next level," says Barry Jennings, director of cloud and enterprise insights at Microsoft. Jennings sits on the MLI's EAB and previously served on the advisory board for WSB's A.C. Nielsen Center for Marketing Analytics and Insights.
While the EAB represents many facets of marketing, additional industry partners have the opportunity to join Career-Affinity Groups with specific designations to each of the MLI's three hubs. These groups support career pathway niches for students and develop a community of practice for members. For example, a marketing strategy firm like Lindsay Foresight Stratagem will be connected to the Brand & Marketing Management Hub through the Career-Affinity Groups. This design benefits students by receiving both broad marketing connections and industry-specific connections via the hubs.
A new emphasis on technology
For over two decades, WSB has offered Marketing MBA specializations in brand and marketing management and marketing analytics and insights. The addition of the new technology product marketing track responds to demand from the growing tech industry and the need for marketing leaders equipped to work in this environment.

"The MLI's Tech Product Marketing Hub was developed in response to the big growth that's occurring in the tech marketplace," says Arora. "As a result, our students will be prepared to have high impact careers in technology companies and have the flexibility and growth mindset needed for a fast pace of change."

WSB is hiring new talent with expertise in technology product marketing to develop curriculum and programming for this track. The MLI and Marketing Department are bringing in Alan Stoffer (MBA '13), a marketing leader with experience at Intuit, Waymo, and Facebook, to teach digital marketing and current topics in tech product marketing and assist students interested in careers at the marketing-tech nexus.
"I'm thrilled to be joining the Wisconsin School of Business as part of the Marketing Leadership Institute," says Stoffer. "My experience at WSB has been foundational to my career in both consumer and tech marketing. I'm excited to return to my alma mater to help build an exciting new program that will shape marketing leaders who are prepared for a tech-focused future."
In addition to new courses in tech product marketing, the MLI will support curricular innovations in brand asset management, marketing strategy, social media marketing, and digital marketing analytics. New faculty hires from renowned institutions like Wharton, Yale, and Indiana University will drive these efforts forward.
Marketing leaders who are ahead of the curve
With its dedicated focus on industry partnerships and impactful curricular and cocurricular experiences, the MLI will position marketing students for career success in new and more intentional ways.

"We are excited about the many ways the MLI will make Wisconsin students uniquely prepared for marketing careers," says Branch. "At both the undergraduate and graduate levels, our students will have real exposure and authentic relationships with alumni and board members, as well as unparalleled applied learning opportunities that balance the theoretical learning from the classroom."
The MLI represents a new era of marketing education at WSB—one that reinforces the school's longstanding commitment to moving marketing forward and educating the next generation of marketing leaders.
"Put simply," adds Branch, "with the launch of the MLI, Wisconsin is going deeper and more boldly into marketing leadership and marketing education than other schools."
---
The MLI will host the Wisconsin School of Business Marketing Summit on September 29-30, 2022, a biennial conference experience designed for alumni, students, and industry friends—and anyone who wants to be an up-to-date marketer. The Summit offers participants the opportunity to network and recruit top MBA talent, hear from leading industry experts, and come together to celebrate the Business Badger community.
---