Over the past few days I have had to stop and ask myself, isn't it crazy that you are in Hong Kong right now?
Yes, it is.
This past week has been full of unexpected twists and turns. City University of Hong Kong arranged a coach bus to pick us up from the airport. That saved a whole lot of confusion from international students trying to use the Hong Kong MTR for the first time. Additionally, the university planned orientation events to attend such as a campus tour, a trip to IKEA, info sessions on adjusting to life here, etc.
The most exciting event so far was the optional trip to Lantau Island. Lantau Island is about a 30-minute bus ride from the City U campus. On the island there is the international airport, a monastery, fishing village, Disneyland, hiking, cable car, and Big Buddha. This was a great chance to not only do some sightseeing, but also make some friends.
I have found the first week of study abroad to be very similar to the first couple of weeks of freshman year at college. Everyone is trying to meet as many people as possible and do as much as possible. It is exhausting and rewarding. I'm not going to lie, the first two days at City U were challenging for me. It was tough seeing some students come abroad with their close friends from home. It made me wish I had my friends here to experience this with, but I know that I am going to make some great friendships.
As exhausted as I am right now, I am ready to start classes this coming week. It will be nice to have some structure to my days since the past week has consisted of exploring, eating, horse races, shopping, etc.
I want to include a fun fact about Hong Kong or City U in every blog post, so here is my first one: the student residences (aka dorms in the U.S.) are considered to have million-dollar views. The properties nearby go for millions of US dollars.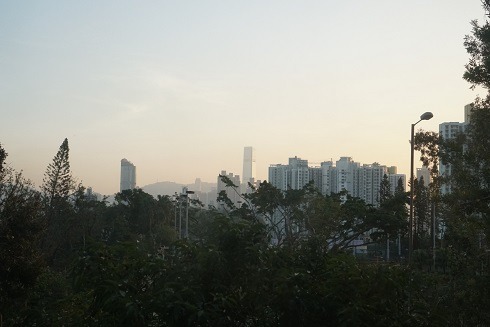 再見 (goodbye),
Lucia
---