Hi everyone! Since most readers are back in the Midwest, I hope you are all making it through the snow! Luckily I have not seen any since I left for Austria.
After finishing up the nicely structured two week orientation program, exchange students were given about a week and a half of freedom before classes started. I decided to spend it taking three different trips with some new exchange friends. As you can see from my drawing below, the last two weeks have been sort of crazy!
My route looked something like this: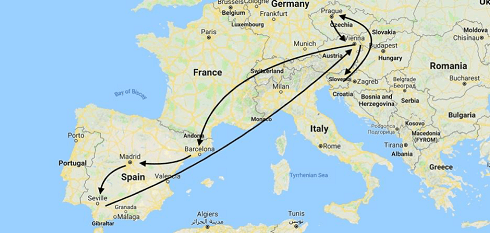 First I decided along with some friends to do a spontaneous trip to Spain. We spent time in Barcelona, Madrid and Seville. A cool side note- I met UW Business Badgers for the first time at each location, who showed us around. Because of this, I got to learn more about some other UW exchange programs along the way. After that week-long trip, I came home for one night and then took a bus the next day to Ljubljana, Slovenia. I came back the following day, had my first class, and then left again on Thursday to spend the weekend in Prague.
Since it has been such a hectic couple of weeks, I think it would be best to give a short recap of each place and what I learned from being there.
Final Week of Orientation:
Although I have had an amazing week of traveling, I cannot say enough about the WU two week orientation program before I left. Getting the chance to be a new city for two weeks together doing events with students from all over the world was an experience I will never forget.
Spain
Barcelona:
Barcelona was a beautiful city filled with very friendly people. If you have not heard the local language, Catalan, I recommend looking it up. It is important to know that many people consider this their first language, and use Spanish as a secondary language. The day we arrived, there was a large Catalonian Independence movement in the main square. Many people were walking with flags tied around their necks and backs. I tried interesting foods like cuttlefish, and one night we hiked to the top of an old bunker that had been previously used during the Spanish civil war. We had a picnic there and watched the sun set. It was a nice change of pace to finally take my jacket off outside.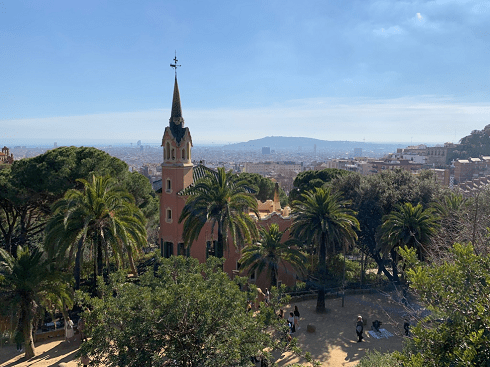 Madrid:
The capital city of Madrid reminded me a little more of Vienna than other cities I have visited in Europe due to the similar imperial architecture. You can tell that the palaces in many capital cities are great examples of baroque architecture. We also were able to visit El Retiro Park and get some wonderful row boat pictures. Although Barcelona and Madrid are both cities in Spain, they seem to be very unique.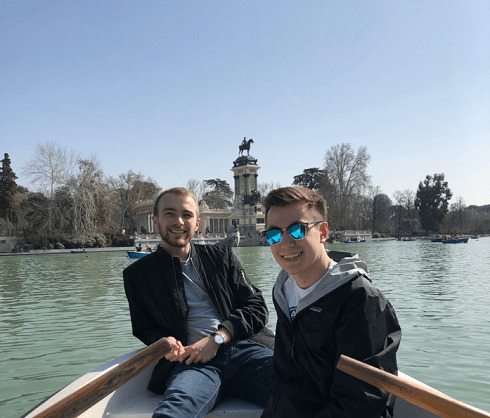 Seville:
Our two nights in Seville were absolutely amazing. After seeing two very large cities, it was very interesting to spend some time in a smaller town (Seville has 690,000). The warm temperatures in southern Spain made the last leg of the trip much easier! Watching the architectural differences from Catalonia to Madrid to Seville may have been my favorite part. You can tell how southern Spanish architecture is very heavily influenced by the Moors who ruled the region for 800 years. We had the privilege of being shown around by some Badgers studying abroad there who not only speak Spanish, but understand the city very well. Having them along on the trip made our stint in Seville so much more special.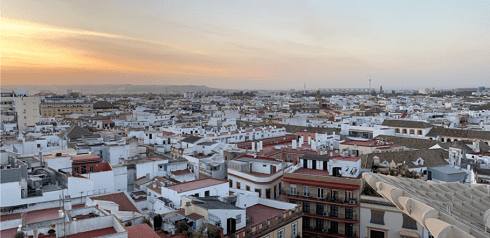 Ljubljana, Slovenia:
Following the trip to Spain, I flew home to Vienna for a night before joining a few other friends on a quick overnight expedition to the capital of Slovenia, Ljubljana [lyoo-BLYAH-nah]. (Ljubljana is about 5 hours by bus from Vienna).
First things first: Visit Slovenia! Although not the most common tourist destination, Slovenia has anything you could ask for from picturesque mountains to beautiful medieval European architecture. Every location I have been in Eastern Europe has exceeded my expectations, and I hope that this blog will encourage you to venture out of your comfort zone to somewhere new like Slovenia. Slovenia broke from Yugoslavia in 1991, and then joined the European Union in 2004. Due to past conflicts and other geopolitical reasons, Slovenia has been much less visited than some of its neighboring countries. Today it is considered very tourist friendly, and Ljubljana actually won European Green capital of 2016 for their efforts in conservation and sustainability.
After spending a week in Spain, I found Slovenia to be a very drastic difference in everything from food, to the landscape, to especially the language. In 24 Hours I had gone from a Romance language, to a Germanic language, to now a Slavic language. It felt the most different out of any place I had been, and I really enjoyed it. It felt like the first time I was very much out of my comfort zone on the trip.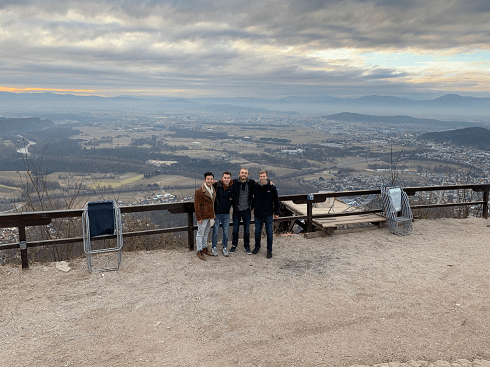 Our goal was to reach the top of the mountain by sunrise, but since we do not speak Slovenian we read the transit map incorrectly and took the wrong route. It was still my favorite part of the trip!
My Biggest Takeaway: The European Union
Regardless of your opinion on the EU, or Brexit, or anything else, I have to acknowledge just how impressive the entire idea is. Sitting and reading about it in a textbook doesn't really show you how difficult it must have been to create, and now to maintain a union of people separated by language, geography and culture. I am extremely impressed that a continent so diverse could create a working economic union. In my opinion, one of the most surreal things I have ever seen from a human standpoint was actually seeing how different Slovenia and Spain were, but still being able to pay for dinner in both places in Euros. It made me realize how much work and negotiations must have went into creating this union.
On my next post, I am going to talk a little bit more about classes here at WU since they began this week, as well as my weekend trip to Prague. If you are considering studying in Vienna at WU, hopefully my next post will give you some insight into the daily student life!
Until then, thanks for reading!
Rome
---