At a New York City reception with other UW–Madison alumni, somebody turned to Ed Neppl (BBA '90) and remarked, "You've had the most interesting jobs of anyone in this room."
It's an assessment that's hard to argue with when you consider that Neppl has worked at Walt Disney Imagineering, Universal Studios, and NBC Sports and Olympics—and that's not even including his current position as chief financial officer for the United States Tennis Association (USTA). There, his duties range from the ordinary (financial management functions) to the not-so-ordinary (leading a multi-million-dollar financing effort to renovate a major sports facility).
But ask Neppl what he's most proud of during his career, and you'll hear him describe things that don't fit neatly on a résumé, such as leading with empathy, being a mentor, and showing young professionals what it means to live an authentic life. They're traits he honed during his time at the Wisconsin School of Business, but have also been developed through lived experience as a world traveler, a team leader, and an openly gay business professional.
"I'm really lucky to have had some amazing opportunities with my career and I'm fortunate to be in a position to give back," Neppl says. "It has also been very important to me, especially as an executive or leader within an organization, to be out and be comfortable with who I am. I feel an obligation to make sure people can see who I am for real and know that you can be successful in whatever you do."
So, while he's grateful for the compliment about his career, he's even more grateful for how it's allowed him to make life just a little bit better for those around him.
"I feel an obligation to make sure people can see who I am for real and know that you can be successful in whatever you do."

Ed Neppl (BBA '90)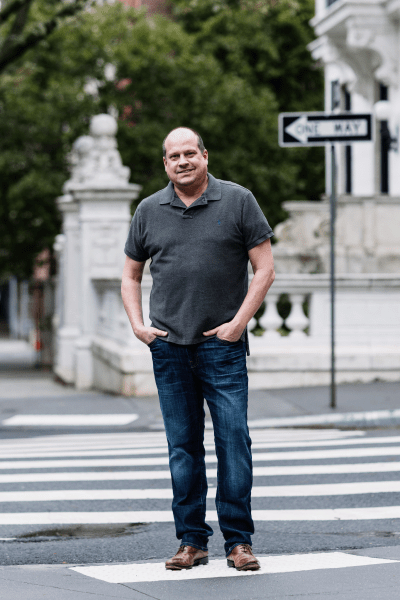 Coast-to-coast
A native of Stevens Point, Wisconsin, Neppl came to UW–Madison and pursued an industrial engineering major before pivoting to finance and accounting at WSB. By day, his business classes taught him key leadership and management skills. By night, he put that education to the test in a very practical way working as a house fellow in the residence halls.
Even when dealing with roommates at each other's throats, Neppl quickly discovered that having empathy went a long way in resolving sticky situations.
"You definitely learn how to work with all sorts of people and you quickly figure out how you need to act in order to get the result you're looking for," he says. "That experience was actually a really important part of building my management skills, which I still draw upon even today."
After earning his degree, Neppl moved to Chicago to begin his business career. But two jobs and a handful of cold winters later, Neppl decided to go west—a move that not only opened up new career doors, but brought him closer to his now-husband, Scott.
"He was actually what convinced me to move to Los Angeles," Neppl says. "I was standing on the train platform by Wrigley Field in February with my long underwear on under my suit while he was in L.A. I thought, what's wrong with this picture?"
After settling in sunny California, Neppl worked a few jobs before landing at Universal Studios as the company's global controller for theme parks. But Universal would soon experience a series of sales and mergers that ultimately led to a partnership with NBC—and another shift in Neppl's career.
"I was bought and sold quite a bit during that time," he says with a laugh. But the moves created a path to the C-suite and the opportunity to serve as CFO for Universal Studios Operations, which houses the company's backlot of movie sets and film equipment.
Soon, however, New York came calling and Neppl relocated to the East Coast where he became the CFO for NBC Sports and Olympics, working alongside legendary television executive Dick Ebersol. Among the highlights of the job were attending the 2008 and 2010 Olympics in Beijing and Vancouver. But when the merger marathon continued at NBC—Comcast came in and Ebersol ducked out—Neppl knew it was time to start looking for his next opportunity.
Tennis, anyone?
In Neppl's family, the connection to sports runs deep.
His father was the athletic director at UW-Stevens Point. His older brother worked for both the Minnesota Vikings and Twins. And even before his tenure at USTA, Neppl himself traveled across the globe to attend all four Grand Slam tournaments.
When an opportunity came in 2012 to join the national governing body for the sport of tennis, he leapt at the chance. Immediately, he was tasked with leading USTA's effort to finance a $700 million renovation project for Arthur Ashe Stadium, home of the U.S. Open: a tournament that Neppl's team lovingly refers to as their "bake sale" which funds the organization's mission.
"That event is where we make the money," he explains. "Then throughout the rest of the year, we're actually pushing that money out across the country to help grow the game of tennis from the grassroots level."
During his first several years with the organization, things ran smoothly. Revenue was flowing and a retractable roof went up over Arthur Ashe in 2016. But when the COVID-19 pandemic emerged in early 2020 and threatened an event that routinely draws 700,000 fans—and millions of dollars in ticket sales and corporate sponsorships—Neppl admits he had more than a few sleepless nights.
The questions started coming in: Do we need to delay the tournament? Should we move its location? Can we even do this safely?
Ultimately, the decision was made to host the tournament with big changes in place: a bubble for the players, copious amounts of testing, and some rather creative travel plans.
"We had phone calls with the White House trying to make sure that we could get people in or out of the country and the rules kept changing," Neppl says. "At one point we were even considering chartering planes from all over the world."
Further complicating matters was USTA's decision to host the event without fans in the stands. Even with broadcast and sponsorship revenue, the loss of ticket sales created a $180 million budget deficit for the USTA in 2020.
"We really tried to manage expenses and do what we could to make the best of it, but it was just hours and hours of logistics trying to figure it out," Neppl says. "At the end of the day, it was the right thing to do, but I don't think I've ever worked harder in my career."
With the U.S. Open having returned to some semblance of normalcy in 2021 and 2022, Neppl has been able to catch his breath and refocus on USTA's mission—and even refine it. That includes developing new ways to connect with lapsed players, making the game more inclusive, and figuring out how tennis can coexist alongside other rapidly growing racquet sports like pickleball.
It also means finding time to reconnect with WSB and those who call it home. One of the joys of Neppl's work is assisting students who reach out to him, as well as talking to student groups when he comes back to UW–Madison.
"It's an honor to feel like I could be a resource to them," he says. "I'm really just trying to help people find their way through this crazy life."
Neppl's hope is that someone just might turn to one of his mentees at a party one day and say, "You've had the most interesting jobs of anyone in this room…"
---