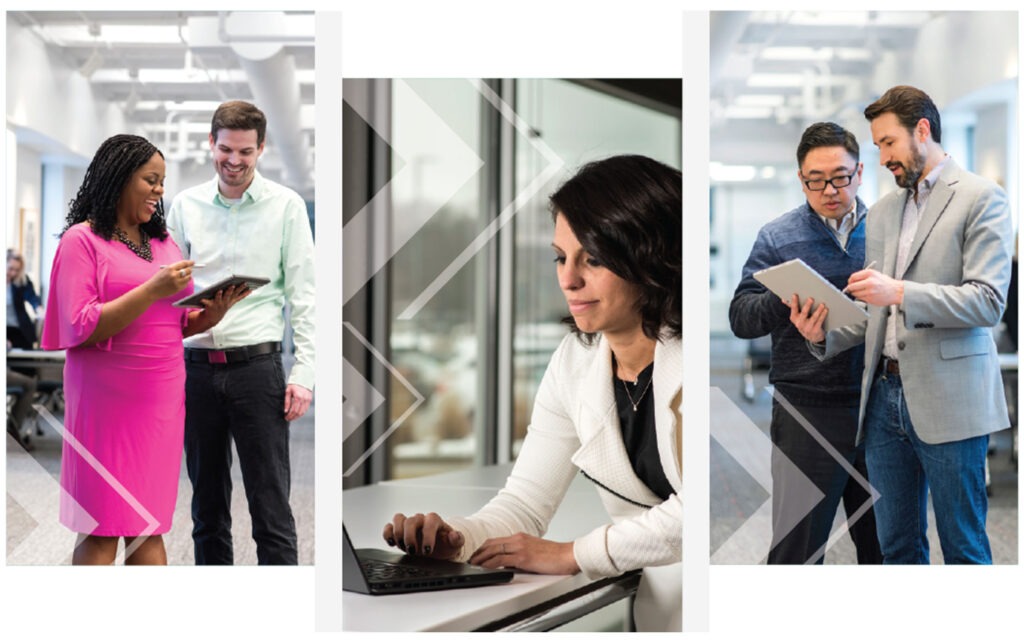 Take any introductory business class and you're pretty much guaranteed a few lessons on understanding the customer perspective. It's the foundation of business success.
It's also the foundation of the Wisconsin School of Business' new professional MBA—a flexible, part-time graduate degree delivered in a blended format around a system of customizable badges.
"We recognized that today's prospective students have different needs and wants than they had before," says Enno Siemsen, associate dean of MBA and master's programs. "So we reimagined the traditional MBA to deliver the flexibility that our target audience wants while maintaining the School's globally recognized strengths and commitment to quality."
It's part of WSB's commitment to advancing a market-responsive, on-demand graduate portfolio that meets the lifelong learning needs of the Business Badger community.
Designed to meet the needs of students
The new professional MBA redesigns the School's existing evening MBA, offering flexibility for working professionals through a hybrid delivery of instruction. Students will participate in up to 50% of class content online with monthly face-to-face meetings on the weekend. The program can be completed in as little as two years or as long as five years.
The current structure of the evening MBA requires in-person classes two evenings per week and takes three years for completion—a challenging expectation that poses a substantial barrier for many potential students.
"Early- and mid-career professionals have significant demands on their time, both in their personal and professional lives," says Siemsen. "By delivering half of our content online, we are giving students the flexibility they need to advance in their careers, lead a meaningful personal life, and enhance their education."
This flexibility certainly would have benefited Aaron Cassel (MBA '19), an evening MBA graduate who moved from Madison to Milwaukee after his first year in the program to relocate with Associated Bank, where he now serves as vice president for credit risk review.
"While WSB did an outstanding job supporting students commuting from the Milwaukee area, having less need for on-campus sessions would have made the transition process still easier," says Cassel. "It also would have potentially opened the viable geographic range even further, supporting commuters from further afield in Wisconsin or the Chicago area."
The shift in delivery is based on multiple research studies, including benchmarking against peer institutions and gathering insights and feedback from stakeholder groups such as current and prospective students, alumni, and employers.
Alumni to benefit from lifelong learning
The hallmark of WSB's professional MBA is a new certification known as badges—an innovative curricular approach that addresses a professional need for on-demand learning specific to a particular competency. Badges offer a new form of credential beyond the traditional degree, as they are rigorous enough to be publicly understood as a standalone certification. When several badges are taken together, they form a pathway to a degree.
Each badge will be a set of three 2-credit courses and will focus on topics such as innovation, analytics, health care, marketing, manufacturing, corporate finance, social responsibility, and international business. By structuring the program around modules that can be easily added, resequenced, or removed, the program allows for greater customization and overall scale.
"In unbundling the program through this badge system, the Wisconsin School of Business is offering an innovative, first-of-its-kind approach," says Siemsen. "Not only are we providing students with the opportunity to tailor their experience, but we can also provide custom content to alumni, corporations, and campus partners."
The School plans to eventually make the badges accessible to professionals not enrolled in degree programs, establishing a platform for lifelong learning that addresses the needs of the changing workplace.
"We are excited about the opportunity to make these badges widely available," adds Siemsen. "We want to serve our students and alumni throughout the arc of their careers, which for many professionals means learning new skills as they progress. The badges respond to that need."
Faculty will be able to create new badge courses in response to industry demand, fostering a practice of continual innovation and agility that will add real value to professionals who need to quickly upskill and communicate competency in specific arenas.
"As an alum, I am excited about the potential for the badges," says Cassel. "I've always believed in being a lifelong learner, and the badges would give me the ability to augment the education I received in my MBA, while staying an active member of the WSB community."
Blended delivery enhances program strengths
With significant demand for flexible, part-time graduate programs and a growing interest in virtual options—even before the onset of the COVID-19 pandemic—the evolution toward hybrid delivery positions WSB to make significant investments in quality online learning.
Every course will go through a thorough design process to identify what content and activities are best suited for online learning versus face-to-face instruction.
"I had to start from scratch in a lot of ways and rethink everything that I do," says Fabio Gaertner, associate professor of accounting and information systems, who will teach financial reporting in the professional MBA program. "I had to imagine what it would be like to take a class online and then think about the best way to present the material to students as opposed to just trying to fit what I did before into an online context."
Gaertner is filming some of his lecture material with a professional recording company, enabling him to provide high-quality, asynchronous instruction that students can consume at their own pace.
This type of robust virtual learning will be complemented by in-person classes, acknowledging that some learning is best suited for face-to-face interaction. The significant relationship-building that occurs in an in-person environment has long been a hallmark of WSB's programs and will remain so with the professional MBA.
"It is critical that students build meaningful and long-lasting relationships with their classmates and instructors," says Siemsen. "The program is specifically designed to create a strong cohort experience where online learning is reinforced and enhanced by the time students spend with each other and with faculty on campus."
Students will take all in-person classes together as a cohort during the first year, creating ample opportunity to develop a deep network. In addition to classes on Saturday and Sunday, students will also benefit from extracurricular programming on Fridays.
Accelerated options for WSB graduates
Not all students will enter the professional MBA program with the same educational background. The modular structure of the program will allow WSB to accommodate this diversity among its student body.
Those students who have already received extensive training will be accelerated into the program, reducing the total number of credits required for completion. WSB's own undergraduate alumni, for example, can complete the program in less time and at a reduced price.
The Wisconsin Professional MBA will enroll its first class in Fall 2021, with applications for admission already open.
"I look forward to welcoming students into this new program," adds Gaertner. "I really like how it's structured. It's more accessible. It takes less time. It's more agile. There's a lot about the program to be excited about."
---