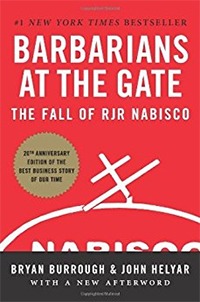 Earlier this summer, even before setting foot on campus, our incoming class (Class of 2019) at the Nicholas Center for Corporate Finance and Investment Banking was busy reading Barbarians at the Gate by Bryan Burrough and John Helyar.  At our orientation session last week, we had a lively debate about the merits of the book and leveraged buyouts ("LBOs") in general.  The enthusiasm with which our students approached this book and our debate is what sets the Nicholas Center apart and is an important building block in developing the next generation of leaders.
Why Did We Read Barbarians at the Gate?
This book made a lasting impact on me when I first read it during my MBA program many years ago.  I also had fun re-reading this book after spending many years on Wall Street.  This time I cherished the small details – when Henry Kravis says the lead advisor for the Management team wouldn't know the difference between an LBO and BO, the episode where this same lead advisor (who had never done an LBO previously) gets the basic capital structure of the deal wrong in front of a major investor, and how Henry Kravis refused to tell his high-powered investment bankers (e.g., Bruce Wasserstein) anything about the deal at all because he feared leaks (it's hard to advise a client when they won't tell you anything!).
Small details aside, the top reasons why this book is still relevant today are as follows:
We need to understand history – the context of the 1980s (e.g., stock market crash, rise of LBOs / junk bonds, public takeovers) has important implications for us today
It explores the subjectivity of valuation (e.g., there was a 47% increase in value from the starting bid to the winning bid)
The book explains what an LBO means in practice
It shows how financial innovation can disrupt a marketplace and how incumbents respond
It is a consummate example of agency costs and how incentives impact behavior (e.g., fees, reputation, lifestyle, risk of litigation, etc.)
It provides a window into how public company executives and Boards interact with investment banks, private equity firms and lawyers
It examines a complex capital structure (e.g., bridge financing, senior debt, junior debt, preferred equity, common equity)
It highlights the importance of and limits to process in public company deals (especially management buyouts)
It's a fun look at mistakes, leaks and lack of judgment by "important" players
What Did Our Students Think?
"Reading Barbarians at the Gate introduced me to complex financial concepts before our program even began…I believe the exposure to ideas such as the LBO, golden parachutes, hostile takeovers, and corporate structure in public companies, will pay dividends as classes begin…"
—Ryan Thomsen (Class of 2019)
"What I found particularly interesting was how the authors, and some characters, like Forstmann Little's Ted Forstmann, would attach moral judgments to certain tools and tactics in investment banking, especially junk bonds and leverage buyouts…it was not the financial tool itself that was reckless, greedy or destructive.  Those qualities are more appropriately ascribed to some of the characters who wielded these tools."
—Tom Weishan (Class of 2019)
"This book was very educational and I found myself researching several terms to gain a better understanding.  The concept of a "reset" mechanism, which became a deciding factor in KKR's winning bid, was new to me. Shearson and the management group refused to put a reset on their securities as they feared having to guarantee the securities would trade at the value stated. Their inability to do so tipped the scales and the Board awarded KKR the deal."
—Emma Ebert (Class of 2019)
"I especially enjoyed learning about the various roles that investment bankers, lawyers, corporate management teams and boards of directors play throughout the leveraged buyout process and how they interact with each other."
—Dave Klante (Class of 2019)
"I believe it is important for tomorrow's leaders to realize that the decisions that we make will have vast consequences on the public and our economy…'A few million dollars are lost in the sands of time' was a saying that Ross Johnson was fond of, but I think it may have behooved Johnson to realize that a people's lives can and will be effected by his decisions, and to have a reason or justification to take on major endeavors."
—Ryles Kjellsen (Class of 2019)
"This book does an excellent job of providing plenty of background information that helped me to understand the intentions behind each of the parties involved in the legendary bidding war of RJR Nabisco."
—Michael Hilfiker (Class of 2019)
""What made this striking to me was how far each of the junk bond departments was willing to go in order to appear first on the tombstone.  Each team threatened to drop out of the deal entirely, even, if they were not listed as number one."
"The practice of contracting the various commercial and investment banks simply so they cannot work for your competitor is something that could appear petty on the surface, but when considering the incredible amount of money on the line, is really quite strategic."
"The subjectivity of valuing this massive company was astonishing to me"
—PJ Hopkins (Class of 2019)
"Although one would expect a multi-billion-dollar buyout to be completed sensibly between fully-informed buyers and sellers, this book shows a different game. Emotions overtake reason, greed is rationalized, and motives are changed with each round of bidding. The story shows me that one needs to be aware of the incentives and motivations of others."
—Arek Schmoker (Class of 2019)
Interested in Learning More?
We highly recommend the book to anyone that is interested in finance.
If you have read the book already, check out this interesting analysis of the LBO from Michel and Shaked  http://homepage.univie.ac.at/youchang.wu/RJB.pdf
---