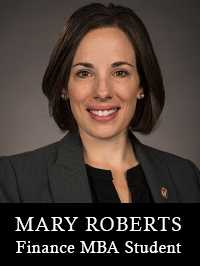 This article profiles Mary Roberts (1st year MBA student), who will be interning this summer as an Equity Research Associate at Bank of America in New York City.
The Nicholas Center's Growth Mindset
The Nicholas Center seeks to deliver a first-class, transformational MBA experience that accelerates our student's career development.  We fully ascribe to the growth mindset theories of development and provide a platform for each student to reach their potential(1).  Our methods are simple:  we set high standards, focus on intensity of effort, figure out the right strategies to pursue difficult problems and our students seek advice or assistance when necessary.  Setback and mistakes, which are inevitable when you set high standards, are vital learning opportunities where we objectively analyze the process and result, seek to understand the problem better and adjust our strategy as needed.  We are pleased to report that we are seeing considerable growth and success broadly across our Nicholas Center student body.
Mary Roberts – First Year MBA Student
Mary Roberts is an example of a first-year MBA student that exemplifies the growth mindset.  Mary arrived on campus without any finance background and wanted to break into the field of finance.  Mary's background was non-traditional – she was a professional musician and the owner of a piano studio prior to pursuing her MBA.  In addition, she is married and a mother of two young children.
Mary dug in from day one – she brings an authentic commitment to learning, intensity of effort and the courage to push herself beyond her current limits, even when success is not guaranteed.  And we set high expectations for her – she was given the same coursework and challenges as those with prior finance experience.  Within the first 6 weeks, Mary built a complex financial model from scratch, later went on to build a full merger model and to quantitatively analyze the strategic options of General Electric.  She ended up earning an excellent grade in my challenging Financial Modeling & Valuation course in her first semester.
From a career perspective, Mary overcame many initial setbacks to ultimately find an excellent internship opportunity for the summer.  In the beginning, she was rejected from a number of positions due to her lack of finance experience.  She received an early offer from a wealth management firm, but ultimately she had to summon the courage to turn it down because she wanted to find an opportunity that better aligned with her interests.
Mary's Accomplishments
Mary kept pushing herself, adjusted her strategy, asked for help, and pursued additional opportunities to develop her skills.  And her hard work paid off.
Mary's accomplishments after only 8 months into her MBA journey include:
Accepted an summer internship position at Bank of America as an Equity Research Summer Associate in New York City
Received a fellowship from Bank of America to fund her education
Her team in the ACG case competition advanced to the final round
Her team in the National Investment Banking Competition case competition advanced to the final round in Vancouver
She is pursuing a Certified Financial Analyst ("CFA") charter and received a CFA Society of Madison scholarship to pay for the CFA exam expenses
She has continued to excel academically and is a significant contributor to the Nicholas Center (most recently authoring our Nicholas Center Market Update of recent M&A, debt and equity transactions)
She was elected Treasurer of the University of Wisconsin's Graduate Business Association.
The Nicholas Center Value Proposition
A core strength of our program is the ability to develop students from many different backgrounds (including those without prior finance experience) and to offer personalized guidance as students clarify their specific career goals.  This comprehensive approach provides access to a wide variety of jobs including corporate finance, investment banking, consulting, strategy, corporate development and investing.
The key hallmarks of our program include:
Access to high-paying jobs
A focus on applied learning with consulting projects built into the curriculum.Recent projects include quantifying the impact of the proposed Chinese tariffs for Amazon, analyzing vulnerabilities in the U.S. debt capital markets for 3M, and analyzing M&A targets for a large-cap healthcare company for Rothschild.
Personalized guidance from start to finish from accomplished industry practitioners
Membership into a distinguished network of executives, Board members and financial professional that are passionate and eager to mentor students
Our Nicholas Center Speaker Series which engages our students with key business leaders on industry-defining transactions and trends. Recent speakers include a Wall Street Journal Reporter on Activist Investing, Jim Chanos on Cryptocurrencies, a CFO discussing a Decision and Risk Analysis Framework utilized by her Board when approving major M&A deals, a hedge fund analyst discussing public market investing, and a discussion of automation and its impact on finance professionals.
If you are interested in pursuing an MBA in Finance, we encourage you to consider the Nicholas Center for Corporate Finance and Investment Banking.  Learn more about our program and how to apply here.
One of our favorite definitions of success is from John Wooden (emphasis added)– "Success is

peace of mind

which is a direct result of self-satisfaction in knowing that

you made the effort to become the best of which you are capable

."
---