A few weeks ago, I attended the MBA global trip to Peru, and our group had the privilege of visiting world-renowned Peruvian economist Hernando de Soto.  Mr. de Soto hosted us at his home office in Lima, despite his extremely busy schedule (he was flying to New York the next day to give a presentation at the World Bank).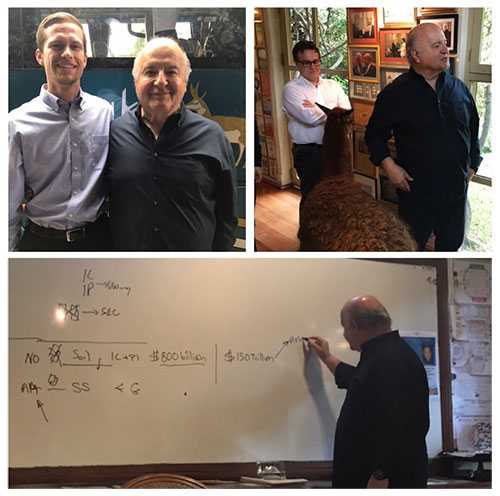 Mr. de Soto is known for his seminal contributions to economics related to the informal economy and property rights.  His books "The Other Path" and "The Mystery of Capital:  Why Capitalism Triumphs in the West and Fails Everywhere Else" have both been international best sellers, translated into over 30 languages.
During our visit, Mr. de Soto shared insights from his latest research related to an emerging property rights issue.  Mr. de Soto's research has found that much of the land "surface rights" across the globe are owned by the poor; however, in most developing markets, the concessions for the land under the surface (i.e. the "subsoil") have been granted to large companies. Thus, mining and oil companies have the rights over what they extract below the surface, while the poor and small-scale miners have ownership of surface resources. This creates friction, as mining companies cannot drill into the subsoil without access from the surface, while the poor lack the skills and capital to exploit the vast mineral and oil wealth that exists beneath the surface. According to Mr. de Soto, the landowners have historically felt like "beggars sitting on a pot of gold," a pot of gold that does not benefit them. They have watched as, over the years, the mining companies have bought land from the poor at local market prices, and then earn massive profits from mining the underground resources. However, in recent years, the landowners have discovered that their property rights on the surface are extremely valuable for the extractive industries. Without access to the surface, large miners cannot drill into the land or obtain investment in the capital markets. Recognizing their bargaining power, landowners are blocking global extraction of around $150 trillion in proven and probable mining and oil reserves, according to de Soto's research. These landowners are holding out for better conditions in the negotiation with large companies.
Mr. de Soto explained that this impasse needs to be resolved in a way that benefits all parties. He noted that with the advances in satellite mapping technologies, distributed blockchain records, and social networking platforms, solutions can be implemented quickly and on a large scale. Students had the opportunity to ask questions about Mr. de Soto's research and possible solutions to the issue. We also toured his home office—which included photos of him with numerous global dignitaries, including several former US Presidents and the Pope. We are incredibly thankful that Mr. de Soto was willing to host us and talk with us for several hours. He even commented that he was glad to have a chance to explain his research to us in preparation for his trip to the World Bank in New York!
In addition to speaking with Mr. de Soto while in Peru, our group worked on a consulting project for GE Peru, visited several companies to learn more about business in Latin America, and explored historical sites including the ancient Inca ruins of Machu Picchu.
For more information on Hernando de Soto, visit: https://www.ild.org.pe/about-us/ild-president.
---