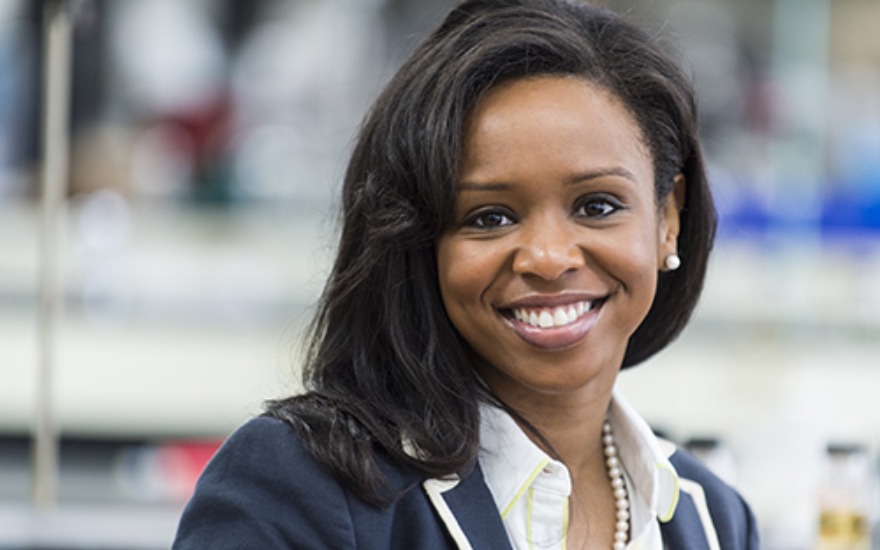 For a lifelong dairy aficionado, where else could Dr. Maya Warren have been more at home than the University of Wisconsin-Madison (UW)? When Dr. Warren graduated from UW with her Ph.D. in Food Science, she departed to accept a position at a multinational ice cream brand where she spent the first three years of her career, most recently exiting as the Senior Director of Research and Development on the international-facing side of the business. She now consults for major international ice cream brands, helping make new mixes and develop new flavors for companies all over the world. For someone who loves to travel (and has had great success in her jet-setting expeditions, too, winning the 25th season of CBS network's "The Amazing Race" with her teammate Amy), she laments that due to the pandemic she's been at home far more often than to which she is accustomed. But while she is excited to return to travel, Dr. Warren describes how she's already filled a lot of pages in her passport.
"When I say I've been all over the world, I mean Egypt, Brazil, Japan, Nigeria, Indonesia, Pakistan, India, and everywhere in-between! I've been all over the world exploring ice cream and….I love ice cream! I mean, literally, from the moment I decided that I was going to become an expert in ice cream, that is what I've been doing."
Dr. Warren got her minor in business and went through the Wisconsin Entrepreneurial Bootcamp (now known as the Morgridge Entrepreneurial Bootcamp) program at the Wisconsin School of Business. In addition to her affinity for science, she describes herself as always having had an interest in entrepreneurship.
"I wanted to combine my love of science, my love of teaching, my love of ice cream…and get into business. In transitioning to a consultant full time, I'm basically starting up my own business. It's a little nerve-wracking to do during the pandemic but I think this is the best time — I really do."
Despite having a full plate with her new venture, she started a weekly live stream back in May that has introduced her to an entire new audience and brought her into thousands of families' kitchens.
"Since I've been in quarantine, I started something called Ice Cream Sundays with Dr. Maya on Instagram, where [almost] every Sunday I teach people at home how to make ice cream the no-churn way, which is a really fun activity to do that brings families together and [brings out] my love of ice cream because I'm actually able to connect to people with ice cream now. I put out recipes about once a week and then people can [log] on and make it along with me. I've made everything from vanilla bourbon caramel ice cream to no-churn matcha ice cream to fully-loaded s'mores."
And while Dr. Warren's roster of ice creams featured in her weekly live stream is certainly impressive, her inspiration for starting Ice Cream Sundays with Dr. Maya may be just as entertaining: "I started it because I couldn't understand why everyone was making banana bread. I was like, 'Why aren't people making ice cream!? This makes no sense in my head! (laughs)."
What does make sense, however, is that Dr. Warren would return to being on camera. No stranger to the spotlight, Dr. Warren was not only one half of the champion team on the 25th season of "The Amazing Race," but has also been featured more recently on The Today Show, Daily Mail, and more as the bubbly ice cream instructor sharing her passion to make quarantine much more palatable for audiences of all ages. And though she delights in connecting with people to make ice cream accessible and educational, she acknowledges that it took her some time before she realized it was what she wanted to do.
"I do encourage people to follow their heart, because [that] tells you the truth. Your head can play tricks on you and get you to overthink and [doubt yourself]. So for all those entrepreneurs out there, looking to go out and start their own businesses: remember why you started. Because that's what is going to help you get through the hard times. By no means do I not have hard days! But no matter what happens — like a bad day — I still love it because it feels like what I'm meant to do."
Finally, Dr. Warren wanted to share a couple insights especially relevant to Badgers:
"[My favorite Babcock Hall flavor was] Bec-Key Lime Pie, which was made for the Chancellor [Rebecca Blank] but I don't know if they still have it. If I go with a standard flavor, I like Mint Oreo because I love oreos and ice cream in general — like cookies and cream. But I also love a double butter candied pecan ice cream that I make that's exceptionally delicious!"
Unfortunately for us, she's keeping that recipe a secret for now but did state she plans to put it on the menu when she decides to open up her own ice cream shop. Until that day, we can all enjoy spending our Sundays learning to make ice cream with Dr. Maya!
---