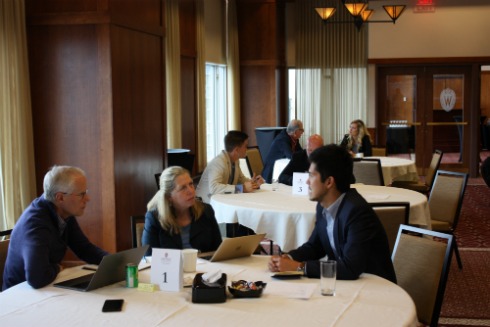 On Thursday, September 7, five local entrepreneurs were given the opportunity of a lifetime.
The Business & Entrepreneurship Clinic invited five local business owners to a "Master Coaching" event, where they received insights and advice into some of their most pressing business challenges.
The event took place in the Skyview Room on the top floor of the Fluno Center. It was an intimate gathering, with only five founders, six coaches, and a few administrators present in the room. Once everyone settled in, the event began with a warm welcome and opening remarks from Anne P. Massey, the Albert O. Nicholas Dean of the Wisconsin School of Business, and Mike Williams, Director of the Business & Entrepreneurship Clinic. Chancellor Rebecca Blank also participated in the event.
Among the coaches were Scott Cook, co-founder and chairman of Intuit Inc.; his wife Signe Otsby, who started and runs an independent marketing strategy consulting business; John Neis, Managing Director at Venture Investors; Joe Boucher, Attorney and Co-Founder of Neider & Boucher, S.C.; Toni Sikes, Co-Founder and CEO of CODAworx and General Partner of the Calumet Venture Fund; and Andy Walker, Co-Founder and Partner of Rock River Capital Partners, LLC. Needless to say, it was an impressive group of coaches from a variety of backgrounds.
The founders also represented a variety of industries: from healthcare IT, to a food delivery platform, to a social enterprise that provides renewable electricity to rural communities in sub Saharan Africa. One of the companies present was DotCom Therapy, which makes therapy services available to patients everywhere using an online integrated platform. Emily Purdom, co-founder of DotCom Therapy, felt honored to be invited to the event after winning the Greater Madison Chamber of Commerce "Pressure Chamber" Pitch Competition.
After the welcoming remarks, the founders each had five minutes to present their businesses to the group, as well as the main issues about which they hoped to receive coaching. There were many topics that they asked to discuss with the coaches, which ranged from raising capital to organizing a high-functioning team on their boards of directors.
From there, the coaching began. The format of the day allowed the founders to have sessions with each of the coaches individually. Although each session was only 15 minutes, their value will have lasting effects for years to come. Emily Purdom received plenty of valuable lessons, but one piece of advice particularly stood out to her. By thinking critically about what she does best at DotCom Therapy, the coaches helped her identify ways that she can strategically engage outside resources to maximize her own contributions to the company. This, according to Purdom, "was a really important take-home," and she has wasted no time implementing changes. Since the coaching event, she has already changed her individual areas of focus, and began building out a support team to push specific efforts forward. "This has allowed me to be a more efficient leader and progress towards goals with added scale."
Once the individual coaching sessions were completed, Scott Cook led a group discussion on some of the themes that emerged throughout the day. At this point, the entrepreneurs had the chance to share some of what they learned and what questions still lingered on their minds. Although each entrepreneur faced different challenges with their companies, they all received great advice that will surely help them moving forward.
Thank you to the Business & Entrepreneurship Clinic for hosting a fantastic event!
---