Paige Kuypers
Senior majoring in Marketing and International Business
Hometown: Madison, Wis.
Internship: Marketing Strategy Intern with Kohl's Department Stores in Menomonee Falls, Wis.
How did you get your internship?
I first began looking for internships the fall semester of my junior year. I was very interested in retail, but also wanted to explore marketing because I have enjoyed all my marketing classes through the WSB. I learned about Kohl's early on in my college career through the Student Retail Association. I knew it was a great company to work for, so I learned more about the Marketing Strategy internship at the Fall Career Fair. After interviewing on campus and on site at the corporate office, I was offered the position.
What's your favorite part about working at Kohl's?
My favorite part was working in a group setting with other interns on our final impact project. The group was very large (14!) so it was quite the challenge to collaborate and come up with a cohesive concept. In the end, it was the most rewarding experience that taught me an immense amount about of communication and teamwork.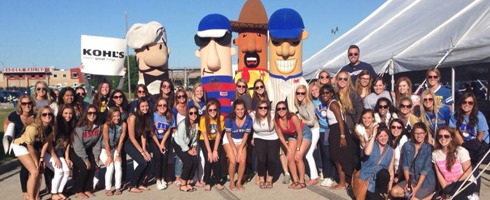 What's your favorite thing to do when you're not working?
My favorite thing to do when not working was exploring the emerging foodie culture of Milwaukee. There are so many great restaurants to try out. One of my favorites ended up being Blue Jacket, a modern restaurant in Walker's Point—highly recommended! Milwaukee summers are also filled with unique neighborhood festivals. Bastille Days was definitely one of the best.
What concepts from your classes or student organizations are you using at work?
Classes and student organizations have definitely helped me during my time at Kohl's. Specifically, I think time management skills are very important. While juggling multiple classes at the WSB along with leadership positions in student orgs, like the Student Retail Association, it is crucial to be able to organize your effort and manage your time. The same went for me during my internship. Effectively allocating time between my intern projects and specific projects for my own marketing team helped me stay on track throughout the summer.
Have you met any other Badgers on the job or in the city you're living in?
There were so many Badgers working at Kohl's, not only within my internship program, but also working full-time. It was great to have those connections in the office environment. Kohl's has a UW-Madison alumni group and even put on a luncheon event at corporate while I was there. These types of groups are great for networking and a fun way to get to know other interns, too!
"9-to-5: Living the Intern Life" features Business Badger students learning about the working world this summer in internships across the country. Follow along with their adventures, lessons, and advice on the Wisconsin School of Business website and social media (Facebook, Twitter, and Instagram). 
---