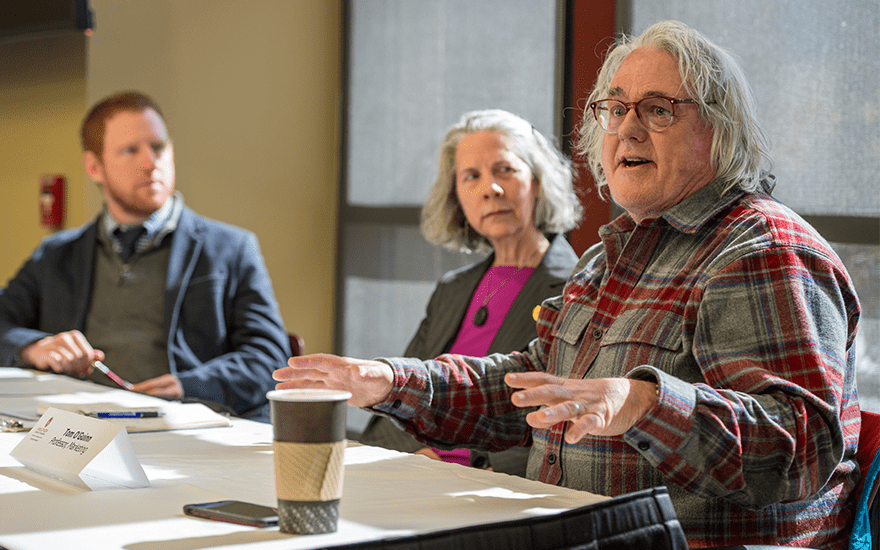 Consumers today have more power than ever before. Or do they? Wisconsin School of Business faculty members Joan Schmit, professor of risk and insurance, chair of the Department of Risk and Insurance and the American Family Insurance Distinguished Chair in Risk Management and Insurance, and Thomas O'Guinn, professor of marketing, chair of the Department of Marketing, and the Irwin Maier Distinguished Chair in Business, shared their expertise in an open forum facilitated by Jonathan O'Connell (BA '01), a reporter with The Washington Post and this year's WSB Business Writer in Residence. The session explored why corporations are increasingly under fire with consumers, the influence of social media, and the extent to which companies are responsible for the choices they make.

Below are some highlights from the conversation:

O'Connell: I'm so glad about this topic because I do feel like the title, "Corporate Responsibility in the Age of Consumer Scrutiny," is appropriate. Why are we in this era? Why is this happening right now?

O'Guinn: Well, I never believe in single-factor explanations. There are a lot of reasons for the moment. One, of course, is social media. It used to be that if a company got five complaint letters, it was a big deal and they'd send you a free case of bubble gum or something. Now, because consumers can talk to other consumers and can aggregate and form powerful collectives and lobby, transparency is more forced. That's certainly the obvious driver.

It's also tied to many other streams. Millennials, rightly or wrongly, are attributed with a greater sense of social consciousness. I think to some extent, the populist urge on both the left and right has put elites—whether it's corporate or otherwise—in the crosshairs of a wanting for honesty and accountability. I think we're in a moment where there's a turn toward a craving for authenticity.

Schmit: So, I'll disagree with some of what Tom said. I'll agree that social media is a major player today. The speed at which a comment can spread, whether it's true or not, is enormous. That means that we need to be somewhat vigilant because of the speed of the movement. I've done some work on cycles, though, and I think we're in a bit of a cycle.
I don't think that this is new. I grew up in the '60s, and the amount of change that people were able to effect without social media—and with the desire for good and to be socially conscious—was certainly as great then as I perceive it is today. So, I think it's not as if there's a perfect cycle, but I do believe that there are moments in time where we've seen this before.

O'Connell: This idea of cycles is very interesting. I feel like there are more companies who are wrestling with whether they have to take a side on issues more than they have previously, particularly because it is so polarized right now. Where are we in the cycle?

O'Guinn: This intersection of politics, accountability, and consumer groups really had its major day in Thatcher-era Britain with Saatchi & Saatchi [a major advertising agency] and the promotion of consumer goods. Saatchi had an almost Warholian way of bleeding politics in consumer packaged goods. That moved west with brands like Benetton, which didn't do as well in the U.S. Then it skipped over to California with Nike and Apple and their very culturally-connected West Coast advertising agencies, Chiat Day and Wieden and Kennedy. To me, this blending of politics and branding is an accelerating phenomenon now sweeping Western societies. In the United States, we're sort of late to the party. Historically, we liked to keep our politics and our commerce separate in ways that Europe didn't. That has changed.

Schmit: I would say that the decision rests with the organization's vision. Who are they? Firms can decide to take a stand or not take a stand, and prevent negative consequences as long as the behavior is consistent with their public reputation.

Nike is an example that I was thinking of where they have three notable events. Their ad featuring Colin Kaepernick received a barrage of criticism. Choosing to feature Serena Williams as well: Nike's current ad and the ads before it address how controversial she became after the 2018 US Open. Both of these events were true to Nike's public perception of who they are. But when Zion Williamson's shoe exploded in the middle of a game, the company was blamed by fans—it flew in the face of the high quality product Nike is known for and has built its reputation on. Nike's stock prices declined as a result.

So, the reputation damage occurs mostly when we are other than what we are expected to be. In Nike's case, the Colin Kaepernick and the Serena Williams campaigns are consistent with who I think they say they are, and they're proud—as I experience it—of who they are. And the shoe incident is completely contrary to who they are.

O'Connell: It seems like every six weeks for the last two years, we find something new that Facebook has lied about, some data they said that they would not sell that they did sell, or something they said they were going to do to protect users that they are actually not doing. Does this matter? As a business, is this a risk?

Schmit: It already has affected them. Their stock price has not come back up. I think there will be alternatives that surpass Facebook. I think they are definitely in trouble and I don't see them taking steps to address it.

O'Guinn: They're a very damaged brand and it's going to be hard for them to fully recover. The main way they're recovering is through acquired platforms that aren't as damaged … yet … and hoping nobody notices.

Audience: Are we in a different place now where our disbelief of the news media affects the way our elected officials do or do not pursue anti-trust regulation?

O'Guinn: I believe we're at an all-time low in measured trust in institutions in the United States, from the media to government to corporations. And when that happens it's just an everybody-for-themselves kind of world … then a longing, a nostalgia, for better days, meaningful community, and citizenship.

Schmit: I have nervousness too, but I also have optimism. I follow Bill Gates on Twitter, and he's someone who will help us feel optimistic. He has been talking about a great book, Factfulness, about what's happening around the globe. And unlike most of our perceptions, people around the globe are living longer, living healthier, getting educated. We are moving forward in a lot of the most important things.

I also have optimism in youth, but we have to be vigilant. We can't just assume that we're going to be saved by the next generation. So we have to try to educate and encourage people to find their voice, and to allow people to be open and to be themselves. And in doing that, I do have faith.

O'Guinn: That was beautifully said. I do actually have an optimistic streak in me. One reason I'm teaching a freshman class this year is to help restore my faith; 18-year-olds have a way of doing that. And the future, it's like the green light at the end of the pier in The Great Gatsby. I believe in that green light. So, I'm optimistic, too—just not naïve.
Read More From the 2019 Business Writer In Residence
---