Take Our Readership Survey
Business Casual wants to hear from you. What do you like most about the newsletter? What else would you want to read? Take the Business Casual readership survey and share your thoughts with our staff.
An informal but informative newsletter for WSB alumni and friends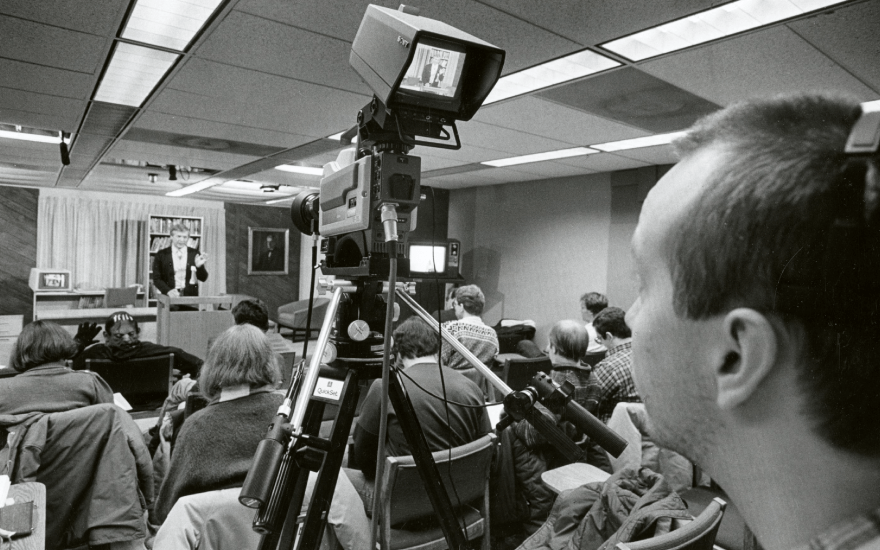 Creating a video of Professor Robert Haugen's finance class was considered an experiment in the mid-1980s. Now, recording lectures is a contemporary way to facilitate learning, due to advances in course delivery and the shift to hybrid instruction because of the COVID-19 pandemic. UW Archives (ID S08862)
---
The Briefing
Alumna plays instrumental role in creating protective gear
April Weir (MS '07, MBA '13) planned to spend 2020 growing and marketing her company that makes 3D-printed violins. But when she found out local nurses, emergency services operations, and business owners needed personal protective equipment, Weir shifted her company's focus to making face shields instead of violins.
Business Badgers launch their careers in unique, virtual ways
With degrees acquired in May, new WSB alumni dived into a very different work world than they thought they would be joining. Some have yet to set foot in the office of their new employers, as COVID-19 has created a remote workforce. "I never thought I'd start my career from my childhood bedroom," says Sam Simon (BBA '20).
For online learning, the future is now
Efforts to improve online learning were a priority for WSB even before the COVID-19 pandemic. The technology to support online learning goes beyond video; there are tools for interactive media, virtual blackboards, and software that helps manage group conversations. And it's not just about technology; courses are designed with online learning in mind. "This is the way of the future," says Enno Siemsen, associate dean of MBA and master's programs.
---

Back to School
If you went back to school now, what classes could you take? As the business world moves forward, so does WSB. There's a good chance courses are offered now that might not have crossed your mind when you were a student. Here's a glance at a few from the current course catalog:
GB 656: Machine Learning for Business Analytics: The course introduces machine learning techniques with an emphasis on predictive modeling in business. The course covers the intuition and ideas behind different learning approaches as well as their implementation in Python and R.
RE 651: Green-Sustainable Development: Intended for students who have an interest in green and sustainable aspects of housing and commercial property development and operation, the re-use and/or rehabilitation of existing structures, redevelopment of historic buildings into housing or commercial space and related special topics.
MHR 434: Venture Creation: Intended for students who seek to transform their own ideas into new ventures. Students will learn the process of evaluating, formalizing, and communicating a new venture idea. Student originated product, service, or venture concept required for course.
---

Tip Sheet
The Badger Executive Talks series features virtual conversations with executives from the UW–Madison alumni community. Speakers share their leadership journeys as well as professional development insights.
From Gayle Fuguitt (MBA '80), former vice president of global consumer insights at General Mills:
Earn your place in discussions by contributing. "So many of my employees begged to be at the table and they found out quickly that if they didn't say anything, they wouldn't be invited again."
From Tom Westrick (BBA '90), vice president and chief quality officer at GE Healthcare:
Look for and learn from your organization's change agents. "Who do you want to learn from? Find the people who ask the hard questions."
From John Peirson (BBA '88), CEO of Deloitte Risk & Financial Advisory:
Experiences matter more than titles. "Don't hesitate on opportunities that might look like a lateral move, because they might be a chance to get different experiences."
Badger Executive Talks continue Jan. 27, 2021, with Cheryl Stallworth (MBA '81), co-founder of ShedLight and former CEO of Firefly. Ericson Chan (BS '90), CEO of Ping An Technology, will be featured on March 4, 2021. Tom Falk, former chairman of Kimberly-Clark, will be featured on April 28, 2021.
---
Alumni Opportunities
Nov. 12: Business Badger Speed Networking
Nov. 17: Alumni Webinar: "Effective Delegation Strategies"
Jan. 19: Alumni Webinar: "Owning Your Finances"
Jan. 27: Badger Executive Talk: Cheryl Stallworth (MBA '81), co-founder of ShedLight and former CEO of Firefly
Virtual Networking Chats: Five opportunities in November and December for small-group video chats with fellow alumni on a variety of topics
Readership survey: Share your thoughts about Business Casual with this online survey
Past events: Watch previous Alumni Webinars or Badger Executive Talks
Job search resources: Online tools and videos to help plan a career move now or in the future
---
About Business Casual
Every other month, alumni and friends of the Wisconsin School of Business will receive insider updates with news about our alumni, faculty, students, and programs. If you want to share Business Casual with friends, they can sign up at go.wisc.edu/wsb-biz-cas.
Questions or comments? Email businesscasual@wsb.wisc.edu
---
---