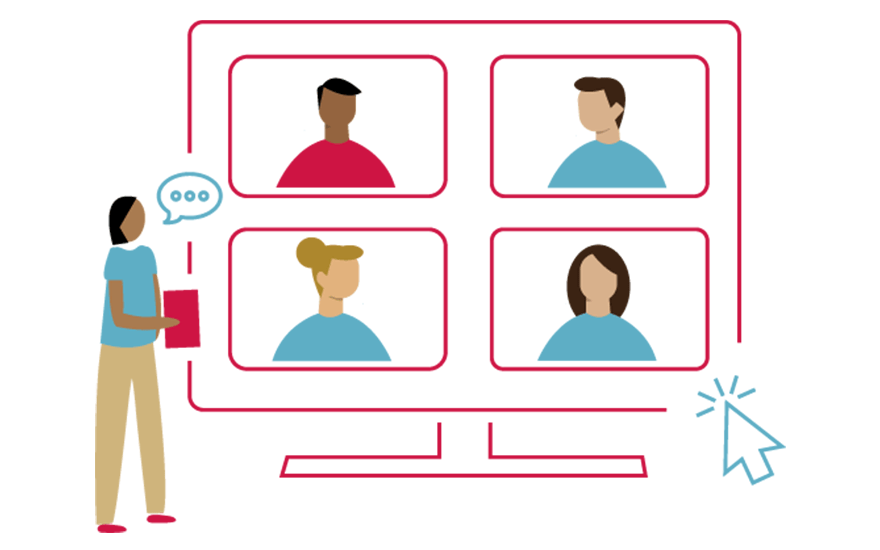 The University of Wisconsin–Madison's Collegiate DECA Chapter swept the state finals this March, winning 11 of the 16 events offered at the conference and earning 19 top-three finishes. Even in the midst of a pandemic, "we brought 32 competitors and all 32 of us now qualify for the virtual international conference this April," says Wisconsin School of Business student and chapter president, Jenny Patino (BBA '22).
While it may be among the best-known and oldest student organizations—DECA celebrates its 75th anniversary this year—it is just one of many student groups available to WSB students. Julie Duffstein, director of student life, says there are approximately 45 student organizations connected to the School's undergraduate program. Participating in clubs outside of the classroom helps Business Badgers broaden their perspectives, prepare them for internships and jobs, build early networks, and also have some fun along the way.
WSB talked to Patino about her work with Collegiate DECA and the value of getting involved in student organizations while still in school.
WSB: Tell us about yourself and your experience with DECA. You're the first Collegiate DECA state president from WSB or the University of Wisconsin–Madison, correct?
Patino: Yes, I was elected as the Wisconsin Collegiate DECA state president at the conference we had in March. We've had a couple of other people run for state office while they were a part of our chapter, but I'm the first state president, which is a cool feat. I'm kind of in the middle of two roles right now, but I'll step away from being the chapter president and take over as the state president at the end of April.
It's also unique that for the first time, we will have a state board comprised entirely of UW–Madison students. Former chapter officers Jeremy Erickson (BS '22) and Melissa Okus (BBA '22) were also elected as state vice presidents.
I'm studying marketing, management, and human resources at WSB. I'm originally from Appleton, Wisconsin, and joined DECA when I was a sophomore in high school. Once I graduated from high school, I was kind of 'done' with my involvement, but then the organization was part of the business school orientation. One of the panelists that they had—who is now a former president of the chapter—was just raving about all the opportunities that he had had at Collegiate DECA. I got involved and the rest is kind of history.
WSB: The chapter performed so well at the state competition in March. Can you break down what these events are like?
Patino: Most of us competed individually, and individual competitors take a hundred-question exam in either the marketing, finance, hospitality, or entrepreneurship category.
Then there's a case study: You get a half hour to look at this case you've never seen before, come up with a solution, and then present it to a business professional. For example, mine was a retail management related case. I had to choose between two options for a grocery retailer: Should I expand their product mix or strip it to basics in order to give it more of a local feeling in terms of the store?
What's really cool about the case studies is they that they are different events and there's something for everyone regardless of what career interests you might have. You're taking what you've learned in the classroom or through prior experience and using it on the spot. This year was through Zoom, obviously, but I still think it was a really great experience to practice some of those interviewing techniques that you don't always get to put into practice. Our nationals are actually this month and we're (virtually) taking 30 members—the largest competition team that we've had in our chapter's history.
WSB: What kinds of activities does the chapter do in a normal, non-pandemic year?
Patino: We actually were able to do some of our normal activities this year. We try to focus on four main components. Community service is a big one. This fall, we did an event with The River Food Pantry in Madison, raising over $500 and another 500 pounds in perishables. We do socials just to get to know each other. Professional development is another big focus, bringing in speakers from other industries, some of whom have ties back to our chapter. We like to keep in touch with the alumni that we have. We've had companies like TEKsystems, Baker Tilly, and American Family Insurance come in to speak and give us tips on how to be better professionals once we get out in the real world. And then, of course, there are the case competitions we just did.
WSB: Do you have plans you'd like to put in motion in your new state position?
Patino: Based on everything that's happened over the course of the last year, I think right now the focus is on rebuilding. A lot of other chapters across the state have low membership numbers, so looking to increase those numbers, branch out, and communicate with other chapter leaders across the state, and building off of that—it's almost like rebranding the organization itself—are probably the priorities. Having now gone through a virtual year, there are a lot of things we can do even if they are not in person. I think we are in a position to expand on all those opportunities that the virtual challenges presented to all of us this past year.
WSB: Any advice for current or incoming students who might want to follow in your footsteps?
Patino: I think the biggest thing is that you stay involved in some sort of organization while you're in college. Making those connections early on and creating relationships with other students has definitely broadened my opportunities in terms of gaining leadership. Finding your home within WSB is really important, and you can do that through student organizations.
---