Joan Schmit, American Family Insurance Distinguished Chair of Risk Management at the Wisconsin School of Business at the University of Wisconsin–Madison, is published in the latest issue of Science magazine with a timely article she co-authored about the importance of approaching cyber risk research through cross-disciplinary collaboration.
The paper, titled "Cyber Risk Research Impeded by Disciplinary Barriers," identifies "core research questions for cyber risk, gaps in knowledge that need to be addressed for advances in security, and opportunities for cross-disciplinary collaboration in each area." Schmit and her co-authors outline the need to advance the science of cyber risk through fields including computer science, risk management, psychology, engineering, biological and physical sciences, economics, law, and public policy, among others.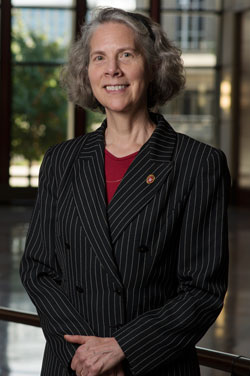 "Cyber risk affects every organization and individual that uses any form of technological interconnection," says Schmit. "It has the potential for extreme catastrophe and continues to mold and evolve at a rapid rate, necessitating input from experts in nearly every discipline imaginable."
Schmit has published extensively in insurance and legal journals, with areas of expertise including insurance regulation, enterprise risk management, and the interaction of law and economics in an insurance and risk management context. She serves as editor for the Journal of Risk and Insurance.
Schmit's co-authors on the paper are Gregory Falco, Martin Eling, Danielle Jablanski, Virginia Miller, Lawrence A. Gordon, Shaun Shuxun Wang, Russell Thomas, Mauro Elvedi, Thomas Maillart, Emy Donavan, Simon Dejung, Matthias Weber, Eric Durand, Franklin Nutter, Uzi Scheffer, Gil Arazi, Gilbert Ohana, and Herbert Lin.
Science is a leading outlet for scientific news, commentary, and cutting-edge research. Through its print and online publications, Science reaches an estimated worldwide readership of more than one million. With global authorship, Science's articles consistently rank among the world's most cited research. Science is published by the American Association for the Advancement of Science (AAAS), the world's oldest and largest general science organization.
Read the article in Science magazine: "Cyber Risk Research Impeded by Disciplinary Barriers"
---