David Brancaccio, host and senior editor of Marketplace Morning Report, visited the Wisconsin School of Business as business writer in residence March 5-7. Brancaccio co-anchored the PBS series "Now" with Bill Moyers and is also an Emmy award-winner and author of the book, Squandering Aimlessly, an examination of American attitudes toward money.
Started in 1989, the Business Writer in Residence program brings journalists of national stature to WSB. Past writers in residence have included Yuki Noguchi of National Public Radio, Jason Zweig of the Wall Street Journal, and Jean Chatzky of NBC's Today show.
"As the host of Marketplace's Morning Report, David is a recognizable voice who is reporting on a wide range of business issues," said Peter Kerwin, WSB's assistant director of public relations. "It was great to connect him with our students and allow him to interact with faculty who are doing timely research and can provide expert commentary to inform his work in the future."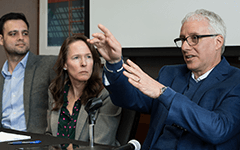 During his three-day residency, Brancaccio moderated public panel conversations with WSB faculty on health care reform, emerging financial technologies, and corporate tax reform. In a series of one-on-one meetings, Brancaccio tapped further into WSB faculty members' "incredible expertise"—the words he used to characterize their conversations on topics ranging from non-compete clauses, compensation, prison privatization, and entrepreneurship in Madison. "Academic sources are crucial to what we do," Brancaccio noted. Reaching out to WSB faculty adds a layer of expert perspective grounded in solid research.
"One of the wonderful parts of this experience for me," Brancaccio said, "is that instead of me trying to curate interesting ideas and then finding experts, it's a few days where it's reversed in which people are talking about what's interesting to them and what work they're doing."
During one of the panels, Brancaccio described how he thinks about his own role as a journalist: identifying interesting and relevant stories, articulating the key issues, and making them come alive—often for listeners who might only have a few minutes to spare.
He sees himself as a designer. "We take what we hope are important public policy issues that engaged members of the community should think about more, and try to come up with useful ways to draw them into the debate. To do that, you have to be like a designer. You have to think of innovative, cool ways to tell the story, and often you do it based on storytelling."
Brancaccio also met with Wisconsin MBA students, both during a breakfast forum and during a special lunch with students from the Nicholas Center for Corporate Finance and Investment Banking. Engaging in discussions about Brancaccio's career and current events, Brancaccio turned the table, asking the students—many of whom have extensive previous experience—why they decided to go back to school. "It's people who are hungry to bring rigor to what they're already experiencing in their professional lives. That's what I got the most often," adding that this same desire was what propelled him to get his master's in journalism from Stanford University.
Brancaccio's visit included other engagements across the University of Wisconsin–Madison campus, speaking to faculty and students from the Robert M. La Follette School of Public Affairs and the School of Journalism and Mass Communication.
For the Maine native, this was only his second trip to Madison and his first to campus. He was a bit concerned to see people walking on the lake so late in the spring, he said, and couldn't help but notice the fierce devotion to all things Badger. "It's fun because it's a really tight community and you get the impression of everyone being very focused."
Brancaccio said the reputations of WSB and UW–Madison precede them, something he affirmed by his visit and conversations with faculty and students. And as a self-described "broadcaster in residence," he hadn't known what to expect.
"I'm just delighted I didn't have to write anything," he said with a laugh.
---