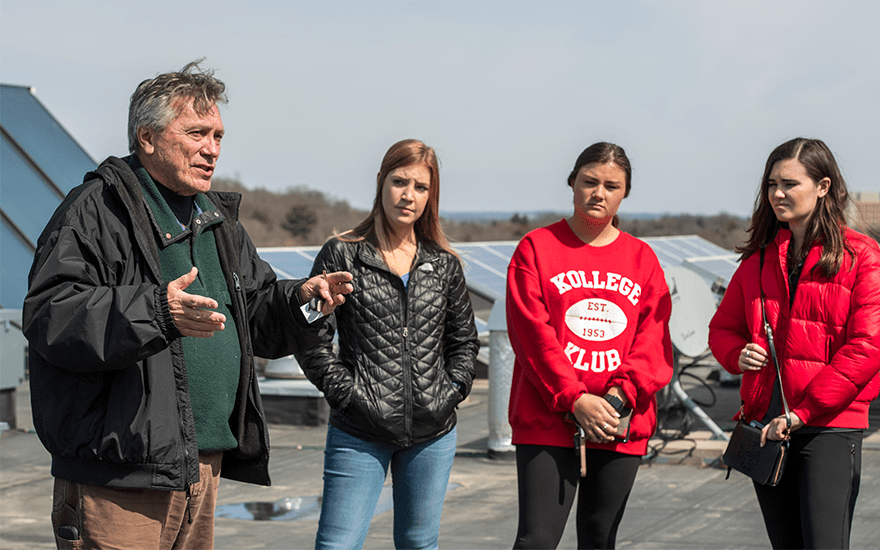 Tom Landgraf has a message for his capstone real estate students: Get out of the classroom.
"Google Earth is okay, but I like the students to get out and see the piece of dirt they're working on. Watch the traffic, get a flavor for who the neighbors are and the quality of housing," says Landgraf, a senior lecturer in the Department of Real Estate and Urban Land Economics at the Wisconsin School of Business at the University of Wisconsin–Madison. "You really need to get familiar with your site to understand the task at hand."
Landgraf and his students are part of the UniverCity Year managed by the UniverCity Alliance's UniverCity Year program, a multiyear, cross-disciplinary program that bridges Wisconsin communities and UW–Madison. This year, students from two undergraduate WSB real estate courses, Residential Property Development and Green Sustainable Development, are working on affordable housing and redevelopment projects in communities across Green and Dane counties.
Green County—located southwest of Madison with a population of 36,842—is a new focus for the real estate students this year, and offers an opportunity to work directly with rural communities after previous UniverCity projects were focused on urban and suburban areas of Dane County.
"When you cross over the county lines—pretty much in any direction from Dane County—you're going to be in rural America," Landgraf says. "Part of the reason we're looking at Green County is to give the class a sense of what much of the U.S. looks like."
Landgraf's classes are also continuing the work started last year in Madison, Mount Horeb, and Fitchburg as part of a Dane County UniverCity Year project.
Students are assigned their own affordable housing and redevelopment projects. They are responsible for the entire process, from making the initial feasibility assessments to presenting final recommendations to their clients. For students, a key part of the project is learning how to work with stakeholders, which can include elected officials, city administrators, realtors, property owners, and many others.
The experience pulls together everything students have learned up until that point. "These are capstone experiential learning concepts they have been working on," Landgraf explains. "For the residential property development students in particular, this is a class of future developers. The places we are working are opportunities to bring real life into the classroom."
Serena Pretti (BBA '19) agrees. "This project allowed us to use skills gained in the real estate program and in the business school. It is an opportunity perform as a professional in a real-world setting, which really sets this class apart," she adds. "You apply hands-on learning and get a taste for what a career in this area is like."
Understanding the demand
Smaller communities have more challenging housing and infrastructure development, Landgraf says, and seeing how that fits together is beneficial exposure for students.
Surprisingly, it can cost just as much to build a housing development in rural areas as it does in Madison. While the price of land is different, the development costs and construction services are largely the same.
"When you look at the bulk of housing that's been developed recently in Dane County, it's either in or close to Madison. As you get further into the rural areas of the county, the economies of scale disappear," Landgraf explains. "The costs stay the same, and the need for affordable housing is greater because fewer units have been built in the rural areas and wages aren't keeping pace."
Tim Langlois (BBA '19) says the cost of development and wage mismatch in rural areas initially took him by surprise. His team is coming up with different development plans for a site in Mount Horeb and another in Green County. "It's really a great place to start because there's a lot of opportunity to be creative."
In the past, students in the residential property development class looked at development and redevelopment of rental properties, but they're now also looking at middle-income single family homes.
"The starter home is disappearing. How do you make a nice single family home affordable? It's tough to do," Landgraf says. "It's not going to be done by developers on their own. It's going to be done in concert with communities."
Envisioning community, meeting needs
For both Green and Dane counties, the work is not just about a physical space. It's about envisioning community, taking into consideration the individuals' needs, challenges, concerns, and hopes for the places they will live and work.
In Monroe and Mount Horeb, those needs take the form of an elementary school and a childcare center, respectively.
"One of the things that we've been looking at through the UniverCity program these last three years is what impacts people's ability to afford housing," Landgraf says. "However, affordable housing is not the only focus. If developing housing is too difficult, there are other ways to increase a family's net income, such as deploying renewable energy to reduce the utility bill or decreasing the cost of childcare."
"Those who want to implement new concepts are going to have to take some gambles," he says. "They are going to have to engage in dialogue with communities to examine ideas that not only reduce the cost of housing, but provide other quality of life benefits as well."
Most recently, Landgraf's students visited a green affordable housing development in Madison, one of the most energy-efficient buildings in the city. He says the sustainability class has focused on using renewable energy to help reduce bills, building on last year's work with solar panels for rentals and multifamily dwellings.
Extending beyond the classroom
For students like Tom Groskopf (BBA '19), there's a sense of accomplishment in seeing how the knowledge gleaned from his real estate courses positively influences communities. "All of the sites in Mount Horeb and across Green County incorporate real estate fundamentals, financial analysis, law, land economics, and valuation," Groskopf explains. "In addition, our findings and recommendations might spark an actual development for one of the small communities. It is the Wisconsin Idea in action!"
Landgraf believes the UniverCity Year experience leaves a lasting imprint on students, regardless of whether or not they ultimately work in real estate development. Learning firsthand how to implement development proposals that are good for the planet, good for investors, and most importantly, good for the residents—three goals that are often treated separately—is a skill that impacts life in general, not just housing.
"We give students the opportunity to work on real development in real communities," Landgraf says. "It's not just the technical knowledge that they take with them, it's the chance to make a difference, to make a real impact on people's lives, and to understand how that happens."
---