College students across the country are doing their part to promote civic engagement through the Big 10 Voting Challenge. Here at the University of Wisconsin–Madison, the effort is being driven by students participating in the BEST Challenge, a unique campus competition that brings together teams of business and English majors to tackle a real-world problem and create a viable solution.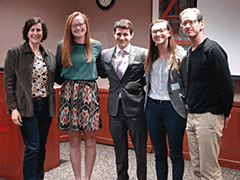 In this third year of the challenge, the multidisciplinary team comprised of marketing major Isaac Rudin (BBA '19), finance major Vivian Broderick (BBA '21), and English major Lucy Woolson (B.A. '18) took first place for its #BallotsOnBascom strategy. Designed to increase student voter turnout, the strategy aims to maximize convenience through the creation of accessible outdoor voting centers and appeal to cultural values through a targeted social media campaign.
"This team's idea stood out from the others because of the direct impact it would have on voting-day behaviors, beyond simply registering to vote," says Chris Dakes, director of educational innovations & learning design at the Wisconsin School of Business. "These students relied on data, used an academic model of motivation, and delivered a plan that demonstrated feasibility in terms of implementation."
The BEST Challenge, delivered in partnership by WSB and the English Department, consists of two deliverables: a pitch by the student team to a panel of judges and a two-page individual reflection. Cash prizes are awarded to both the group and individual winners.
Running on a tight timeframe of just three weeks, the competition offers participants a hands-on, team-based problem solving experience similar to what they might experience in the workplace.
"This active learning experience very much mimics the real world," adds Dakes. "The opportunity to work alongside people of different majors pushes students beyond what they're most familiar with and allows teams to deliver stronger, more well-rounded final deliverables."
With nearly 50 undergraduates having participated in three years of this competition, the BEST Challenge is recognized by students as a valuable addition to their classroom learning.
"I believe that my experience with the BEST Challenge gave me the confidence in my education that I will need to maintain moving forward," wrote Lucy Woolson in this year's winning individual essay. "I am excited to take the skills that I have gained through the BEST Challenge out into the real world!"
The BEST Challenge launched in 2016 thanks to inspiration and funding from Alan Chesler (B.S. '85, M.S. '87), who holds a real estate graduate degree from WSB and credits the communication skills he learned as an undergraduate majoring in English and economics in helping him succeed in the business world. This year's competition was further supported by a grant from Proctor & Gamble.
Recognized as a best practice in cross-disciplinary partnerships, the BEST Challenge will be featured in May 2018 at UW–Madison's Teaching and Learning Symposium. Dakes, along with his BEST Challenge partners Sunny Chan, career and internship coordinator in the English Department, and Megan Miller, assistant director of civic engagement at the Morgridge Center for Public Service, will continue their collaboration by leading a workshop that provides university colleagues with practical guidance for establishing campus partnerships that may not seem immediately obvious.
---