A new video series funded by Wisconsin's Small Business Development Center (SBDC) network is now available as a key resource for the state's small business owners and entrepreneurs—and the University of Wisconsin–Madison's SBDC has played an integral role in making that original vision a reality.
Planned, creatively designed, and developed by the UW–Madison SBDC using CARES ACT funding designated for SBDC sites, the SBDC Entrepreneurial How-To Video Series helps small business owners navigate some of the most commonly asked technical business questions—everything from forming an LLC to understanding available loan options—in a short, engaging format. With two segments launched this month and another in production, the three-part series is just one part of a larger statewide effort to support small businesses through the U.S. Small Business Administration's SBDC network. One portion of this series—focused on business law—was developed in conjunction with the Law and Entrepreneurship Clinic at the University of Wisconsin Law School.
The series is hosted on the Wisconsin SBDC's website and is available to all other network SBDC sites around the state as well as to the general public.
"We are really excited to be able to offer this series to entrepreneurs in Wisconsin," says UW–Madison SBDC Director Michelle Somes-Booher. "The series really represents the Wisconsin Idea."
In normal, pre-COVID-19 times, the UW–Madison center focuses on assisting small businesses—defined as those with fewer than 500 employees—through in-person programs, one-on-one consultations, and noncredit courses. But during the pandemic, the center and its staff pivoted their operations to respond to immediate demands, serving as a lifeline to their clients and startup businesses. In 2020, the center saw 498 consulting clients, clients started 30 new businesses, and obtained over $13.33 million in capital.
One of the takeaways from this stressful yet crucial period was realizing just how successful the online transition of in-person courses had been, says Heather Ferguson, SBDC program manager.
"That's kind of where the ideas for the videos came up," she says. "We were transitioning a lot of our classes to online, which we'd really never done before. We thought, how do we keep people engaged in that online environment? What is something that will last beyond the pandemic?"
Collaboration with UW Law School
Around the time her team decided to contact the law school, the center was already planning on having a series on common legal questions entrepreneurs ask, Somes-Booher says.
"The UW Law and Entrepreneurship Clinic is a tremendous resource, and we wanted to see if they would be interested in partnering with us. When we reached out to them, we learned that they were exploring the idea of a video series as well. We had identical lists of topics we wanted to cover!" she says.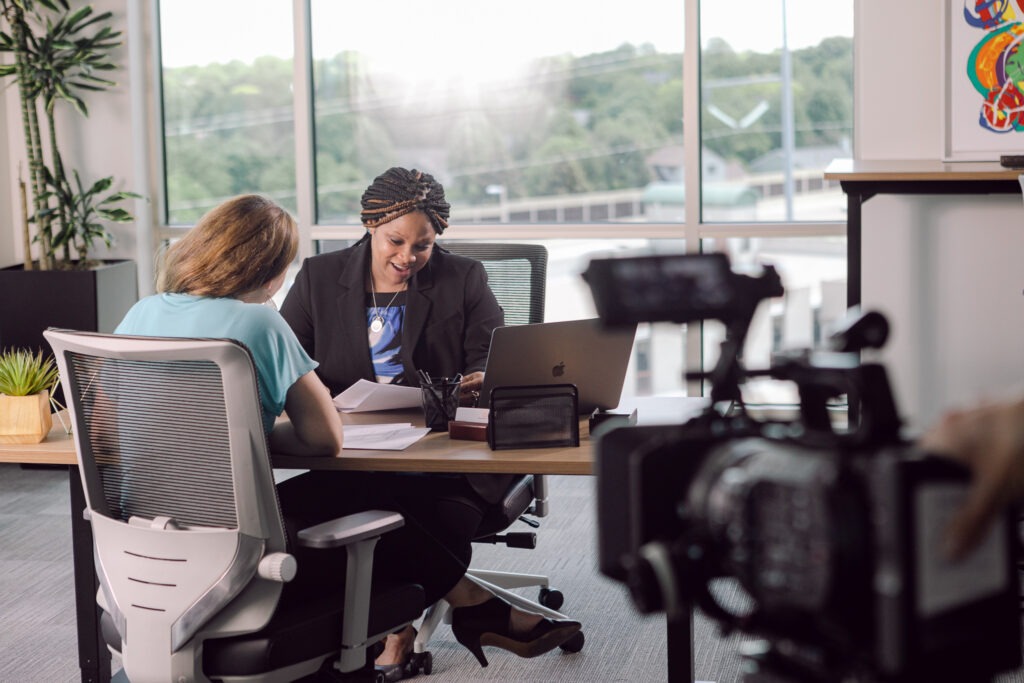 Somes-Booher says the partnership was an ideal match, especially since the SBDC frequently refers clients to the clinic. The clinic was instrumental in writing scripts and engaging their students to "star" in the videos, she says. "It was a great experience to work with our colleagues across campus to create this series that will benefit everyone."
Anne Smith, director of the Law and Entrepreneurship Clinic at the UW Law School, agrees. "Working with Michelle and her team on the creation and production of the legal videos for the SBDC Entrepreneurial How-To Video Series was efficient, effective and fun! From selecting topics to working through the scripts for production effectiveness to shooting and editing the videos, this project was a perfect partnership from start to finish," Smith says. "The L&E Clinic team is excited to share the videos to help Wisconsin businesses."
Not only did Smith's students have starring roles in the video series, but one of her students is a star in her own right: TikToker and third year law student Miranda Salazar (JD '22), whose account @lawskol has nearly 27,000 followers. Salazar says the filming experience was an "absolute delight."
"Filming day was actually my first time meeting some of the clinic's supervising attorneys in person (despite having worked with them for six months!) and it was my first time in a public building—that wasn't the grocery store—since March of 2020. The director was incredibly kind and was surprised to learn that this was my first time in front of a professional camera, with my only other filming experience being the 60-second videos I make for Tiktok on my phone … Overall, I had a fantastic time and am so grateful to have had that experience."
A fresh approach
Last year was SBDC's 40th anniversary, a milestone that influenced how the center's team wanted to move forward with the series.
"We wanted to really think about, what does the digital environment look like for us?" Ferguson says. When the topic of videos came up, they all agreed that short snippets from sponsors or partners would work well, or perhaps participants could use the videos to prepare before they entered one of the SBDC classes.
The team worked with the Madison-based film production company Clouds North Films to produce several blocks of five to six videos each on some of the frequently asked business questions, she says. Most of the videos are under three minutes each, an intentional decision.
"We wanted this to be really approachable," Ferguson says. "It's not meant to be, 'let me walk you through how to file your LLC.'" It's meant to be an introduction that can be used in a variety of areas."
A video on lending, for example, highlights the differences among crowdfunding, banks, and credit unions, helping the viewer know what questions to ask and what key words to look up to get started.
Diversity was another priority for the series—including diversity of video participants, businesses depicted, backgrounds, and considering the diverse audiences that would be watching the videos. "We wanted business owners with a variety of experiences and business types to see themselves reflected," Ferguson says. While there are some Madison locales featured—StartingBlock Madison and Serendipity Labs make an appearance—the team was intentional about using different types of businesses and urban and rural backgrounds since the videos would be used throughout the state.
Ferguson says it was rewarding to see all of the pieces come together. As Somes-Booher and Smith worked on the video scripts, they found both interest and challenge in sharing content in such a concise visual format. The sequences needed to be clear and succinct and cover the key information in short amounts of time.
"In-person consulting appointments allow us to dive in with the client and talk through things, but with video, you have to keep it moving," Ferguson says. "You've got a variety of video snippets, and you're cutting back and forth between different visuals, so it's just a very different way of thinking … we wanted to focus in on how to share complex information more visually and engage people across the state."
The new format adds to the portfolio of offerings available to clients.
"We're still here as a resource," Ferguson says. "The videos are not meant to be a replacement; they're meant to be just that initial step."
---
Watch SBDC's Entrepreneurial How-To Video Series.
The Wisconsin Small Business Development Center at the University of Wisconsin–Madison provides no- cost consulting and noncredit courses to help businesses from startup through growth. The Small Business Development Centers were established by the Small Business Administration in 1980 with legislation written by Wisconsin Senator Gaylord Nelson. The mission of the Wisconsin SBDC is to provide education, referrals, sophisticated tools, and resources to help businesses evolve while delivering value to our stakeholders.
For prospective business owners looking to learn the basics of entrepreneurship, the UW–Madison SBDC offers First Steps, a free online course that is available 24/7. This course covers the entrepreneurial mindset, helps aspiring owners think through their business idea and financial readiness, and provides resources for next steps. In addition, the UW–Madison SBDC developed a free COVID response guide and resource page in response to the challenges they were hearing from clients during the early days of the pandemic. The guide provides small businesses with clear business best practices that help to bring structure to an unpredictable and stressful period. In addition to these offerings and on-on-one consulting, the SBDC also offers a full suite of affordable classes on business management and leadership.
---