Are you a recent UW-Madison real estate graduate or a student graduating in May 2020? Are you looking to boost your employment prospects, long-term career trajectory, and earnings potential? If so, we encourage you to learn more about the Wisconsin Real Estate Program's one-year MS in Real Estate!
Due to the challenging circumstances created by COVID-19, applications for the Real Estate MS will now be accepted now through July 15, 2020. In addition, real estate/WSB undergraduates can apply for the GMAT waiver if they meeting the following criteria: (1) 3.5 GPA or higher and (2) Grade of B or higher in Economics and Statistics or one advanced math course. View the waiver criteria here.
The unique Real Estate MS program offers specialized career tracks, including real estate development, applied real estate investment and private equity investment. Affordable housing and sustainable real estate courses are also available.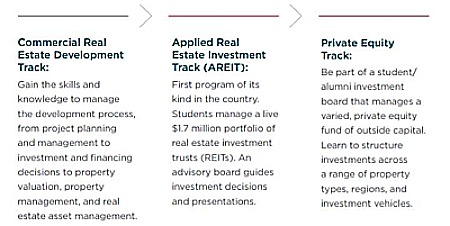 In addition to focused real estate curriculum, you'll get intensive career preparation, real-world learning experiences, and access to top employers and a network of 2,000 active alumni in cities worldwide. The Real Estate MS is taught by the same faculty who have earned a #1 national ranking for public undergraduate program in real estate by US News & World Report.
Questions? Real estate students who graduated in December 2019 or are graduating in May 2020 who are interested in the MS Real Estate degree should consult with Greg Reed with questions.
Application details and deadline: Applications are being accepted through July 15, 2020. Earlier application is encouraged. View application information. Apply now!
Schedule a Consultation Appointment
Consultation appointments are designed specifically to help prospective students navigate the application process. This 30-minute appointment is an opportunity to connect with the admissions team and seek guidance on program specifics and application requirements. Consultation appointments are available over the phone, via video call (Skype), or in person. If you have any questions about consultation appointments, please contact the admissions team for assistance.
---