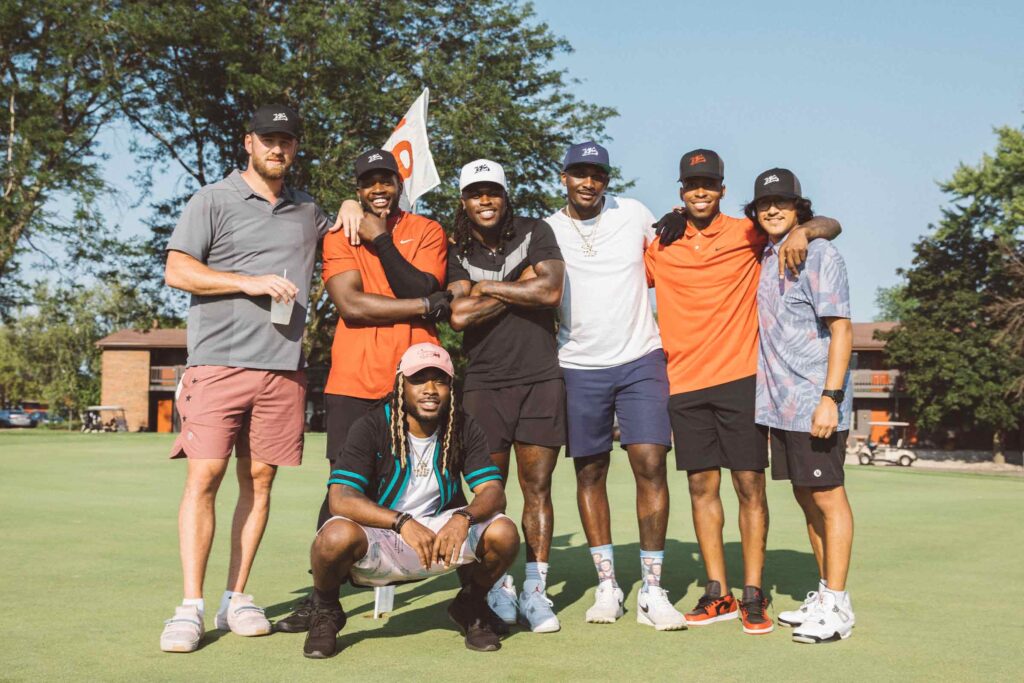 A few years into his post-graduation life in California, Noe Vital Jr. (BBA '15) felt restless for a new challenge. So he took up golf. But when he'd set out onto some of the courses, he kept getting what he calls "this weird vibe."
"It was almost like the feeling of, 'I don't belong there,'" he said. "You know, you get the looks, because I'd walk out there with my Jordan golf cleats and my hoodies and my hats, things like that. If you go to certain golf courses, they just don't accept that, which I think is ridiculous."
Vital Jr. took action. He gathered some of his closest friends and together they launched an amateur golf club, Vibez Golf Club (VGC), in July 2021.
"To some extent, we need to disrupt the game of golf," Vital Jr. said. "And the way we do that is by just bringing our own personality to the courses with the levers that we can pull on today." Citing the club's mission statement, "'We want to build a bridge that allows someone who looks like us, talks like us, and vibes like us to just as easily pick up a golf club as they do a basketball or a football.' We're ultimately trying to make the game of golf more approachable to anyone."
Vital Jr. shared VGC's journey this fall when he and several of the club's nine founding members visited the undergraduate entrepreneurship class of his former instructor, John Surdyk (MBA '03), director of Initiative for Studies in Transformational Entrepreneurship (INSITE). Surdyk notes that for students in the class, many of whom live in WSB's StartUp learning community, seeing how Vital Jr. and his co-founders evidence important aspects of entrepreneurship was valuable.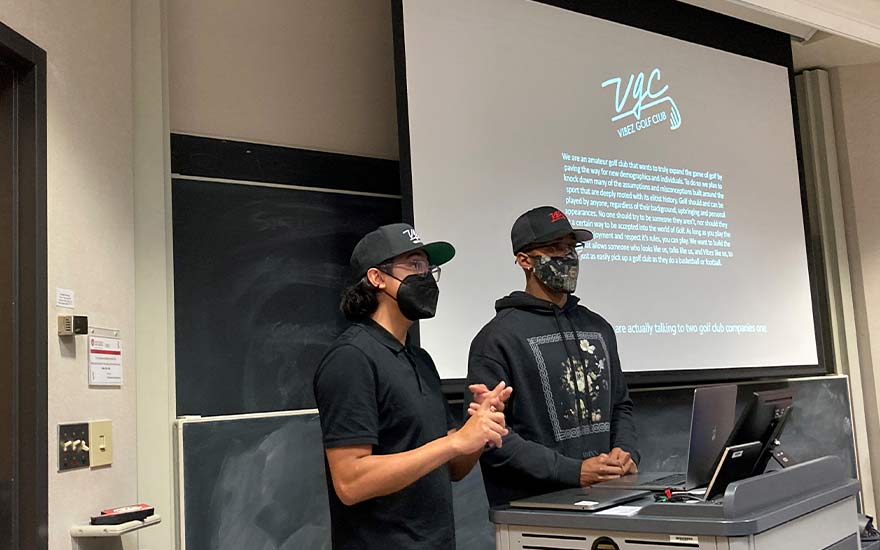 "The VGC team illustrated key facets of entrepreneurship by defining their desired impact on the world, exploring and de-risking their idea with the resources and relationships they have on hand, and supporting one another as friends and co-founders by making sure everyone's roles are clear," says Surdyk. "It's especially great to see Noe and Darius approach the effort with such care using what they learned in the BBA program."
Mission and founding team
Vital Jr. and the other eight founders all attended the University of Wisconsin–Madison, where all eight other than Vital Jr. played football for the Wisconsin Badgers. The founding team discussed what each person was willing to invest in the startup and what skill sets would fit the needed roles—something Vital Jr. wanted to move on pretty quickly.
Noe Vital Jr. (BBA '15), CEO and co-marketing lead
Melvin Gordon III, director of social media
Tanner McEvoy, director of sales
Darius Hillary (BBA '15), CFO and co-marketing lead
Robert Wheelwright (BS '19), director of content creation
Dare Ogunbowale (BS '16), director of brand and merchandising
Kenzel Doe (BA '14), director of public relations
Austin Traylor (BS '16), director of operations, secretary
Hugs Etienne (BA '16), director of production
A key value of their brand is the organic chemistry that the group has together. "We're not just business partners; we are very good friends with open communication at all times," Vital Jr. said.
"I always joke with the guys that we're all tied together to the IRS now. All our names are on there. So we gotta work together."
Establishing phase one
As an early-stage startup, VGC is in phase one of its rollout, Vital Jr. said, which includes growing its social media presence and hosting golf tournaments and other events that generate content, which in return will attract new golfers to the sport. This will ultimately lead to the launch of the VGC club membership. Vital Jr. said the founders are raising funds concurrent to the phase one rollout, and that there's more to come in early 2022—the group hopes to launch its merchandise and an ambassador program soon after.
The club held its first tournament in July 2021, and VGC is prioritizing relationship building—an authentic connection for attendees and sponsors—rather than the "over the top" experience that many of the founders have experienced in the past, he said. "We're rethinking the way people host golf tournaments. We're stripping down all the unnecessary things that go into tournaments and just focusing on the players and sponsors."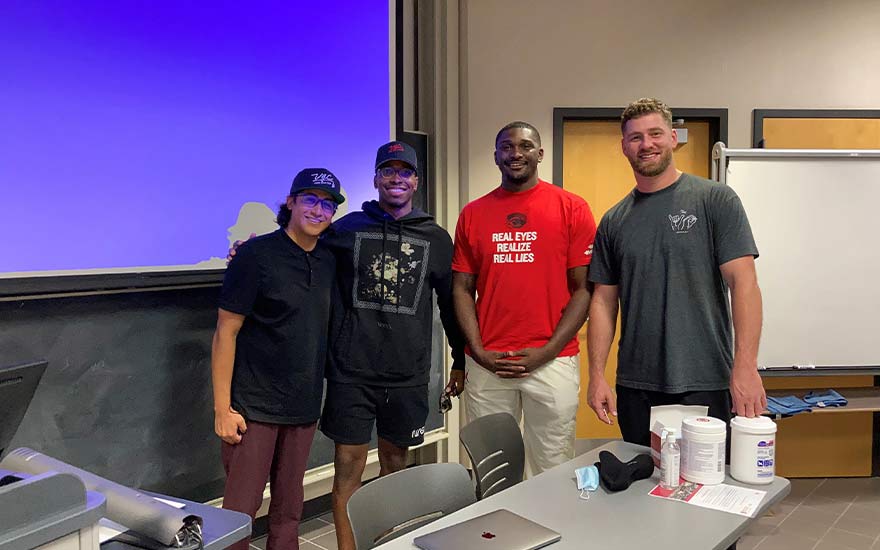 The social media angle helps expand diversity of the game and attract new players, such as the tournament promotional video VGC released which features Melvin Gordon, former Badger star running back and current running back for the Denver Broncos. "We love that video of Melvin because a lot of the people we're trying to attract to the game have never played. When you see a starting NFL running back completely whiff a drive like that, almost miss the ball entirely, it gives you the confidence to be like, 'I can get out there and beat Melvin Gordon on the golf course, you know?'"
Social strategy also helps attract new businesses in addition to new golf fans. For a second October tournament, Vital Jr. said three of the businesses attending were minority-owned; the club worked with each firm to customize packages that would highlight their products and showcase who they are and what their business is about.
The final piece of phase one is the membership, the creation of what Vital Jr. calls the "VGC ecosystem." Following a subscription-based model, individuals can become VGC members by paying a monthly fee which would open up portal access to other companies and brands, such as golf courses, golf products, and merchandise. One of the advantages for subscribers is that anyone can be a member of VGC, regardless of where they live.
Coming full circle
Even though VGC is still in the initial stages, it has held onto the same vision from the beginning. Vital Jr. remembers his pitch to the group during a now-or-never type moment early on.
"I told them, 'we're going to know we succeeded the day 10-15 years down the road when we see somebody that looks like us walk on to the Ryder Cup or the U.S. Open and go dominate the game,'" he said. "The day that you have people that look like us walking onto that golf course to tee off and are competing at that level is when we will say, 'Hey, we've done something. We have made that impact.'"
---