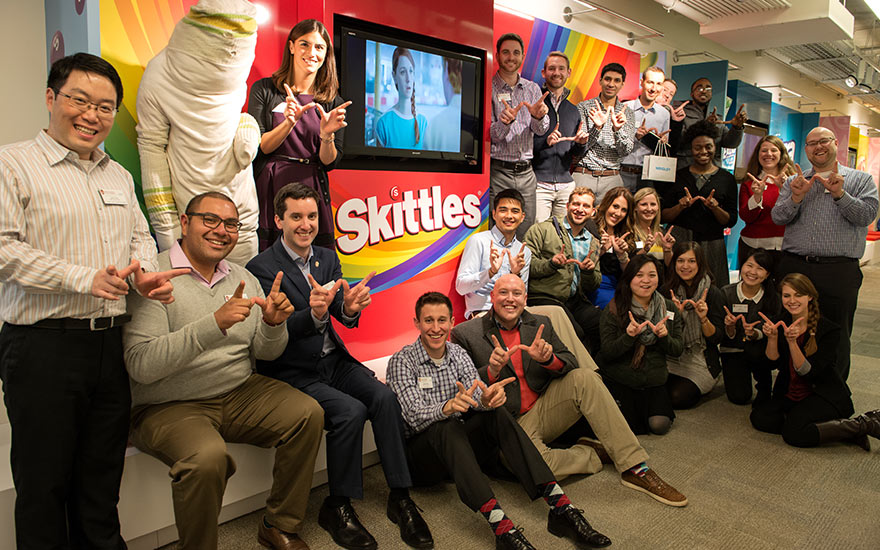 Students at the Wisconsin School of Business know business is unpredictable.
Hands-on learning is embedded into everything they do, preparing them to navigate uncertainty and address challenges in the face of ambiguity.
Coursework and extracurricular opportunities continually thrust students into the professional sphere, where they hone their skills solving real problems.
WSB students collaborate with New York investors, help a local nonprofit with its supply chain, and work on sustainable energy issues in Norway. No matter where they are, students are always learning, growing, and practicing for the ever-transforming business world.
Working with executives to solve industry challenges
At every layer of the School—from pre-college to the graduate level—experiential or "applied" learning opportunities are a core foundation of the education experience.
Finance students, for instance, recently quantified the impact of proposed Chinese tariffs for Amazon, analyzed vulnerabilities in the U.S. debt capital markets for 3M, and examined M&A targets for a large-cap health care company for Rothschild.
Risk and insurance students consulted with United Airlines' risk management and corporate insurance team where they engaged with construction management companies, insurance brokers, risk managers, and real estate project managers.
Real estate students in the School's Applied Real Estate Investment Track manage a multi-million-dollar U.S. Equity REIT portfolio every year and present to acclaimed real estate leaders.
Students do business for good in real estate courses
Students took their classroom into the field in recent real estate courses, Residential Property Development and Green Sustainable Development, to work on affordable housing and redevelopment projects in communities outside of Madison.
Student groups were assigned their own affordable housing and redevelopment projects, taking responsibility for the entire process—from making the initial feasibility assessments to presenting final recommendations to their clients.
A key part of the project was learning how to work with elected officials, city administrators, realtors, and property owners.
Serena Pretti (BBA '19) praised the foundational abilities students built during the courses. "This project allowed us to use skills gained in the real estate program and in the business school. It is an opportunity to perform as a professional in a real-world setting," said Pretti. "You apply hands-on learning and get a taste for what a career in this area is like."
Workshops and speakers provide mentorship
WSB brings in industry-leading executives to work with students. Legendary investor Jim Chanos was a recent guest lecturer through the Hawk Center for Investment Analysis and taught an MBA class called Financial Fraud Throughout History: A Forensic Approach. He capped off his semester at with a public talk on cryptocurrency.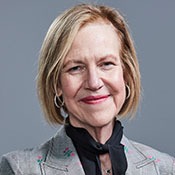 Other recent guests include Gayle Fuguitt (MBA '80), who developed the widely cited study "How Advertising Works" and held C-suite roles at General Mills and Foursquare, Marc S. Pritchard, the chief brand officer at Procter & Gamble, and Susan Chapman-Hughes (MBA '98), EVP, Global Head of Digital Capabilities, Transformation and Operations, GCS at American Express.
Connecting with luminaries like Fuguitt, Pritchard, and Chapman-Hughes gives students the opportunity to not only be inspired, but learn skills in career-building and garner tangible lessons in specific fields like consumer insights, media, and advertising.
Business analytics professionals engage with faculty and students
WSB celebrated the launch of its business analytics MS program by hosting a business analytics industry meetup. WSB welcomed analytics leaders from companies like Microsoft, Adobe, and American Family Insurance for a discussion on the evolving world of business analytics and WSB's growing analytics offerings. The meetup was an exceptional opportunity for students, faculty, and analytics executives to break into small groups, share knowledge, and discuss the future of Wisconsin's program and the industry at large. 
For students in the one-year program, they had the amazing opportunity to have an insider's view into the business analytics field 10 weeks into their first semester. They were able to ask questions, receive advice about the wide-ranging career paths in analytics, and see what leaders in their industry value and look for in their workforces.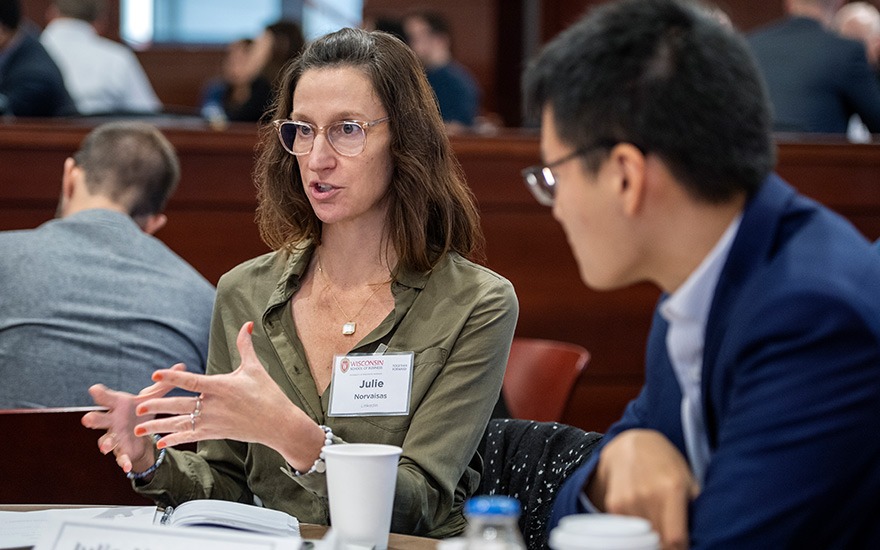 Advisory boards strengthen students' experiences
One-on-one connections between students and the School's advisory board members are also important at WSB. The School has advisory boards for each of its knowledge centers in business disciplines like brand management, finance, and operations and technology. 
Lindsey Raissie (MBA '18) describes the awe of establishing a close relationship with a marketing leader. "I had no idea the added value this external advisory board mentor relationship would bring. I didn't expect that we would speak a few times on the phone. I didn't expect that she would reach out to me to check in and see how school, life, and career choices were going. I didn't expect to consistently be using her as a sounding board and to get fantastic industry-based advice. I wasn't expecting an actual relationship—and I'm so happy to be wrong."
Fostering a caring community that looks after individuals' goals is in fact, the Wisconsin way. Students experience personalized guidance and gain in-depth knowledge that helps them prepare for what's next. With internships woven into students' time in WSB's undergraduate and MBA programs and critical know-how gained in case competitions, clubs, and class trips abroad, Wisconsin students are ready for unpredictable post-business school careers.
---