Being a marketing manager in the tech world is a fast-paced role. Like their counterparts in technical product management, tech product marketers need to be flexible, agile, ready to learn, and always looking ahead to what's next.
Technology is a constantly evolving field and companies traditionally outside of the tech arena are quickly becoming tech-enabled companies. To achieve success in the brutally competitive tech space, marketers need a vision for the future and a strategy that appeals to customers who will be quick to switch brands as the latest innovation hits the market.
So, what is a tech company today?
Manager director of venture capital firm 4490 Ventures Malcolm Thorne (BBA '94, MS '96) says the distinction between a tech company and a traditional goods company is quickly evaporating.
In 2022, even blue jeans are a tech-based business.
"Five years ago you made jeans in a factory in China and sold them in stores around the world. Today a computer vision scans a consumer's body and creates a custom manufacturing specification," notes Thorne.
"Software and data-enabled robotic manufacturing build a product to order and the product is fulfilled by modern supply chain distribution channels direct to the consumer's home. The company then stores its customers' measurements so they can custom manufacture any part of the product line for them going forward."
The tech product life cycle
In tech, engineering innovations or a new idea that serves an unserved consumer need typically kick off the start of new product development. Marketers then help launch new technology-based applications and solutions to the market.
Tech product marketers often have to develop creative monetizing strategies. As examples, Netflix has a pure subscription model, Hulu has a dual subscription and advertising model, and Amazon Prime allows users to rent and buy individual titles and also subscribe for a slate of programming. All three entertainment companies are competing for our attention, and each monetizes its content differently.
To achieve success, tech product marketers need to make sure they reach forward-thinking, tech-minded types to grow a dedicated consumer base. Neeraj Arora, professor of marketing at the Wisconsin School of Business, describes the well-known product life cycle of a tech product as a visual curve where products start with a few dedicated customers and then reach a mass market.
"First, there's innovators, then early adopters, and once a product starts to resonate, the rest of the folks follow. A tech product marketers' job is to make sure the product resonates."
Arora demonstrates the make-or-break point for a tech product between reaching early adopters and a wider audience. This point in the cycle, labeled "the chasm" by Geoffrey Moore, is often where companies which are losing considerable amounts of money gain market share and start making major sales. It's also where companies start going out of business.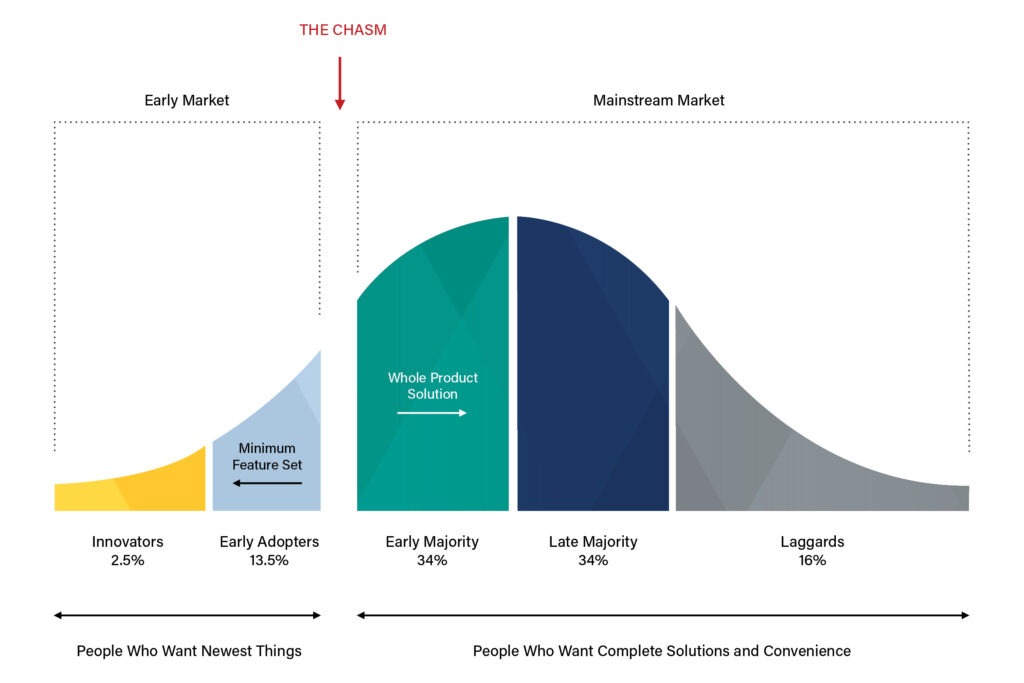 Working cross-functionally to achieve marketing success
To get their product over the hump at the chasm and have it receive mainstream attention, tech product marketers need to have a very strong pulse on consumer needs and work cross-functionally to deliver them.
Successful tech product marketers are not only well-versed in the four Ps of marketing (product, price, place, and promotion), but have a holistic understanding of supply chain, operations, and finance. They work side-by-side with the research and development team to help launch a product, and gain a critical understanding of how the tech works and how it delights the consumer.
Including the voice of the consumer in your marketing planning is critical to the success of every technology.
Tech product marketers, like product managers, conduct interviews with potential customers and complete need assessments to generate ideas of how to market their products.
Marketers then take insights gleaned from their research and collaborate with product developers to implement actual product features in addition to developing marketing strategies.
Rodrigo Stabio (MBA '19) is a tech product marketer at Microsoft and explains the role as being rooted in a "growth mindset."
"We are not looking for 'know-it-alls,' we are looking for 'learn-it-alls.' We want people who are willing to accept when they are wrong, willing to learn new things, and also push the boundaries. Outside of those soft skills, some of the harder skills will be around developing and landing a go-to-market plan," says Stabio.
---
Looking to change careers to become a tech product marketer?
---
Data is king
Kristin Branch, director of the A.C. Nielsen Center for Marketing Analytics and Insights at the Wisconsin School of Business, believes that marketing professionals going into tech need to understand innovation is the star.
"Innovation leads product adoption," says Branch. "At the best companies, data is constantly analyzed for indications of success."
While the use of analytics is skyrocketing in all industries, the amount of data available from a tech product creates unique opportunities for marketers.
"Tech product marketers don't simply take direction, they take action based on insights from data," says Branch.
Assumptions are thrown out the window when you have user data streaming in at all hours of the day, and insights beyond marketing campaign numbers influencing your marketing strategy. Every situation in tech is unique, and marketers must be able to combine different data sets to make decisions quickly, optimize products, develop campaigns, and reach customers where they are. The ability to track buyer behavior in real time serves as the fuel for algorithms to make product recommendations (think Amazon) and serve just the right content to consumers (think Netflix and Spotify).
As your company innovates within its product lines, you have to have a nimble, nuanced view of how your product is performing in the market, and be able to communicate with product designers, developers, and executives about how the product could be improved and your audience better targeted.
It's a fast-paced role with a lot of independence, problem-solving, and decision-making.
Are you ready?
---
This story is Part 3 in our three-part series on the business of tech. Check out Part 1, an overview of the business of tech, and Part 2 on tech product management.
Learn more about earning your Wisconsin Full-Time MBA in marketing: Explore tracks in technology product marketing, marketing analytics and insights, and brand and marketing management.
---