Jon Eckhardt, executive director of the Weinert Center for Entrepreneurship and an associate professor of management and human resources at the Wisconsin School of Business, has been awarded a three-year extension as a Schulze Distinguished Professor from the Richard M. Schulze Family Foundation.
Eckhardt was first honored with the designation in 2015. The professorships support top scholars in the advancement of entrepreneurial research and education.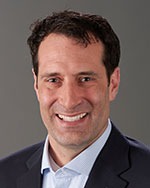 Eckhardt is also a senior editor at the Entrepreneur & Innovation Exchange (EIX), the organization's online resource for entrepreneurs that recognizes excellence in entrepreneurial best practices and thought leadership.
Schulze Family Foundation President and CEO Mark Dienhart cited the reasons behind Eckhardt's professorship renewal and editorial appointment in a letter addressed to Barry Gerhart, Interim Albert O. Nicholas Dean at the Wisconsin School of Business. Chief among them is Eckhardt's recent $425,000 grant award from the Ewing Marion Kauffman Foundation, which funds a line of research examining how universities can use data to manage entrepreneurial ecosystems in order to drive economic growth. Eckhardt utilized resources from his first Schulze professorship to lay the groundwork for the project.
Other key achievements mentioned in the letter include Eckhardt's role as a co-founder of gener8tor—a nationally recognized startup accelerator—and his award-winning contributions to EIX on topics ranging from venture capitalist selection to sourcing data for new products.
Describing him as "an innovative thought leader who is making great progress," Dienhart summarized that "Professor Eckhardt exemplifies what we look for in a Schulze Distinguished Professor."
The extension awards Eckhardt $50,000 in annual funds to be used for research and scholarship activities.
The Richard M. Schulze Family Foundation was created by Best Buy founder Dick Schulze "to meaningfully improve the odds of success for future generations of entrepreneurs."
---