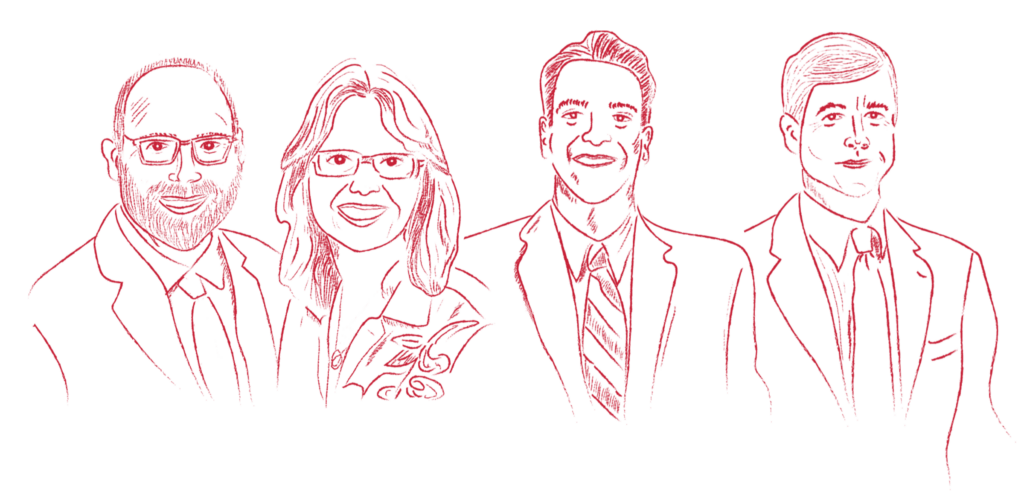 The University of Wisconsin–Madison has long been recognized for its world-class faculty and research, consistently ranking among the top 10 nationally for research expenditures. The Wisconsin School of Business is no exception to that scholarly excellence. WSB's 83 faculty members are preeminent scholars in their fields, publishing research that informs policy decisions and industry best practices while teaching the next generation of business leaders through cutting-edge, relevant coursework.
WSB's scholarly impact is magnified when we recruit and retain great minds to join our faculty.
"Research-active faculty are critical to advancing WSB's leadership in emerging fields, and to helping us launch and grow new programs," says Terry Warfield, senior associate dean for faculty and research. "We must continue to invest in our faculty, supporting the tremendous leaders we already have while bringing in new faculty who can add to the diversity of our knowledge and impact."
In 2020, donor support of faculty excellence resulted in eight new positions that will focus research on finance, real estate, accounting and information systems, marketing, and diversity, equity, and inclusion, among other academic areas. These gifts, along with a match from alumni John (BBA '55) and Tashia (BSE '55) Morgridge to recruit and retain faculty, helped WSB add more than $11 million in new endowed support for our esteemed faculty.
The following profiles showcase three of the generous donors making a difference through WSB faculty support.
Karen and Bill Monfre: Driving growth in emerging disciplines
For Karen (BBA '86) and Bill (BS '85) Monfre, a passion for technology, innovation, and giving back has driven many of their decisions—even dating back to their time as UW–Madison students.
An accounting and information systems major, Karen worked part-time in the business school computer lab. "I loved it. I enjoyed teaching Word Perfect and Lotus Notes, products that no longer exist today."
She went on to lead a successful career in accounting, working at Wipfli, LLP in Green Bay for 34 years, while Bill put his engineering degree to work at Procter & Gamble for 23 years before purchasing companies in industrial mechanical insulation and asbestos abatement in 2008. The couple always had an interest in exploring "what's next."
A conversation with Dean Vallabh "Samba" Sambamurthy about his vision for the Wisconsin School of Business relative to data analytics and information systems helped clarify that picture of the future. It struck a chord with the Monfres, ultimately inspiring a gift to endow a professorship in those fields.
"Technology really is the future and the key to innovation," says Karen. "The whole concept of embracing data science is absolutely critical. Every business school major should include an aspect of programming."
As longtime supporters of UW–Madison, the Monfres always knew they would make a significant investment at WSB, given the right opportunity. Dean Sambamurthy's plan for growing the School's leadership in emerging business disciplines, paired with the Morgridge match, made 2020 the right time for the Monfres to step up their giving in support of WSB faculty.
"We are grateful to the Morgridges for providing this opportunity. They made it possible for many others like us to endow a chair. It was just so compelling," says Karen.
In addition to their financial support, the Monfres have contributed significantly to UW–Madison through their time and energy over the last 30 years. Karen currently serves on the WFAA Board of Directors and on the Brown County alumni chapter board. Bill serves on the Dean's Industrial Advisory Board at the College of Engineering and is chair of the Building Advocacy Committee. The Monfres have also endowed a professorship at the College of Engineering.
Their passion for supporting emerging disciplines has renewed personal relevance as well, with their adult children working in information technology and computer science. It's been a shared lifelong interest that now takes on new meaning with the creation of the Karen A. and William S. Monfre Professorship at the Wisconsin School of Business.
"It is a great opportunity to be able to make sure that the university stays strong by endowing top-notch faculty who can drive the program forward," adds Karen.
Baird: Investing in the wealth management talent pipeline
The partnership between the Wisconsin School of Business and Baird is several years standing. In 2015, with demand for highly trained financial advisors booming, Baird collaborated with WSB to develop a course of study that prepares undergraduate business students for a career in the field of wealth management.
"The relationship between the university and the business world is essential for students," says Mike Schroeder (BBA '79), president-private wealth management at Baird. "It provides career opportunities for young people and a pool of talent we need to continue to perpetuate our business."
Now, Baird is elevating its support of WSB by establishing the Baird Professorship in Finance, an endowed faculty position that will further grow the wealth management program.
As demand for finance education remains high, WSB is evolving finance career preparation through "career pathways"—academic tracks focused on specific areas of industry, further complemented and enhanced with experiential learning and professional development opportunities. By creating this professorship, Baird is significantly increasing its financial commitment to the wealth management pathway.
"I couldn't be more excited about the Baird Professorship," says Schroeder. "Not only does it reaffirm Baird's commitment to developing the next generation of exceptional advisors, but it establishes the Wisconsin School of Business as the state's premier institution for wealth management education."
The Baird Professorship in Finance will be held by Mark Fedenia (BBA '77, MS '79, PhD '87). Fedenia is director of WSB's wealth management program and is an associate professor in the Department of Finance, Investment, and Banking. His research and teaching interests include investment management, wealth management, and financial planning.
"I am pleased and honored to be awarded the Baird Professorship in Finance, which will be instrumental in advancing my research in wealth management and other contemporary issues in finance," says Fedenia. "I thank our friends at Baird for this generous gift, which is yet another example of how Baird is investing in future generations."
Ultimately, the Baird Professorship in Finance is an investment not just in an individual faculty member, but in the education of future talent who will lead the wealth management industry for years to come.
"At Baird we often talk about financial advisors who do business the right way. For years, the Wisconsin School of Business has developed class after class of exceptional financial advisors," says Schroeder. "The Baird Professorship is just the latest example of how Baird's partnership with WSB can have a tremendous impact both on Wisconsin and the wealth management industry."
Nathan S. Brand: Supporting academic leadership and honoring a family legacy
For Nathan S. Brand (BBA '83, MS '85), choosing to endow not one, but two faculty chairs at the Wisconsin School of Business is about more than ensuring the future integrity of the School's academic programs. It's also about honoring a longtime philanthropic legacy set by his father, the late Nathan F. Brand.
"I truly admired my father's success as a real estate developer and operator," says Brand. "He established a philanthropic pattern of generosity, and I aspire to be like him each day."
Brand recently established the Nathan F. Brand Chair in Real Estate, named in honor of his father, who led a successful real estate career in the Madison area and helped inspire Brand's own foray into real estate.
"I thought that honoring my father with a named real estate chair at the Wisconsin School of Business would be something he would have really liked and treasured," adds Brand.
Born and raised in Madison, Brand first fell in love with UW–Madison through athletics and says that growing up, he always wanted to be a Badger. In his youth, he worked at Camp Randall selling sodas and hot dogs, eventually finding his way to campus as a student. He pursued an undergraduate degree in finance before continuing to graduate school in real estate—one of "the lucky generation" who studied under the tutelage of the legendary James A. Graaskamp. He saw firsthand how impactful a top-notch professor can be.
Lu Han, professor in real estate and urban economics, holds the Nathan F. Brand Chair in Real Estate. A leading scholar in the field, she joined the WSB faculty in 2020 following 15 years at the University of Toronto's Rotman School of Management.
In addition to the real estate chair, Brand also felt compelled to make a positive impact on WSB's Department of Finance, Investment, and Banking by creating a second endowed faculty position in finance. Upon meeting Professor Erwan Quintin, chair of the department, Brand was so impressed that he felt compelled to increase his gift even further, to establish a distinguished chair for this would-be holder.
"After an hour conversation with Erwan, I figured the head of the finance department was certainly deserving of nothing less," says Brand.
The Brand family's generosity extends beyond the two faculty chairs, having contributed to multiple scholarships at UW–Madison throughout the years.
"My family and I are fortunate to be in a position to invest in the University of Wisconsin–Madison," says Brand. "People want to make investments and see dividends. Many of our family's business and real estate holdings are located in Madison. The university is vitally important not only to the Madison area, but to the state of Wisconsin."
---