For recent graduate and lifelong sports fan Taylor Gilmore (BBA '22), the opportunity to visit Lambeau Field—while building key leadership skills—was one she couldn't pass up, even if it meant making the trip to Green Bay just two days after receiving her diploma.
"At first I thought, okay, that's going to be a lot," Gilmore says. "But I recognized it as a valuable experience and just thought it would be super cool, so I applied for it. I thought, why not?"
Gilmore was one of 40 Wisconsin School of Business students selected to take part in the inaugural Leadership at Lambeau summit, a three-day immersive experience for undergrads seeking an edge up in their emerging business careers. Modeled after a similar curriculum used by professional sports organizations, the summit offers participants a chance to learn leadership development skills—applicable to any type of business career—from industry professionals, WSB undergraduate program staff, and each other.
"It really allows participants to step away from day-to-day life on campus to delve into some proven, top-level curriculum," says Rick Kempf, undergraduate student life manager for leadership programs. "It was important to create that atmosphere for students to open up and really reflect on their leadership."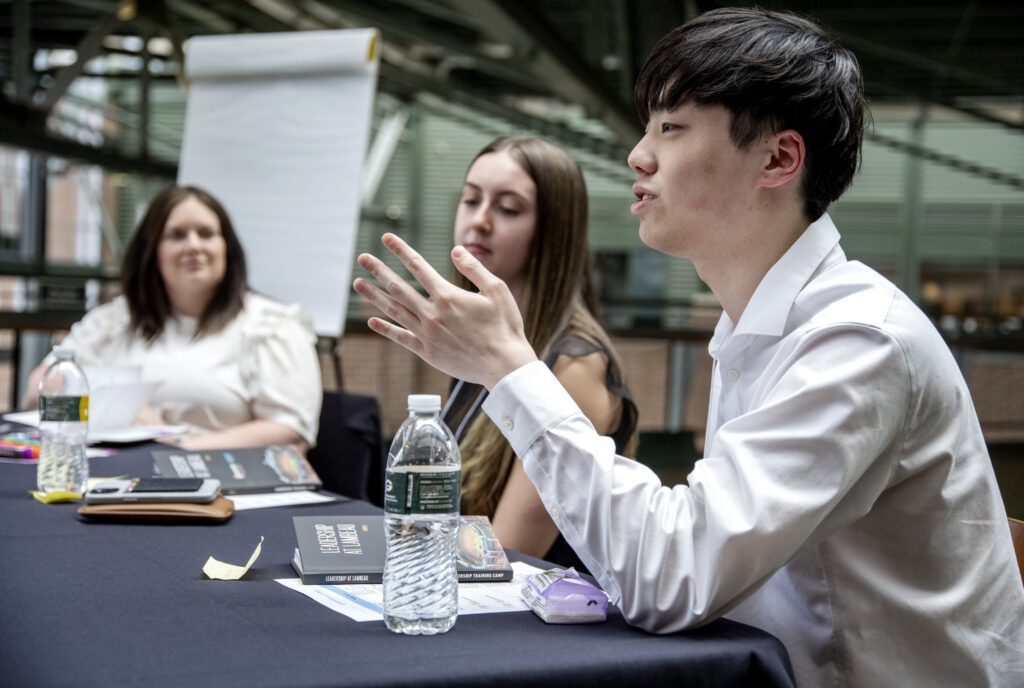 Upon completion of the summit, Gilmore and her fellow students received a special Leadership at Lambeau "badge" to display on their résumés and LinkedIn profiles. It's one of a handful of certifications that WSB students can now earn through Business Badger Badges, the school's new cocurricular and customizable leadership development program aimed at providing students not only a competitive advantage in the job market, but also leadership skills applicable at any career stage.
Through participation in specialized workshops, experiences, and reflection activities, students earn digital badges: tangible representations of the high-level leadership and management skills learned through the program. In other words, the badges are an endorsement from WSB that signals a student's expertise in specific aspects of leadership.
"I think of the badge program as one of the big differentiators between the Wisconsin School of Business and other business schools," says Julie Duffstein, director of undergraduate student life. "Participants are really gaining rich skills that are absolutely the things that employers are looking for and the things that are hard to teach in the classroom setting."
Planning for Business Badger Badges began in 2018, when Duffstein's team was tasked with building a new business-specific program modeled after UW–Madison's Leadership Framework, a comprehensive, campus-wide outline of leadership development principles. Soon, the idea for a badge-based system came forward and the program launched in 2019 with two badges: Personal Leadership Styles and Group Dynamics. The Inclusive Leadership badge came next in 2021, followed by two more badges in 2022: Leadership at Lambeau and Leading for Change.
"We wanted these to be accessible for all Business Badgers," says Duffstein. "We intentionally made the badges flexible enough so students can do them at their own pace and customize which workshops they attend."
"Every single person has the ability to become a leader."

Taylor Gilmore (BBA '22)
Students can freely pursue the majority of the badges, and time spent earning them can be applied to the 100-hour involvement requirement for a UW–Madison Leadership Certificate. Leadership at Lambeau is the only badge with an application process, as it's intended to be a signature experience for students who have made significant progress toward completing the requirements of other badges. Skills learned during the three-day summit can be put into action immediately—especially as students step into their summer internships.
"When you go into a company as an intern, you often feel like you're the very lowest rung on the ladder, and that you can't apply leadership at that entry-level stage," Duffstein says. "But coming out of Leadership at Lambeau, students told us they felt more confident being able to use those skills in their internships and early-stage career opportunities."
As for Gilmore, she didn't have to wait long to put her newfound skills into action. Shortly after taking part in Leadership at Lambeau, she began a 10-month internship with the College Football Playoff in Irving, Texas. She says she's grateful for the opportunity to really reflect on her leadership style before fully launching into her business career.
"The biggest takeaway I had from the experience is just how diverse leadership actually is. Leadership isn't one thing," she says. "Every single person has the ability to become a leader, whether they choose to or not. To be able to reflect on that really got me motivated for what's to come."
---